Healing (2020)
NIFFF
Swiss Shorts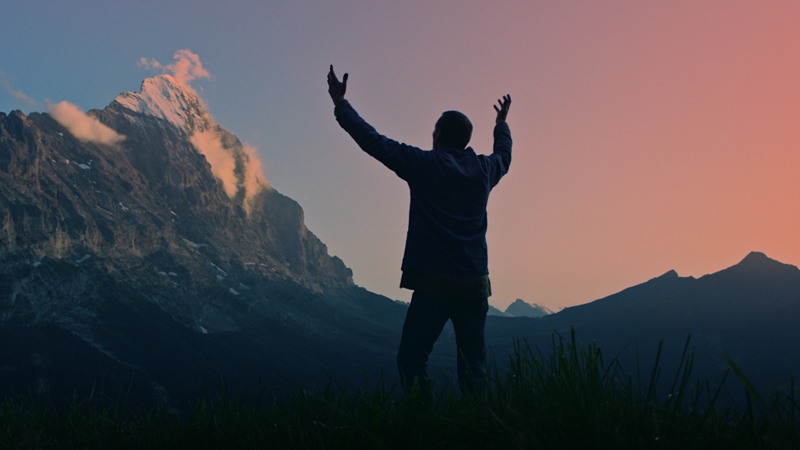 The world does not model itself according to our wishes and beliefs and positive attitude can get a person only to a point. The mysterious healers are the snake oil traders, if not the actual predators, of today, and some people still chose to believe them out of desperation. The Swiss filmmaker Adrian Perez deals with the subject in his newest short Healing that currently plays at NIFFF (Swiss Shorts Competition).
Perez opens the film with the quote of Ralph Waldo Emerson that states: "Once you make a decision, the Universe conspires to make it happen", before revealing that he does not quote Emerson directly, but by proxy. The quote is actually a Facebook post by his protagonist Sarah (Pascale Sauter) whom we meet in the next scene, in the moment of distress as she wanders down the hospital hallways, visiting a person close to her, probably her sister. The epilogue can be guessed easily.
Sarah then goes to the mountains to stay with the energy healer Ben (Markus Amrein). The idyllic atmosphere of the mountains and the lake, captured by the "touristic" crisp cinematography by Tom Bernhard, is interrupted by occasional CCTV and cell phone shots. Sarah is on the mission to expose the dangerous fraud, but Ben is far from a clueless and dumb person…
Healing is an apt psychological drama / thriller with good production values and powered by compelling acting. Writing and directing it, Perez does not show the ambition to move the mountains (pun intended), but sticks to the standard tricks of the trade, dictating the tempo via his own editing and using the eerie music composed by Bänz Isler to tune up the emotions. Healing is the type of short to be put in a portfolio and to showcase the reliability of the filmmaker confident to stay within the genre boundaries.
---
Original title: Hexebödeli
Year: 2020
Runtime: 12' 10''
Country: Switzerland
Language: Swiss German
Directed by: Adrian Perez
Written by: Adrian Perez
Cast: Pascale Sauteur, Markus Amrein
Cinematography by: Tom Bernhard
Editing by: Adrian Perez
Music by: Bänz Isler
Sound design by: Bänz Isler
Sound by: Niklaus Wenger
Make-up by: Jarmila Kovacovsky
Special effects by: Claudio Raho
Visual effects by: Kaspar Kilchemann
Colourist: Fabian Steiner
Production companies: Project Alex Foley, Switzer Radio und Fernsehen
Supported by: Burgergemeinde Bern