Pressure Drop (2021)
NIFFF
Swiss Shorts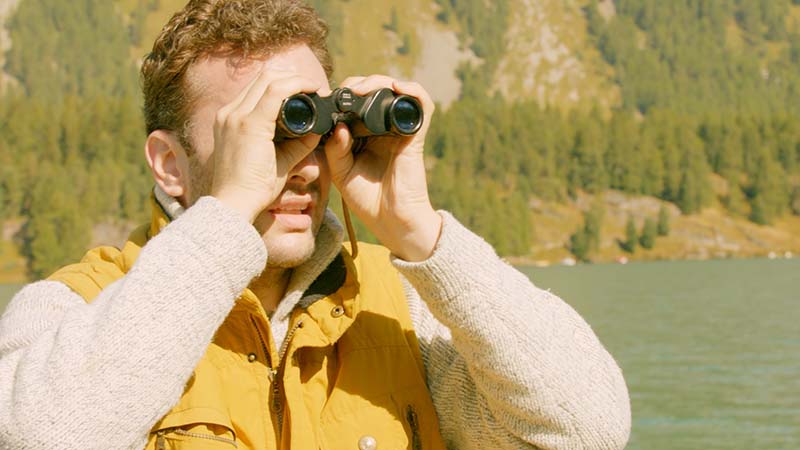 A writer under serious pressure suffers a breakdown on a television talk show and goes to hiss cottage by the lake in the mountains to try to recuperate from it. But the release will not come easily in Andreas Elsener's Pressure Drop that has just premiered at NIFFF's Swiss Shorts Competition.
Robert Haller (Marco Michel) has always been somewhat controversial figure on the Swiss literature scene. While he has a lot of fans, he also has to deal with the accusations of misogyny in his work. Once he lashes out to the duo of hosts, he goes to a self-imposed isolation, but it also does not go according to the plans. For that, Haller has no one to blame but himself and his routine of re-watching his TV appearances. As the internal pressure mounts, the release seems harder and harder.
Although the message of the film, shown at the very end, is dubious (to say at least), the journey there in the hands of Elsener, who serves as the writer, director, editor and producer here, is smooth, deft and crafty. The shaky hand-held camerawork by Martin Wey is fitting, because it amplifies the unease the protagonist feels, while the editing of Haller's TV appearances in various video-formats to the main story stresses the state of confusion he is in and transfers it to the viewers. The amount of the sweet time Elsener takes to walk along the predictable lines of a psychological thriller genre might result in an impression that Pressure Drop is a study for a feature, but its 18 and half minutes runtime is actually the right measure for the story it tells and the way it is being told.
---
Original title: Druckabfall
Year: 2021
Runtime: 18' 39''
Country: Switzerland
Language: German
Directed by: Andreas Elsener
Written by: Andreas Elsener
Cast: Marco Michel, Nikolaus Schmidt, Christina Spaar, Marie Theres Göderz, Fidan Wyder
Cinematography by: Martin Wey
Editing by: Andreas Elsener
Music by: Silvio Buchmeier
Sound by: Franco Sciuchetti
Production design by: Cindy Petöcz
Costume design by: Jasmin Käch
Make-up by: Daria Meienhofer
Colourist: Martin Way
Assistant director: David Syrbe
Produced by: Andreas Elsener
Production company: Andreas Elsener Filmproduktion