Kingdom (2021)
NIFFF
Swiss Shorts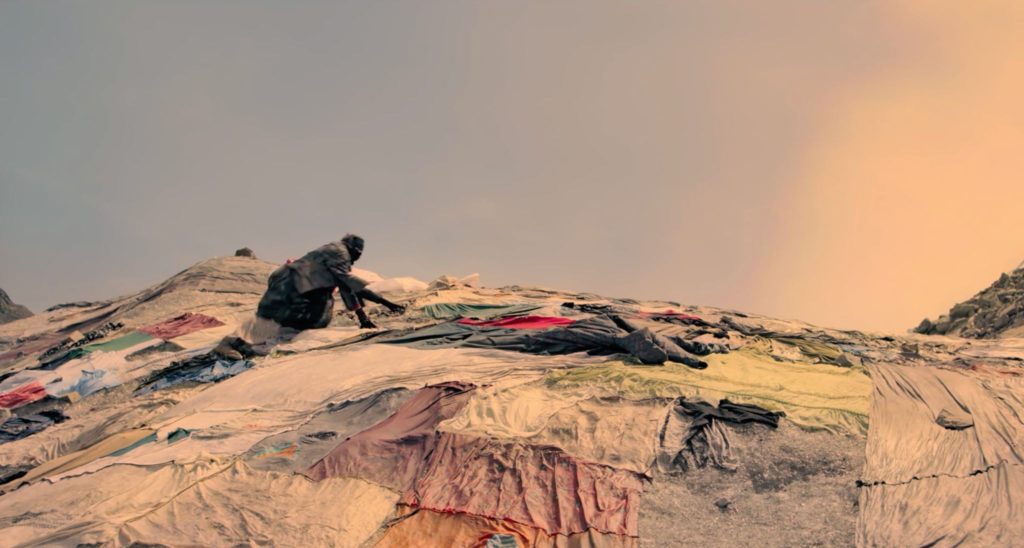 One might wonder why would an actress awarded at Cannes, such as Emily Beecham, and a filmmaker with a number of feature-length titles, such as Bettina Oberli, get involved in a short film that would effectively be shelved for two years, which is the case with Kingdom. The background is a bit more complex: Kingdom is a part of the compilation film called Interdependance Film 2019, funded by Art for the World organization to examine the relationship between the humanity and the nature. At NIFFF, Kingdom is being shown on its own at the Swiss Shorts competition.
A scavenger woman (Beecham) walks the rocky desert at the break of dawn carrying rags with which she covers the last remainders of the glacier that used to cover the mountain side. She has to hurry before the Sun rises, burns her skin and continues melting the glacier. The woman goes back to her cave in the morning, sleeps and dreams of her pre-apocalyptic life with her family. Next night, she repeats her routine, finding out that some kind of harmony between the species and the nature is founded on the grounds she built.
There is not even a shadow of a doubt that Kingdom is an example of the so-called "Issues Cinema", aimed at delivering a certain kind of message to the audience. At the same time, the level of craft, design and attention to detail in the film is nothing short of marvellous. Most of the time, Beecham is alone on the screen, and she has to find the right blend of expressive and naturalistic acting, since there is no single line of dialogue in the film. The details like the relicts of the lost world are spot on and the droning music that fills the soundscape is fitting.
Kingdom is what a post-apocalyptic drama should be like.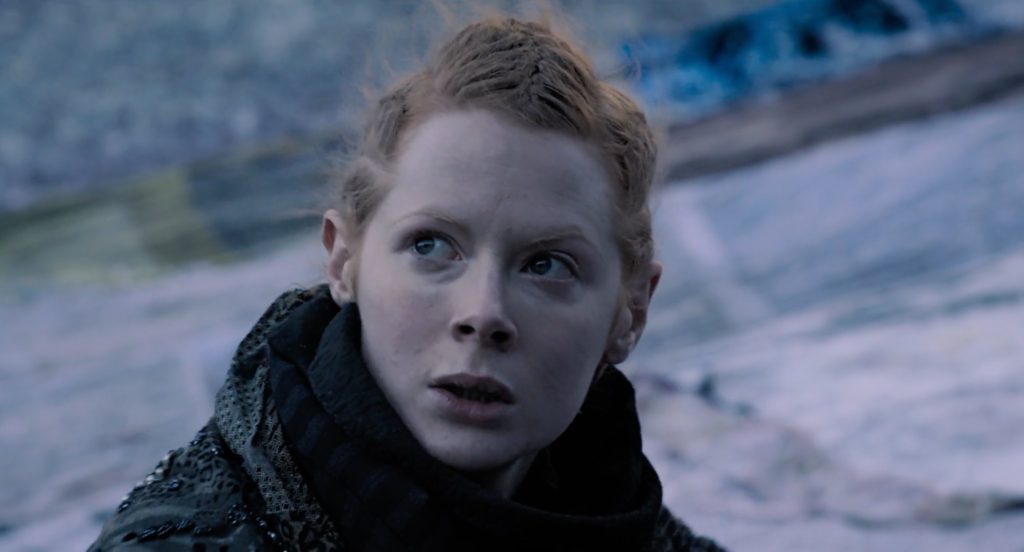 ---
Year: 2019
Runtime: 11' 13''
Country: Switzerland
Language: No dialogue
Directed by: Bettina Oberli
Written by: Thomas Ritter
Cast: Emily Beecham, Anatole Taubman, Elodie Frei
Cinematography by: Martin Gschlacht
Editing by: Cécile Welter
Music by: Nik Emch
Sound design by: Manuel Gerber
Sound by: David Hilgers
Production design by: Nicole Hoesli
Costume design by: Laura Locher
Make-up by: Maria Germano
Visual effects by: Valentin Struklec
Colourist: Tom Varga
Assistant director: Martin Joss
Produced by: Martin Joss, Bettina Oberli, Adelina von Fürstenberg
Production company: Looping Film
Supported by: Art for the World, Cinegrell, Morteratsch, FTK, Go Vertical, Vast, Tonschliff, Listo, Made
Distribution by: Ouat Media