Little Miss Fate (2021)
NIFFF
Swiss Shorts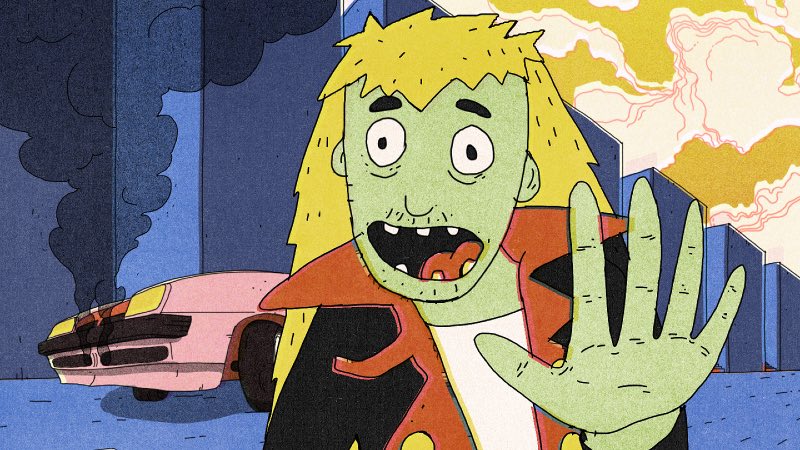 There is not much to be done with fate: if it is meant to be, it is meant to be. Getting in the way of fate puts one in an awkward position and eventually in trouble, especially if that one does not have god-like powers. And that is exactly what happens in Joder von Rotz' animated short Little Miss Fate. After the world premiere at Sundance earlier this year, it has the national premiere at NIFFF.
The world we are about to explore is completely determined by fate, personified in the form of a giant hand attached to a tiger set in a huge tower building that rips through the sky and the clouds. Its job is to play organ and operate the switchboard in accordance with the messages it gets on the screen, probably from its boss called God. Someone will get lucky, while someone else will have a series of misfortunes.
For example, a glam rocker is running late for the date with his punkish girlfriend. The hair dryer explodes, the car breaks down, and eventually – the bus drags him through the streets before it finishes him off. Enter the anthropomorphic black bird who watches the whole thing going to her job at the Fate Tower. As soon as she realizes the hand is taking a break, it tries to reverse the poor guy's destiny. Unfortunately, she creates a monster and somebody has to clean up the mess…
Little Miss Fate is a retro-looking animation that takes its influences from a variety of sources, like Terry Gilliam's work on Monty Python's Flying Circus, Loony Tunes and MTV titles like Beavis and Butthead. The synth music from the 80s and the retro video-game sequence at the culmination are also clear nods, which is also the case with the acidic colour scheme. It is chaotic, but crazy entertaining enough to keep running for 8 minutes without outstaying its welcome.
---
Year: 2021
Runtime: 8' 15''
Country: Switzerland
Language: No dialogue
Directed by: Joder von Rotz
Written by: Joder von Rotz
Voice cast: Estelle Gattlen, Aira Joana, Andrea Sidoti
Animated by: Fela Bellotto, Aira Joana, Martine Ulmer, Lorenz Wunderle, Kerstin Zemp
Design by: Joder von Rotz
Storyboard by: Joder von Rotz, Lorenz Wunderle
Music by: Philipp Schlotter
Sound design by: Noisy Neighbours, Etienne Kompis, Thomas Gassmann
Produced by: Fela Bellotto, Lorenz Wunderle
Production company: YK Animation Studio
Supported by: SRF