Review: Phlegm (2021)
NIFFF
Swiss Shorts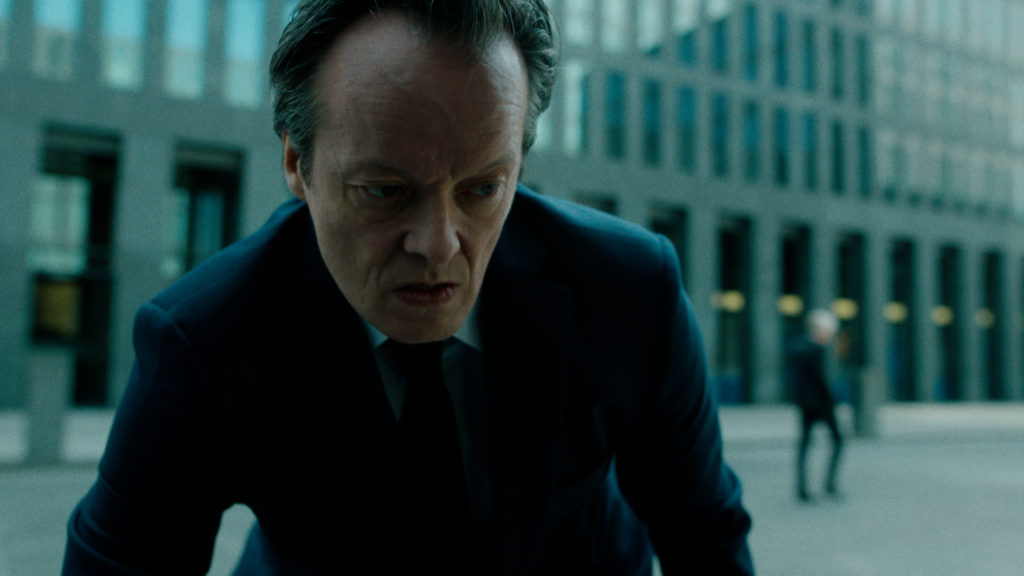 Time is money, and in our money-driven world there is no greater curse than to be slow as a snail. A bunch of unnamed business people at a busy square in Zurich are going to pay for their mistakes once their karma gets them. Welcome to Phlegm, a short absurdist comedy written and directed by the student of Zurich University of Arts Jan-David Bolt. It has premiered recently at the Swiss Shorts Competition of NIFFF.
Bolt opens his film by a long static close-up of a snail, crossing the square at its own pace until it gets squished by a passer-by in hurry. The man (Pascal Ulli) stops, takes the handkerchief out of his pocket and cleans his shoe before moving on. But with every next step, he hits another snail and repeats the ritual again. He then keeps trying different tactics with same results, until he himself gets sticky and unable to move. Eventually, he is not the only one to get his destiny.
In a brisk format of just over 6 minutes and without a single line of dialogue, Phlegm is a wickedly funny study of our world and of human behaviour. The phlegm of the title is aimed at humans' attitude towards the creatures they crush on their way, but also at humans' relationships with fellow humans. The coldness of the colour palette in the camerawork full of odd angles suits the film well, while the upbeat music highlights the absurdity of the whole situation.
Reportedly, no snails were harmed while filming, but some people's feelings might get hurt while viewing. And it would be for a good reason.
---
Year: 2021
Runtime: 6' 21''
Country: Switzerland
Language: No dialogue
Directed by: Jan-David Bolt
Written by: Jan-David Bolt
Cast: Pascal Ulli, Patrice Gilly, Olivier Stärkle
Cinematography by: Rokas Šydeikis
Editing by: Lars Mulle
Music by: Markus Schmied
Sound design by: Lars Mulle
Sound by: Lars Wicki
Make-up by: Jessica Zbinden, Vanessa Salvi
Visual effects by: Lars Mulle
Colourist: Rokas Šydeikis
Production company: ZHDK (Zurich University of Arts)