Review: Gold Is Eating People (2021)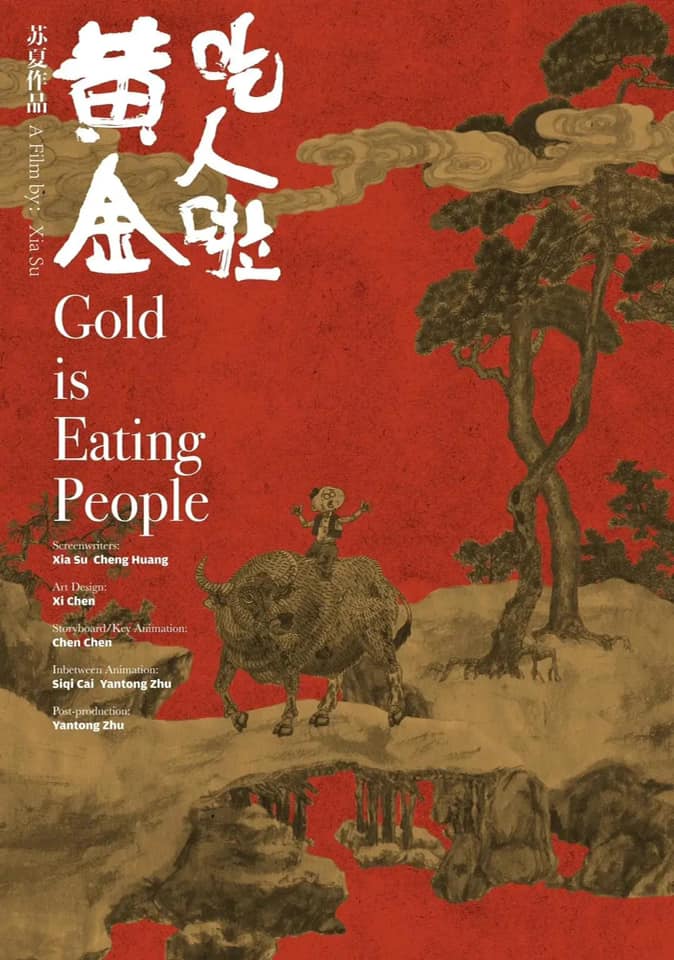 There is an old Chinese saying that people die for wealth, while birds die for food. The saying serves as more than a base for Su Xia's animated short Gold Is Eating People that is currently on a long and quite possibly fruitful festival tour. After its screenings at Animafest Zagreb and Annecy International Animated Film Festival, it currently plays at NIFFF as a part of New Shorts from Asia selection.
When the gold is discovered on the top of the mountain, different men go there to try their luck and get rich, only to be eaten, literally as well as metaphorically, by the gold they found. The first victim of his own green is The Peasant (all the characters are signed as their profession or type, in the manner of a proper folk tale), but soon enough the gold would attract other types, like The Thief and The Bandit, The Police and The Official, and drive the rifts between former partners. The only ones seemingly immune to its charms are an ox, the young Apprentice and The Master who is perplexed how the metaphor simply came to life.
The aesthetic and the technique involved in creating Gold Is Eating People is simply top notch and it fits the purpose brilliantly. While "the action" is animated in pencil and in sephia tone, the colour of the background provides a code for the level of tension and the motivation of the characters. The scenes on the mountain use bloody red background, the scenes in the valley where the officials first appear use cyan, while The Master's house is set against the purple background. Su and his team even went that far in detail to create the sense of the scratched film as a medium, making Gold Is Eating People feel vintage.
The retro feeling is amplified with the lack of dialogue spoken. Instead, everything is printed out in the manner of calligraphy on the screen. However, the soundscape of the film is rich nevertheless, relying predominantly on the traditionally sounding drumming soundtrack that adds to the atmosphere of tension. Gold Is Eating People is simply an impressive animated short film.
---
Original title: Huang Jin Chi Ren La
Year: 2021
Runtime: 8' 12''
Country: China
Language: No dialogue, writings in Mandarin
Directed by: Su Xia
Written by: Su Xia, Huang Cheng
Art design by: Chen Xi
Animated by: Chen Chen
Storyboard by: Chen Chen
Sound design by: Infinite Sound Studio
Sound recording by: Ma Sheng, Huang Sheren, Chen Shen
Post-production by: Zhu Yantong
Produced by: Liu Jian
Production companies: Wuzhu, Congrong Film, China Academy of Art Director Su Xia's Studio, Hangzhou Hetianxia Culture Creative Co. Ltd.
Distribution by: Parallax Films