Review: Carnivorous Bean Sprout (2021)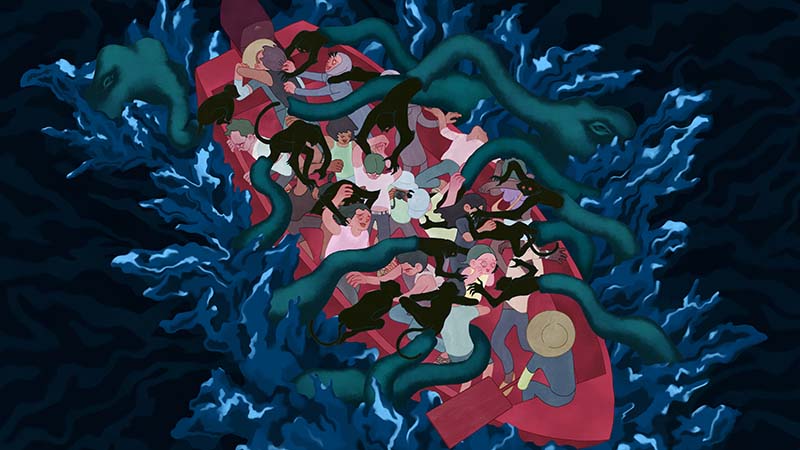 Hardly anyone could have imagined that a virus would stop the world like it did last year, still holding us hostage. Film festivals are also among the victims of the Covid-19 pandemic. For instance, this year's jubilee 20th edition of Neuchatel International Fantastic Film Festival takes place in a hybrid form instead in the form of a huge genre film celebration.
The topic of the pandemic is addressed in a metaphorical way in one of the short films from New Shorts from Asia selection. Instead of a virus, in SeO's Carnivorous Bean Sprout, we get, well, carnivorous bean sprout that has emerged somewhere in Malaysia to quickly drow the attention of scientists and general public interested in "thrills and kills".
Carnivorous Bean Sprout is an animated short film that uses clay figurines and 2D computer-rendered backgrounds to tell the story about the varieties of human behaviour in the face of danger (some of them unbelieavably deft and very truthful to reality: just think of the idiot who attempted to climb the side of the active cone of the Geldingadalir volcano in June).
The choice of form is the right one, because with its just 4 and a half minutes of runtime and with its "packaging" to a form of a TV news reel, it would look like a carefully constructed trailer or a recycled film intro in the live action form. Animated, it is a proper, finished short and it also leaves the time and the place for its viewer to think about it.
---
Year: 2021
Runtime: 4' 35''
Country: South Korea
Language: Korean
Directed by: SeO
Art director: Izac
Narrated by: Kyoko
Music by: Im Bo-mi
Sound by: Sun Sung-wook
Sound effects by: Moon Chul-woo
Production company: Meow Swarm
Supported by: Korea Creative Content Agency
Distribution by: Ani Seed