Review: Kids on Fire (2020)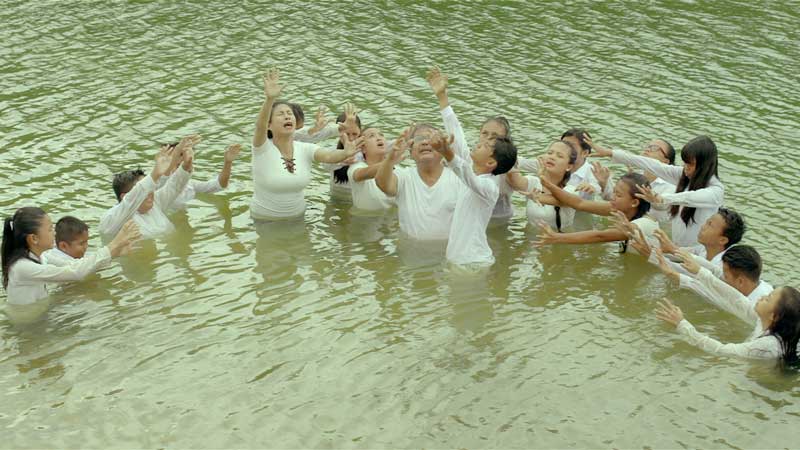 One might argue that religion is nothing more than a strictly coded fantasy. But what happens when two fantasies of different nature, one religious and one quite carnal, profane and natural, collide. That collision is under examination in Kyle Nieva's short film Kids on Fire.
Kids on Fire premiered at the last year's edition of Busan, competing for the Sonje Award for the best Asian short film. It is currently screened at NIFFF, where it is a part of New Shorts from Asia selection.
J.C. (Alexis Negrite) is one of the kids and teenagers on a camping trip with hia church group. Sister Evelyn (played by the singer/actress/celebrity Mystica) serves as the trip leader and J.C. fantasizes about her. The whole group is accompanied by the religious figure, Brother Wally (Ces Aldaba) who oversees what is happening in a tad too nosy and inappropriate manner. While Sister Evelyn does her best to indoctrinate the children and the youngsters, J.C.'s obsession mixes with the biblical motifs to some unpredictable consequences like the earthquakes that seems to happen every time he daydreams about his teacher.
The 19-minute runtime is divided in ten chapters that vary in length from under a minute snippets to a few minutes long sequences with the titles taken directly from The Bible. In those chapters, Nieva deals with the religious hypocrisy and the aggressiveness of the agitation. Like J.C. who provides the point of view, the viewers are drawn to a state of confusion. Nieva does so by the infusion of surrealism, either from carefully composed static medium to long distance shots lensed by the DoP Tey Clamor and the use of the intriguing production design by Alvin Francisco, or from the ironically upbeat electronic score by Len Calvo.
The clash between the religion and the natural urges can actually cause the young minds to, metaphorically speaking, burst in flames.
---
Year: 2020
Runtime: 19'
Country: Philippines
Language: Tagalog, English
Directed by: Kyle Nieva
Written by: Kyle Nieva
Cast: Alexis Negrite, Mystica, Ces Aldaba
Cinematography by: Tey Clamor
Editing by: Carlo Francisco Manatad
Music by: Len Calvo
Sound design by: Kat Salinas
Sound by: Miguel Hernandez
Production design by: Alvin Francisco
Costume design by: Reji Hidalgo
Produced by: Kyle Nieva, Carlo Francisco Manatad
Production company: Screen Asia