Review: Temple of Devilbuster (2020)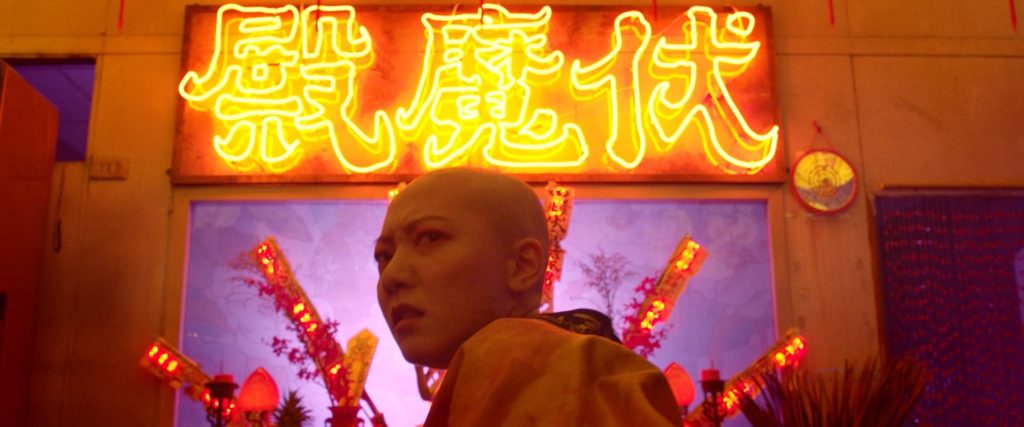 Destiny is uncontrollable, but it controls someone's life in an inevitable manner. Over the course of one night (or night after night), destiny plays the cruel game with the two characters of Wang I-Fan's manically paced short film Temple of Devilbuster, playing at the New Shorts from Asia programming segment of NIFFF after its premiere at last year's Osaka and a tour of festival both at home turf in Taiwan and abroad.
Tai-bao (Lin Tao Yun) and A-queen (Anicca Panna) are connected. He is the reincarnation of Devil Star and therefore destined to become a criminal, first as an errand boy for a gangster bigshot known as The Shane, then as The Shane himself, and she has to take and atone his sins. They are both under the power of an abusive father figure, a priest that uses them to invoke the deity called Holy Mother that takes the sins of the humanity. No matter how they try to break the bonds, they always end up spinning in the fast paced circles of crime, murder and mayhem.
The plot might sound incoherent, but that fact is one of the film's strongest points. The other one is the unique neon-lit design that is a bit of trademark for Asian (and Asian-themed) contemporary genre cinema, with an infusion of the just right amount of graphic violence and trashy splatter where heads and limbs go off and blood sprinkles like a fountain. Acting by the two leads and the rest of the cast is very physical, sometimes manically expressive, the music of different genres and styles is always loud, so the aesthetics of the film gets dangerously close to the music video territory. Thanks to the sharp editing, Temple of Devilbuster is one of the wildest rides of the year.
Original title: Fu Mou Dien
Year: 2020
Runtime: 24'
Country: Taiwan
Languages: Min Nan, Mandarin
Directed by: Wang I-Fan
Written by: Wang I-Fan
Cast: Lin Tao Yun, Anicca Panna
Cinematography by: Wang I-Fan
Editing by: Wang I-Fan
Costume design by: Esther Ya
Make-up by: Chang Fu-Cheng
Produced by: Liu Wei-jan
Production company: Atom Cinema Co. Ltd.
Sales by: Greener Grass Production Co. Ltd.