Review: Night Bus (2019)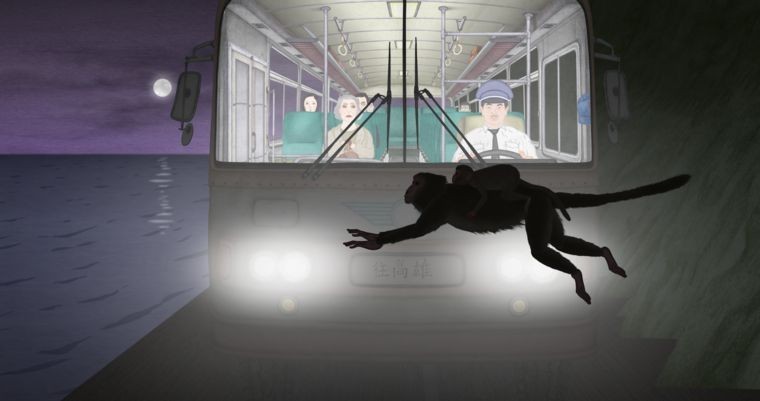 A stolen necklace on a sparsely packed night bus that glides down the shore sets the action, involving love, hate, jealousy and revenge in motion in Joe Hsieh's short film Night Bus. For bonus points, it is also a beautifully and gently animated one. Fresh from triumphing at Animafest Zagreb, it is currently screened at NIFFF's New Shorts from Asia section.
So, personae dramatis are a tired bus driver, wanting only to end his last ride on time and to go home, an old lady with a necklace, a couple of blue collar workers, a married couple that expects a baby and a single guy who wears sunglasses at night, therefore looking suspiciously. When the old lady reports her necklace stolen, a fight on the bus ensues and the necklace is found in the single guy's pocket. Albeit he denies stealing it, he is tied up on the driver's order. When the bus hits and kills a mummy-monkey by accident, the bus gets another passenger another stowaway passenger with a grudge. In the meanwhile, the tied-up guy got himself on the loose and disappeared. While hunting him down, a wider mystery begins to open, showing the ties between the passengers from the past…
Night Bus is a genuine mystery-thriller with a lot of suspense that would, apart from the vengeful baby-monkey angle, work perfectly as a live action film. The beautiful animation in stark contrast with the ugly human nature is only a bonus here. Joe Hsieh tells the story in a masterful way, employing the non-linear structure in order to dose the information we get and keep secrets for as long as he has to and to steer the viewers' emotions in the desired direction. Under his close control, Night Bus is a brilliant little film.
---
Year: 2019
Runtime: 20'
Country: Taiwan
Language: Mandarin
Directed by: Joe Hsieh
Written by: Joe Hsieh
Voice cast: Chen Shu-Fang, Tsai Ming-Hsiu, Guo Shang-Sing, Lee Yu-Fang, Wang Shing-Ming, Yeh Pi-Li
Art design by: Joe Hsieh, Wu Yu-Jou, Lin I-Ting
Animated by: Joe Hsieh, Hsiao Yu-Ching, Julia Wu
Music by: Ned Young
Sound by: Tu Duh-Chih, Tu Tse-Kang, Kelsey Liu
Produced by: Lee Wan-Lin, Joe Chan
Supported by: Kaohsiung Film Fund