Diana Cam Van Nguyen: "We had to invent something different"
Lot of people were suggesting that I should also play in the film, but I absolutely didn't want that because this story is already very personal.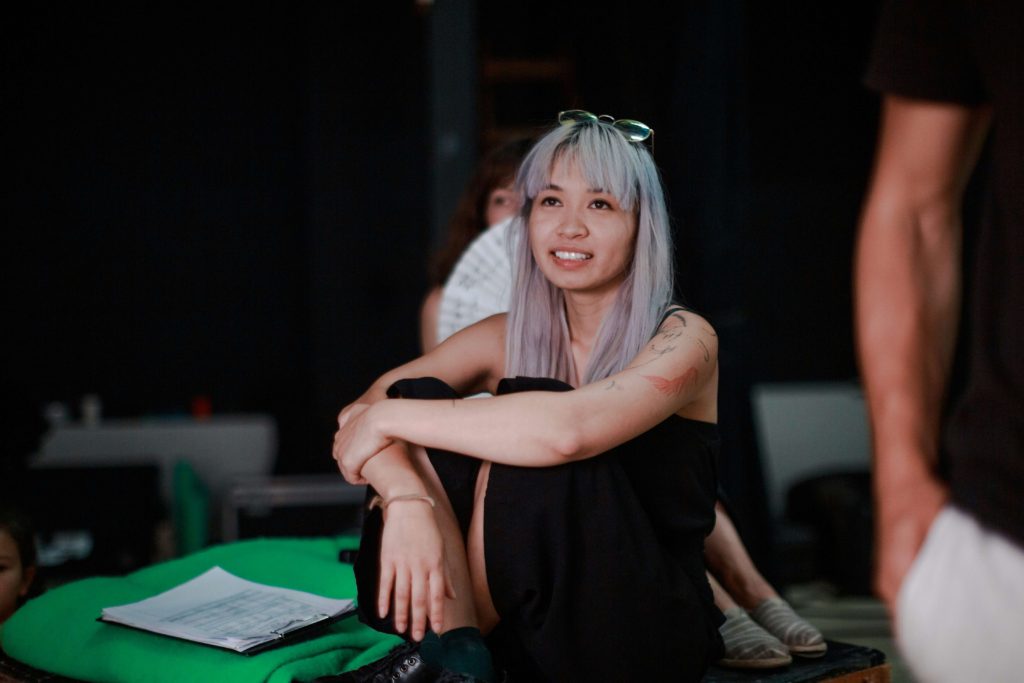 The Prague-based Czech-Vietnamese director Diana Cam Van Nguyen's is in Locarno with her short animated documentary Love, Dad which screens in the Pardi di Domani competition. Like in her previous shorts, she focuses on a personal topic through the means of animated documentary.
We met the director to talk about her interesting animation technique which embraces many different elements (2D, rotoscopy, cut outs, but also live action), her choices regarding the voice-over and cast, and her father's feedback on the film.
---
How would you introduce your film to someone who hasn't seen it?
Love, Dad is inspired by the letters my father wrote to me from the prison when I was 11 years old. Now, as an adult, I am answering to him and reflecting about our relationship.
Although this was your FAMU graduation film, it had a proper funding.
Even though it was my student film indeed, it got the needed support because of its background. My producer was already out of school, and it was her first professional film.
Could you tell us something about your decision to seize for multiple animation techniques?
It was pretty difficult in the beginning, because we had to invent something different, so to speak. I haven't seen a film with this approach before, but it took quite some time to get there.
Ever since the initial phase of the development I knew that I wanted to use original letters from my father to base the animation on. In order to keep the authenticity, I was thinking which technique would fit best to put those letters in focus. That's when I had the idea of making them look like collages as – so to speak – 'layers of my memories', and since I already had the experience with live action shooting, I wanted to continue with that as well. I decided to have this photo-realistic actors and also the background with the locations, and we just tried out the possibilites which actually worked out well.
You lend your voice to the film's voice-over.
Lot of people were suggesting that I should also play in the film, but I absolutely didn't want that because this story is already very personal. I wouldn't want to be hearing and watching myself at the same time, which is why I decided to have actors. On the other hand, I was very open for the possibility to use my own voice, maybe because I was 'just reading' the text. While we worked with the voice-over I had a problem pulling it off at the beginning, so I had to re-do it a couple of times. I didn't want to come across as emotional, and I was doing my best to be calm and composed. But then I was told that I sounded cold. So I did it one last time, and I must say that it turned much better than it was before. It was really my last attempt, and I was already exhausted because I knew that I wasn't an actrice and that I probably wouldn't be able to do it properly. Needless to say, my enthusiasm was pretty low, and I was already thinking of getting someone else to read the voice-over instead of me. But then, that last try was surprisingly the winner. And actually, this was a really good decision because it's a personal documentary.
What was the time frame this correspondence between you and your father took place?
The prison sentence and letters happened in 2005, in the Czech Republic where I was born and raised, and where I still live. Some other things addressed in the movie were happening through my whole childhood. My father decided to leave the family when I was 16-17, and I started working on the film in 2020. It took me 10 years to go back to that.
What was your starting point?
I started with a letter to him that you can hear in the voice-over. The original letter was pretty long and very painful actually. During the development of the script, I just took a part of it and made it more 'calm'.
How does your communication look like now?
Well, it doesn't run in the written form anymore, that's for sure. My father is the only family member that I have here because my mom and my sister left after the divorce, and they are in Vietnam.
Was turning those letters into the physical material therapeutical for you in a way?
It was rather tough but not because of working with hands, it was more because I got deep into the topic and I realized a lot of things about our relationship during the film's development. I also visited a therapist just to deal with the film and with the whole issue.
After half a year the therapist told me that I was ready, and that I didn't need the councelling anymore. But my whole crew was really careful about my emotions. They didn't act as I was just a director, but they were aware of my emotional state.
How long did it take you to shoot the film?
Actually, the development phase was much more harder than the shooting itself. So, the development took almost a year and a half, because my first script was focusing only on the time my father spent in prison, but in the animation workshop they just discovered this problem inside of me, we spoke about it, and I finally changed it all. That's why it took another year for me to do the test, and see where it goes. The process itself took a year, with live shooting, animation and the post-production.
How was your father's response to 'Love, Dad'?
My father knew that I was making a film about him, but he was only aware of the letters and my original idea – his time in prison. When I changed the concept, I didn't tell him. Before the official Locarno announcement, I decided to show him the film, but his reaction was very strange. He didn't express any emotions about the content, and he didn't discuss the quality of the film, but he was more wondering about the budget or how I got the actors. I tried to ask him what he thinks about my perspective, but his only response was that I was right. It was still a good reaction. He was more concerned about the future of my film and its audience than anything else. I am sure that he was feeling something, but that he simply didn't know how to express his emotions.
How does it feel like to have such a personal film screened in Pardi di Domani international competition?
I feel great and I also feel very grateful. I didn't expect my film to be selected for Locarno, because we sent the work-in-progress version. And now it's simply amazing that my student film is competing in such a serious competition as Parde di Domani.