Review: Caricaturana (2021)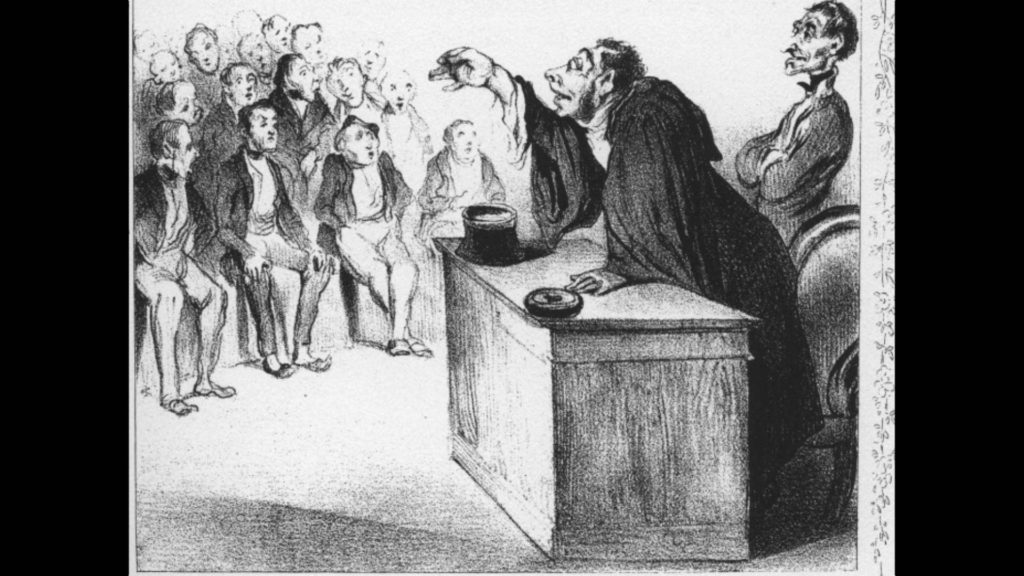 The blissfully satirical and witty lithographs by nineteenth century French artist Honoré-Victorin Daumier provide the ever-challenging and provocative Romanian filmmaker Radu Jude with perfect material to craft a black-and-white short film the melds playful political and cultural comedy with musings by Sergei Eisenstein.
The journey through lithograph montages via a comment by Eisenstein in his book Nonindifferent Nature: Film and the Structure of Things may be the heart of the film, but in the end Jude, in playful form, manages to twist things around to bring in – of all people given the initial, almost academic presentation, of the film – Hollywood actress Gwyneth Paltrow and Russian film theorist Lev Kuleshov.
Often, a great short film is one that manages to offer options, intellect and craft as well as twists and turns, all presented in a tight format and structure, and with Caricaturana the prolific Radu Jude delivers a film that astutely references history and art as it weaves along a journey that ultimately delivers a biting bit of satirical commentary.
The start of the film comes from an idea by Eisenstein, who had mulled over the concept of examining the gestures incorporated in the 101 poses of the French actor Frederick Lemaitre in the role of Robert Macaire – a popular French character epitomising the unscrupulous swindler – as represented in the 101 lithographs of the series Caricaturana by Daumier. Though in sub-head of his film's title Jude adds the phrase "a flick-up book" to make it clear he is following no traditional route.
For Eisenstein it was about the journey of the various gestures employed by Daumier's art, and initially Jude respectfully follows the great Russian director's instincts. But as he says early in the film, he will finally take the "liberty to use them as a commentary to some current news".
Eisenstein felt the lithographs' energy came from the fact that the character's gestures pertained to different moments – the legs in one moment, the hands in another, the head in another. The film shows a series of the lithographs of hand and arm gestures – from a politician gesticulating at an assembly through to a musician lighting a cannon as part of an orchestral movement. The men are often bulbous and seemingly bombastic, while the few women. Featured are either scorned or being wooed.
But for Jude, the gestures alone do not do justice to the stories in the Caricaturana. So he decides to revisit some of the lithographs, but with his own voiceovers.
In the specially written voiceover, a woman, unseen behind her bonnet, says to portly man with scarf to his neck: "Sir, I have been robbed of a 1000 franc bill." He replies: "Worry not! Give me 1500 francs and tomorrow you will have your bill back"
In another Robert Macaire, a journalist' says to presumably his editor:" I have brought an article condemning the new bill." The reply is: "Mr. Macaire, we are supposed to defend it." Macaire speedily replies: "Then I shall write a new article supporting it."
In another, set against the backdrop of a clinic (and with astute prescience), Dr Robert Macaire proudly comments: "Gentlemen, as you see, this surgery, thought impossible, has been a success." "But, Doctor, the patient is dead!" comes the reply, but Macaire cynically comments: "So, she would have died anyway."
This playful blending of old imagery with a contemporary voiceover, though, is mainly a link for Jude's main filmic twist. As he says in his voiceover:" I cannot resist attempting a Kuleshov experiment. I think Robert Macaire's gestures can work as reactions to the day's news. I pass the tragedies in India or Gaza and stop at the following…"Actress Gwyneth Paltrow, who sells beauty products, sued as man claims her vagina-scented candle exploded."
The Kuleshov effect is, of course, a film editing effect which was demonstrated by Russian film-maker Lev Kuleshov in the 1910s and 1920s. It is a mental phenomenon by which viewers derive more meaning from the interaction of two sequential shots than from a single shot in isolation. For Jude he presents written on-screen "Actress Gwyneth Paltrow sued as man claims her vagina-scented candle exploded," and then offers up a lithograph to let the viewer make their own emotional and intellectual link between image and statement.
This Kuleshov experiment may well involve an on-screen phrase and an image rather than two sequential shots, but the effect is pretty much the same. The response is naturally very much in the eye of the beholder, but response might vary from shock and astonishment through to bemusement and even (in a more playful lithograph) even flirtation. For Radu Jude there is a real message here in amongst the satirical humour….whether it be the business of medicine and how little death matters or the ever-present vacuousness of products pitched to willing punters set against the backdrop of a world facing real and deadly issues.
To close his film, Jude fades to black and adds the sound of a couple of explosion blasts to the mix. While Caricaturana – the Opening Short of Locarno Film Festival's Pardi di domani, and eligible as Locarno Short Film Candidate for the European Film Awards – is not quite as provocative as his Berlin Golden Bear winner Bad Luck Banging or Loony Porn (Babardeală cu bucluc sau porno balamuc) earlier this year, this nine-minute film offers plenty of engaging imagery and concepts as well as more than a little playfully provocative thoughts.
---
Country: Romania
Language: Romanian
Year: 2021
Runtime: 9′
Directed by: Radu Jude
Production: microfilm
Producers: Ada Solomon, Diana Caravia
Cinematography: Honoré Daumier
Editor: Cătălin Cristuțiu
With (voices): Ilinca Manolache, Serban Pavlu, Radu Jude