Review: Techno, Mama (2021)
Venice Film Festival
Orrizonti Corti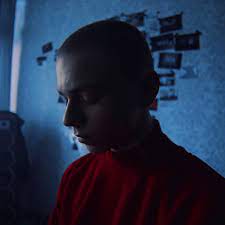 For the teenager named Nikita (Motiejus Aškelovičius) techno music is everything: a release valve of sorts and an escape from his drab life in a socialist building and in a broken home with his over-worked, nervous and abusive mother (Neringa Varnelyté), sister and kid brother. Nikita wants to go to Berlin because, as he puts it to the brother, "Techno is Berlin and Berlin is techno". But there are certainly more reasons for the dream of escape, as it would be suggested (rather than revealed) in a conversation with his father.
That would be the plot of Saulius Baradinskas' short film Techno, Mama that has recently premiered at Orizzonti Corti competition of Venice. In the end, it is far less about the plot itself, since this impressive short is a textbook example of flawless execution in the terms of dealing with a very specific context.
Firstly, Nikita and his family are Russians living in an unnamed concrete-block suburb of an unnamed Lithuanian city. Also, the Russians are at least the majority of the population in their neighbourhood. The ethnic ancestry is painted not only by their names, but also by the language they speak: it is Lithuanian, but laced with Russian words and expressions. That would not be significant if their ethnicity would not also implicate their class position: Nikita's mother is cleaning houses for (extra) money, and he is obliged to help her. His father is out of the picture, probably using his EU passport to work abroad…
It is clear why he dreams of escaping and why his psyche resembles a pressure-cooker about to explode, but the way Baradinskas and his crew paint the picture is simply amazing. The cinematography in seemingly vertical aspect ratio (actually, it is 1:1) is not a simple gimmick, but an expression of his anxiousness. The strong emotions that move the protagonist are also reflected in the editing by Karolis Labutis which employs the sharp shifts between the different styles of footage taken by the brilliant Vytautas Katkus that vary from the long, continuous takes that transcend the limits of scenes, to the mimicking the aesthetics of a techno music video clip, while the pumping soundtrack of Rob Meyer along the lines of the mentioned musical style dictates the rhythm.
Packed in the 18-minute format, Techno, Mama is a spectacle on almost every level of filmmaking and a wild ride through the territory of the under-privileged coming of age that feels both painfully familiar and strikingly fresh.
---
Runtime: 18' 19''
Country: Lithuania
Language: Lithuanian
Directed by: Saulius Baradinskas
Written by: Saulius Baradinskas
Cast: Motiejus Aškelovičius, Neringa Varnelyté, Kasparas Varanavičius, Alvydé Pikturnaité, Udté Strolaité, Algirdas Galkus, Gediminas Storpirštis
Cinematography by: Vytautas Katkus
Editing by: Karolis Labutis
Music by: Rob Meyer
Sound design by: Andrius Kriščiunas
Production design by: Daumantas Levickas
Costume design by: Mantas Bartkus
Make-up by: Jurgita Globyté
Visual effects by: Simonas Korsakas, Aleksandras Polevojus
Colourist: Justinas Vencius
Assistant director: Robertas Nevecka
Produced by: Viktorija Seniut
Production company: Viktoria Films
Supported by: Lietuvos Kino Centras
Sales by: Lights On