Review: Lucid (2021)
Slash Film Festival
Fantastic Shorts Competition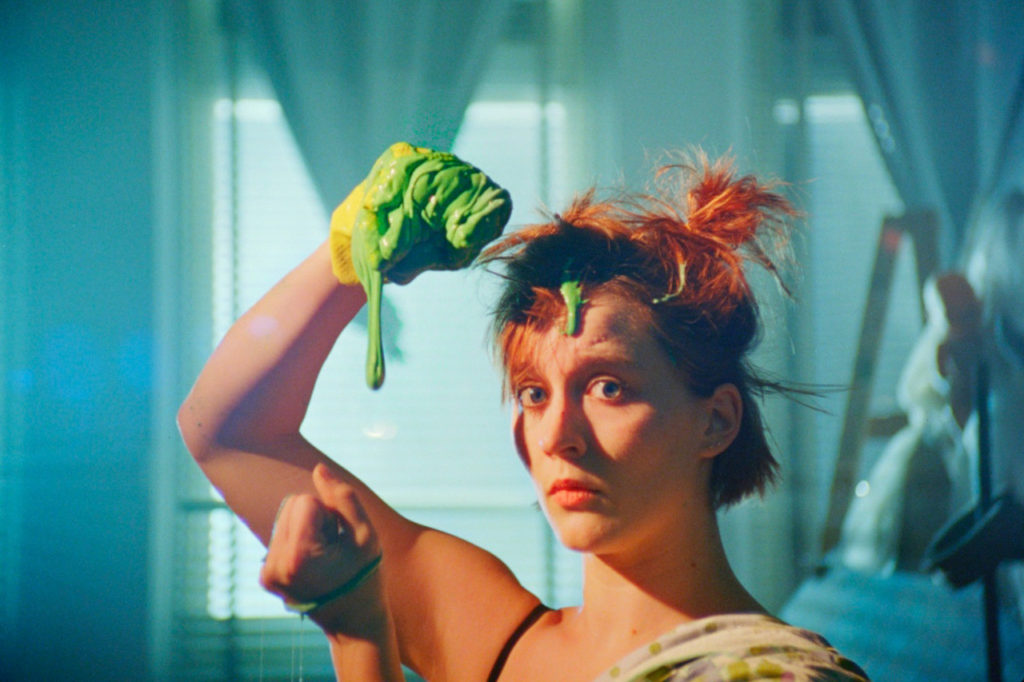 If something is banal, its banality does not necessarily make it less truthful. But in the world of the art academia, the banal (or anything perceived as such, actually) is a huge no-no. Deanna Milligan explores the terms of art, banality, sincerity and truthfulness in her playful short film Lucid that could be described as a hybrid between the art house and the genre filmmaking.
Lucid's festival route started earlier this year at the home turf, in Canada, with the festivals like Short Circuit Film Festival and Fantasia. It has recently played at the competition of Vienna's /slash.
Mia (Caitlin Taylor) has been submitting the variations of the same painting for her schoolwork in the field of self-portrait. Since her last entry was deemed banal and shallow by her colleagues and the teacher alike, she is given one final chance to bring something sincere, or, as they put it: "something with heart". The thing is that Mia is simply a young woman with a morbid imagination and she has always been like that, getting in trouble occasionally. The viewer does not have to be a genre movie mastermind to figure out where the expression "something with a heart" would lead in such circumstances.
On the artistic level, Milligan perfectly catches the tone in order to play with the ideas mentioned in the opening paragraph and she even teases the audience with cross-checking all the struggling artist cliché boxes like she would not mind to present her film as banal. But somehow it works as mirror that reflects the shallow and standard-issue criticism of banality as banality in its own way. Technically, Lucid is a very crafty film that uses the clear, almost textbook directing tricks to assemble some striking imagery filmed in 4:3 aspect ratio and in retro style with warm-looking almost polaroid colour scheme. There might not be particularly new insights in Lucid, but the way it plays with the things we think we know makes it an enjoyable and slightly provocative viewing experience.
---
Runtime: 16' 37''
Country: Canada
Language: English
Directed by: Deanna Milligan
Written by: Claire E. Robertson
Story by: Claire E. Robertson, Deanna Milligan
Cast: Caitlin Taylor, Stacy Grant, Georgia Acken, Peter Hoskins, Metta Rose, Keith Picot
Cinematography by: Ramsey Fendall
Editing by: Ramsay Fendall, Deanna Milligan
Music by: Marta Jaciubek-McKeever
Sound by: Patrick Coble, Bobby Cleveland
Production design by: Claire E. Robertson
Make-up by: Ruby Jones
Special effects by: David Springbett, Jason Gaffney
Produced by: Ramsay Fendall, Deanna Milligan, Claire E. Robertson
Production companies: Stage Fright Productions, Lucid Film Productions, Sublunar Films