Review: Thumb (2021)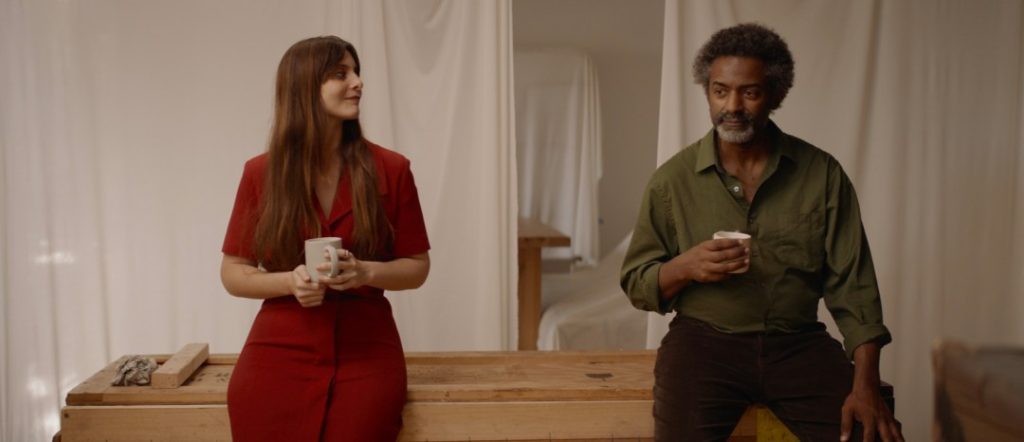 Do we own stuff or does the stuff also own us? What is our relationship to objects such as a house and pieces of art? What about performance art? Who is the owner and who is the object of ownership there? All those questions will remain in the viewer's head after watching Alexandra Pechman's short called Thumb.
After the world premiere at Fantasia this August, its European premiere took place at Slash in Vienna. The film's further festival bookings include Sitges and Chicago and they will not just stop there.
Pechman opens the film with the camera approaching the house and virtually going through its front door, while the eerie string music signals that this is no ordinary house. In it, our protagonist played by Kate Adams has some work to do and that work involves a lot of crates. A visit by Red (DeMorge Brown) reveals the nature of the work: she has to catalogue the items left behind by her late mother Leigh, a famous performance artist. The visit also reveals that the mother and the daughter named Thumb after a performance that made Leigh famous did not have a healthy, close relationship. Is it a time to grant Leigh's wish and perform Thumb once again?
The foundation of Pechman's film is the uneasy atmosphere she masterfully creates and the tension between the mysterious, but detailed characters, present as well as absent ones. Every cut and every camera move is calculated and the cinematographer Julia Swain and editor Jacqueline Kramer should be commended for their apt work. The same also goes for the actors, especially Kate Adams who was also involved with the story of the film, but special kudos should be reserved for Alexandra Pechman who orchestrates the action perfectly both on the script and on the directing level, pulling off a perfectly placed single jump scare and managing both to tell the story and leave the viewers intrigued after the ending credits.
---
Runtime: 10' 16''
Country: USA
Language: English
Directed by: Alexandra Pechman
Written by: Alexandra Pechman
Story by: Kate Adams, Alexandra Pechman
Cast: Kate Adams, DeMorge Brown, Allyson Taylor
Cinematography by: Julia Swain
Editing by: Jacqueline Kramer
Music by: Zach Robinson
Sound design by: Luke Burba
Production design by: Kyle Leeser
Costume design by: Alexandra Pechman
Make-up by: Diahann McCrary
Visual effects by: Alex Famillian
Special effects by: Jim Ojala
Colourist: Robert Crosby
Assistant director: Shirah Wagner
Produced by: Jesy Odio, David Brundige
Executive producers: Kate Adams, Alexandra Pechman
Production company: Teenager