Review: Cabra Cega (2021)
Kurtfilmtage Winterthur
International Competition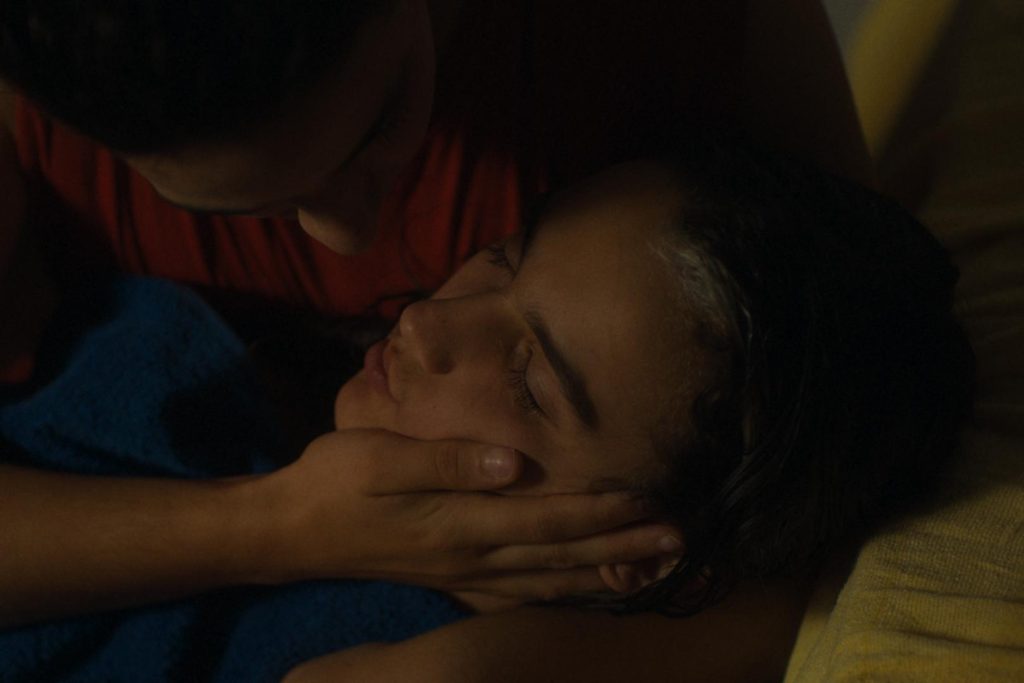 Learning a trick or two how defend oneself from a potential attacker is most cretainly a wise thing to do, but what happens when we face the actual danger? Do the body and mind react in the given moment exactly the way we would want them to? And, what if the attacker proves to be someone unexpected: a neighbour, an animal or a child?
The reason Gabi (Francisca Silva) is getting into Krav Maga is to protect herself from a potential predator on an evening out. While she is demonstrating what she has already learned to her girlfriends, she is fully convinced that a couple of moves she had excelled in will be enough to fend off a potential attacker. What she doesn't suspect is that those skills will be of no use at all once she faces a bunch of kids who bully her sleep-walking brother Daniel (Gaspar Menezes).
Cabra Cega is a film that generates its energy from the filigrane feeling for the emotional relationship between the siblings by relying not only on the acting skills of the two leading characters, but also on Manuel Pinho Braga's lensing: the camera comes close to their faces, showing every little insecurity, fear or hope. The colours are soft, soothing, and the light descrete. The contrast between the security of the family apartment and the outside world is accentuated through the still versus nervous movements, showing bodies in movement and faces from afar, through sometimes blurred, night-vision photography.
Although the close relationship between siblings stands in focus, the film is also about the female empowerment and the impact of toxic masculinity on the young generations who absorb the old patriarchal codes like sponges. The codes from the centuries old book about rights and wrongs are being inherited and followed, without questions asked.
The film screened in the International Competition of Kurzfilmtage Winterthur in October from where it continued its international journey. It's message is universal, easily recognizeable from the events of the globally lived everyday life.
---
Original title: Cabra Cega
Country: Portugal
Language: Portuguese
Year: 2021
Runtime: 16′ 07"
Directed by: Tomás Paula Marques
Written by: Inês Pinheiro Torres, Rodrigo Vaipraia, Marcelo Tavares, Tomás Paula Marques
Camera: Manuel Pinho Braga
Sound: Marcelo Tavares
Cast: Francisca Silva, Gaspar Menezes, Eluisa Muambi
Editors: Clara Jost, Jorge Jácome
Art Director: Leonor Coelho
Hair Stylist: Maria Castello Branco
Makeup Artist: Sofia Frazão
Re-recording Mixer / Sound Mixer: Pedro Góis
Boom Operator: Vicente Molder
Sound Designer / Sound Editor: Marcelo Tavares