Review: Interpretation of Reality – Georg Stefan Troller (2021)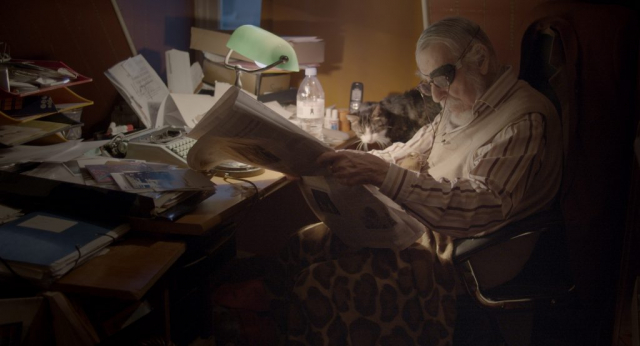 Last year, the renown pioneer of TV journalism, writer and documentary filmmaker Georg Stefan Troller celebrated his 100th birthday. Pretty much the whole Austrian nation, and especially its cultural scene, joined him in celebration by turning him into a principal topic of many talks and different TV programmes. In that regard, the documentary Interpretation of Reality – Georg Stefan Troller, written and directed by Ruth Rieser, could be seen as the continuation of the celebration. The film world-premiered at last year's Dok.fest Munich and was screened at Diagonale
Personally, I think that every life that stretches over 100 years should be celebrated just for the sake of it: life itself is a series of challenges that need to be overcome, and it takes a lot of endurance and inspiration to continue doing so over an elongated period of time. But Troller's life is much more exceptional than this. He was born in 1921 to a well-off Viennese Jewish family. After surviving the Kristallnacht, he became an emigrant at the age of 17 and his life path lead him across Czechoslovakia and France to the United States. He returned to Europe as an American soldier, interpreter for the interrogations and one of the liberators of the Dachau concentration camp. After the war he settled in Paris from where he reportedly made over 2.000 respectful, but critical interviews with celebrities from all lines of work, all over the world. He is best known for his work on the long-running documentary TV series Parisier Journal (1962-1971) and Personenbeschreibung (1972-1993).
Troller was also a writer, although most of his work is an auto-fiction of sorts, and he also served as a screenwriter for Robert Schnidel's and Lukas Stepanik's film Gebürtig (2002) which was partly based on his own life. Ruth Rieser, an actress-turned-filmmaker, was among the film's cast.
The main question with Interpretation of Reality – Georg Stefan Troller is whether a subject, even as impressive as Troller, and an abundance of the top-notch archival material is enough to guarantee for a good portrait documentary. On his part, Troller does his best to be a natural presence in the film, sharing thoughts and anecdotes with a laid-back, sincere attitude, and he especially shines in a couple of newly-filmed scenes, for instance when he insists not to be strolled to Dachau (he makes an effort to walk on his own) and when he recognizes a book cabinet (complete with books he got for his Bar Mitzvah) now belonging to the elderly lady who inherited Trollers' family house, but remembers it as her parents' possession since forever.
The trouble is with Rieser's approach which is very respectful, yet overly ambitious. Simply told, she wants to squeeze absolutely everything about Troller in a single film and that shows in the lack of focus and a demanding runtime of slightly over two hours. The material she has on her disposal is brilliant, but there is simply too much of it, which might prove to be a bit over-bearing, especially for the viewers that are not that well-acquainted with Troller's life, work, his significance and heritage. In the end, unlike its subject, Interpretation of Reality – Georg Stefan Troller (the first part of the title is actually his own quote) is not that impressive, but it is a decent and respectful documentary.
---
Original title: Auslegung der Wirklichkeit – Georg Stefan Troller
Year: 2021
Runtime: 121'
Country: Austria
Languages: German, French, English
Directed by: Ruth Rieser
Written by: Ruth Rieser
Cinematography by: Volker Gläser
Editing by: Karin Hammer
Sound design by: Veronika Hlawatsch
Sound recording by: Lars Verkolege, Ines Vorreiter, Sebastian Wagner
Colourist: Susi Dolling
Produced by: Ruth Rieser
Production company: RR* Filmproduktion
Distribution by: ORF Enterprise