Review: Goodbye, Jérôme (2021)
Vienna Shorts
FIDO Competition
Jury Prize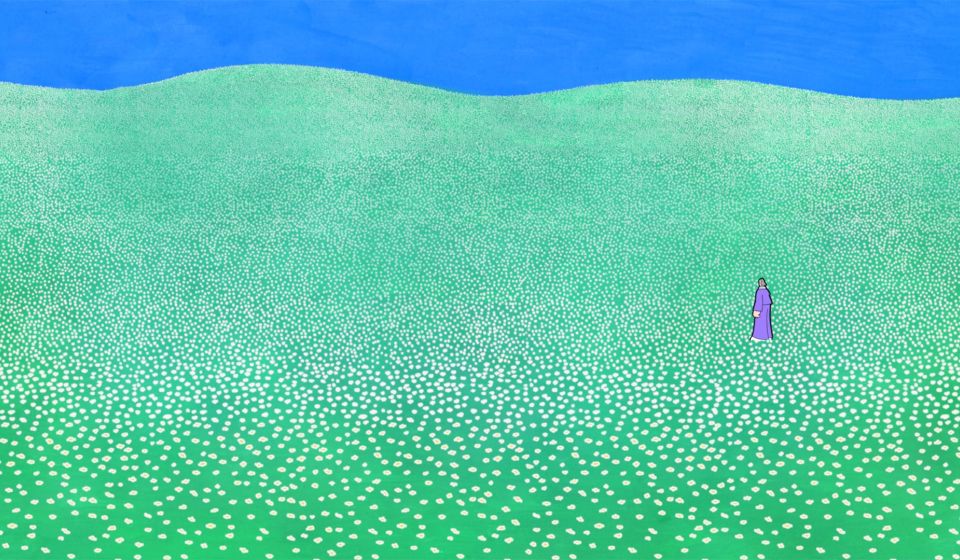 Many tomes, usually of religious nature, are written about Heaven. Later on, Heaven became the topic in the realm of pop-culture, with or without religious undertones, and it even found its place in a cheesy 80s pop song. But what if Heaven was / is, above anything else, a surreal place?
Welcome to the animated short Goodbye, Jérôme by the Gobelins student trio mentored by Marjane Satrapi (of Persepolis fame) herself. The film premiered earlier this year at Sundance, and the festival tour ensued, with the notable stops at Berlinale (where it won the Special Jury Prize in Generation 14plus competition), and Anima Brussels. Most recently, it was screened at Vienna Shorts where it scooped the Jury Prize in the fiction and documentary (FIDO) competition.
The story is actually quite common: the titular protagonist (voiced by William Lebghil) searches Heaven for Maryline, turning every stone in process, only to find her (the character is voiced by Alma Jodorowsky) and learn that she would prefer to be alone in the afterlife. But the flavour of the story comes from the surreal vision of the place in which 2D tableaux come one after another seemingly without any logic. Think of a tree monster giving one of his flowers, a cook serving a hot dog containing a dachshund covered in mustard, rooms that change orientation, people made of glass and ants capable of fixing anything.
Animation with lots of details, simply drawn and in saturated colours (water colour effect kicks in later, with a compelling dramaturgical reason) is a perfect tool for presenting the vision of the trio of the young directors. The original score by Anna Cordonnier and Amandine Robillard also plays a considerable role in the film's dramaturgy, switching styles from the stereotypical "celestial" sounds to acid jazz and darker synth tones with logical reasons to do so, while the sound design by Nadège Feyrit completes the soundscape that is dialogue-free for the most of the time.
Finally, Jérôme's and Maryline's Heaven is like no other: far from idyllic, it is actually exciting. The same could be said for Chloé Farr's, Gabrielle Selnet's and Adam Sillard's little movie.
---
Original title: Au revoir, Jérôme
Year: 2022
Runtime: 7' 44''
Country: France
Language: French
Directed by: Chloé Farr, Gabrielle Selner, Adam Sillard
Written by: Chloé Farr, Gabrielle Selner, Adam Sillard
Voice cast: William Lebghil, Alma Jodorowsky
Animated by: Chloé Farr, Gabrielle Selner, Adam Sillard
Additional animation by: Jocelyn Charles, Alexis Maurice, Arthur Sevestre
Music by: Anna Cordonnier, Amandine Robillard
Sound design by: Nadège Feyrit
Colourist: David Chantoiseau
Produced by: Moïra Marguin
Mentor: Marjane Satrapi
Production company: Gobelins, l'école de l'image
Supported by: TV Paint