Sarajevo review: Diary of a Bride of Christ (2022)
Sarajevo Film Festival
Documentary Competition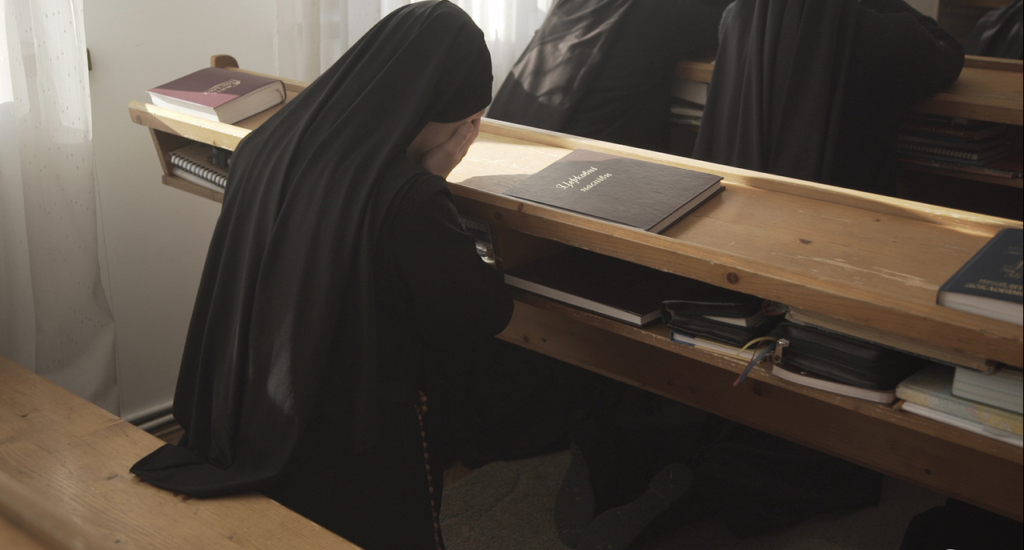 Marta Smerechynska's documentary Diary of a Bride of Christ kicks off with a quote from the Gospel of Luke: "Martha, Martha," the Lord answered, "you are worried and upset about many things, but few things are needed—or indeed only one. Mary has chosen what is better, and it will not be taken away from her." Marta is worried indeed, moreover she is worried about her sister Nastia whose new, 'bridal' name given by the church happens to be Mary.
Smerechynska is, as she will set straight right at the beginning, a priest's daughter and a nun's sister, who was brought up in a strictly religious environment. Her father grabbed the oportunity to get married prior to being ordained, which is an option offered to Greek Catholic Church priests in the region. Actually, the church is Orthodox in almost all things (all the rite details are preserved Orthodox since 1596) except that it recognizes Pope as its supreme leader, so Marta's mother had to confine to the role of 'lady mother' or panimatka. Unlike Nastia, Marta never felt connected to religion, even admitting at one point that she might be an atheist. Strange is her initial decision to make a film without involving her family members, the idea which she fortunately hasn't followed. Even with Nastia (now Mary) strongly present in the film, director's aim isn't quite clear. If her goal was to understand her sister better, this might have happened off screen and not on it. The film might be asking right questions, but it is not delivering answers.
Once the Greek Catholic Monastery in Western Ukraine opens its doors to the filmmaker, the atmosphere becomes a dash too cheerful with nuns of all ages behaving like they are participating in the most amusing entertainment show that enters its fifth season, and it's about to be broadcasted to a huge audience. Even if this could be the genuine case of an idyllic union, there is a sense of fakeness to it. In this perfect environment, there's only chanting and good mood to the point of expecting to see Julie Andrews dance into the room to a tune of the next great musical classic: "The convent is alive with the sound of music". Both strange for its exaggeratedly positive image of the convent life, and refreshing for the lack of clichés surrounding the existence deprived of earthly pleasures, Diary of a Bride of Christ is an interesting, although a bit naive take on nuns and their views. Marta Smerechynska is not invisible, and there is a strong interaction between the camera and the women.
The parallel drawn between sisters' dedication to their vocations comes across as the director's sincere attempt to accept the situation. It is also her way to bid farwell to the past.
Before its international premiere in the Documentary film competition at Sarajevo Film Festival, Diary of a Bride of Christ scooped two awards at Ukrainian Doc Preview Docudays UA 2020, East Silver Caravan Award and DOK Leipzig Award. The film was presented at the Marché du Film in Cannes as part of the Cannes Docs 2020.
---
Country: Ukraine
Year: 2022
Runtime: 90′
Produced by: Digital Religion
Producer: Natalia Libet
Written/ Directed by: Marta Smerechynska
Cinematographer: Sonya Gerasimova
With support of Ukrainian State Film Agency, Ministry of Culture and Information Policy of Ukraine