Review: Intrusion (2020)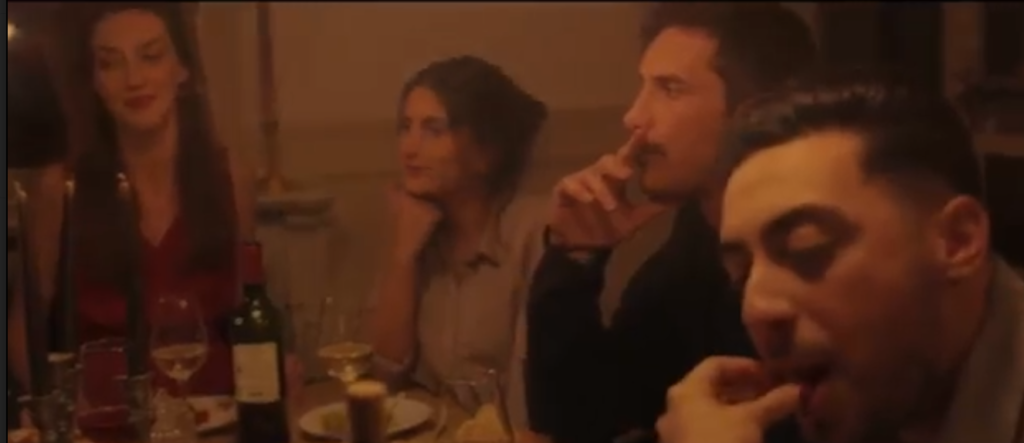 It does not seem that way, but home invasion as a pretext works better in a feature-length format than it does in short. The key difference is character development – the trope does not need that many characters (although the more the merrier when it comes to "cannon fodder"), but those present need at least some sort of development, characterization and motivation that exceeds the basic urge for survival. And that is the key point for which Maxime Sévellec's 16 minutes long chiller Intrusion, shown at HÖFF in Little Nightmares selection, should be judged.
The plot is quite basic: a group of coupled-up upper class friends gathers in a secluded mansion and, at point, a stranger with a knife appears to threaten them. Apart form the time limit, the biggest challenge Sévellec and his cast and crew had to face is a very modest budget that does not allow all those flashy effects. The filmmaker's approach is quite elegant here, from a montage sequence of a dinner party at the beginning set against a downtempo, moody rock song, to the fact that most of the killings happen off-screen or in its darker corners. Hand-held camerawork by Jules Poisson works perfectly, paired with discreet lighting, a suitably spooky score and Raphaël Silva Cavaco's precise editing, while the atmosphere remains quite gloomy.

On their part, the actors are doing a good job with the material they have on disposal. The fact is that the characters better function as a group than individually, with the noble exception of the invader played by Grégoire Le Du for obvious reasons, but at least no one stands out in a wrong way.
The trouble with Intrusion is, however, that Sévellec overplays his hand trying to pull the rug under the viewers with a late plot twist in the likes of Alexandre Aja's High Tension (2003) that comes to late to build up on and feels both forced and explanatory, therefore undermining the efforts he put earlier on in the film.
---
Original title: Intrusion
Year: 2020
Country: France
Language: French
Runtime: 16′ 03"
Directed by: Maxime Sévellec
Written by: Maxime Sévellec
Screenplay consultant: Alexis Sévellec
Cast: Sandra Rosinsky, Estelle Verheylesonne, Gaetan Penna, Laura Masci, Eugénie Ravon, Tugdal Brendan, Grégoire Le Du, Greg Lirov, Zakaria Atek
Cinematography by: Jules Poisson
Editing by: Raphaël Silva Cavaco
Music by: Teddy Coutet, LucieNova
Sound by: Gabin Guelle
Production design by: Mahaut Bontemps
Costume design by: Camille Pigeat
Makeup artist: Victoria Vinas
Assistant director: Valentine Blanchard
Production company: Esra