Review: Plainsong (2019)
Courtesy of Travelling distribution
Shown at Little Nightmares sidebar of HÖFF, Alexis Fortier-Gauthier's exquisite short film Plainsong (although the original French title Mélopée, meaning "chant" suits it better) could cause some serious nightmares. The scares do not come in a straightforward fashion, from jumps, sensory overload or gross-out exhibitions, they are being built up slowly in the best possible post-horror fashion instead, resulting in very much of a "Lovecraftian" experience.
The trio of young adults are going to a retreat in a small coastal village in Quebec. It is early summer, around Saint-Jean-Baptiste Day, which is a national holiday for French Canadians, but the mood is not exactly celebratory. The trio consists of one couple, Guillaume (Antoine L'Écuyer) and Diane (Rosalie Fortier), and a moody loner Olivier (Antoine Desrochers), who also has his eyes set on Diane. On top of that, Diane is mute and her handicap makes her an easy target for the mockery of the local douchebags.
On the night of the celebration, Olivier tries to overcome his emotional pain by working on a new song on the beach. Soon enough, the sea starts responding to his downtempo guitar music with singing of sorts. It turns out that there is a supernatural entity, a beautifully designed neon-glowing tentacle monster, underneath and it starts meddling with the trio's dynamics to fatal consequences for at least one of them.

Sound design is of utmost importance in horror genre, and it is also the case with Plainsong, but not in a familiar, trope-based way. The score here, composed by Peter Venne, is extremely gentle, relying on either Olivier's acoustic guitar, the combination of piano and synthesizer in the opening or melancholic electronica for the finale, and it is incorporated perfectly into Patrice Le Blanc's naturalistic sound design. The whole thing goes along well with slightly longer steadycam takes and perfectly controlled acting that puts the intrapersonal dynamics in focus envisioned by Fortier-Gauthier and the screenwriter Rémi Dufresne with the impeccable sense of economy both script- and direction-wise: without a detail that feels too much.
The atmosphere, dense as fog, threatening, yet ambiguous, is the key for Plainsong. The film might be considered too mellow and moody for hardcore genre fans, but it channels the energy of Ari Aster's, Robert Eggers' and Trey Edward Shults' work. Even before HÖFF, it was recognized as a work of art in many significant festivals like Fantasia, Toronto After Dark and NIFFF. It is post-horror at its best.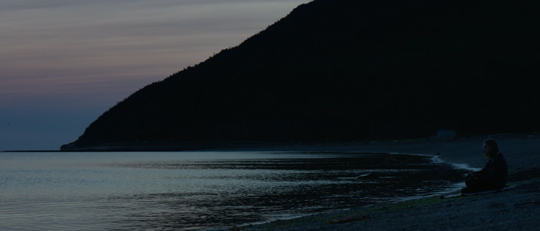 ---
Orginal title: Mélopée
Year: 2019
Runtime: 17′ 39"
Country: Canada
Language: French
Directed by: Alexis Fortier-Gauthier
Written by: Rémi Dufresne
Cast: Antoine Desrochers, Rosalie Fortier, Antoine L'Écuyer
Cinematography by: François Messier-Rheault
Editing by: Myriam Magassouba
Music by: Peter Venne
Sound design by: Patrice Le Blanc
Production design by: Marie-Pier Fortier
Costume design by: Kelly-Anne Bonieux
Make-up artist: Léonie Lévesque R.
Special effects by: Bruno Gatien
Colourist: Julien Alix
Produced by: Jean-Marie Poulain
Production company: Art & Essai
Supported by: SODEC Quebec, CALQ, ACIC
Distribution: Travelling