Review: Smiles (2019)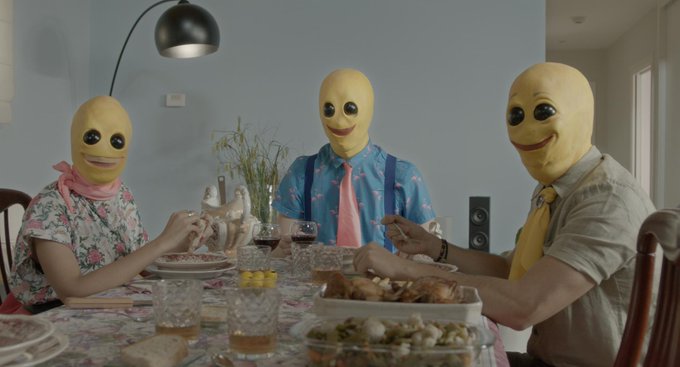 Meeting the parents is the first big test of a romantic relationship and it became a trope long, long time ago. It can be done in different genres and contexts: from the drama of Stanley Kramer's Guess Who's Coming for Dinner (1968), via the comedy of Meet the Parents / Fockers film serial, to the horror of Jordan Peele's Get Out (2017). The psychological mechanism behind it is fairly simple: one can never know what remains hidden behind the mask of either kindness or toughness. Javier Chavanel's short Smiles, a genre-blender consisting of the unpleasant comedy- and horror elements, shown in Melies d'Argent competition at HÖFF is precisely about the masks people wear, literally.
We meet Borja (Luis Miguel Jara) and Sara (Loreto S. Santamaría) as a happy couple via their photos of hanging in a café and around the city, set against a cheerful pop song. The easy-going happiness is about to be interrupted with the test: she wants him to meet her parents. He is not too enthusiastic, but he accepts anyway.

The whole meeting thing is strange right from the beginning. The parents' house, shot from an odd angle by the DoP Carlos Iglesias, does not seem to fit the nearby architecture. It is way too American and laced with 50s kitsch all over the place, complete with a ceramic dog in front of its own wooden house.
Sara's family is even stranger than that. All of them, the mother, the father and the brother, seem to wear smiley-face masks at all times, which affects their speaking and eating capabilities. Borja is about to get in trouble soon enough, thanks to his city hipster attitude and especially his tactless, probing questions…
The basic story might be a bit of a template, but Chavanel does his best to elevate it into something completely organic, insightful and shocking towards the end. He proves to be a very good scriptwriter, doing a great work to profile the characters and to portray the situations they got themselves into in a realistic way. Sure, Borja is a bit of jerk, while Sara tries to balance between the two extremes, or the two normalities. As a director, he demonstrates quite an eye for the detail, utilizing Nacho Escribano's production design to the maximum. Chavanel manages to hit the right key every time, while the tone varies from comedic to scary, so the metaphorical and the physical horror feel very real in Smiles.
---
Original title: Sonrisas
Year: 2019
Runtime: 13′ 24"
Country: Spain
Language: Spanish
Directed by: Javier Chavanel
Written by: Javier Chavanel
Cast: Luis Miguel Jara, Loreto S. Santamaría, Alejandro Sigüenza, Alba Sánchez, Eduardo Montoro
Cinematography by: Carlos Iglesias
Editing by: Javier Chavanel
Music by: Kevin McLeod
Sound by: Damián López Asla, Alfonso Gil
Production design by: Nacho Escribano
Costume design by: Andrea Tímon
Make-up: Lola Hernández Redondo
Special effects by: Irene Uncal Rubio, Adrián Fernández Cano
Assistant director: Ángel Jaquem
Produced by: Miguel Ángel Lozano
Production companies: Mordisco Films, Escorpion de Jade