Review: Two Bodies on a Beach (2019)
At first, there are not two bodies on the beach. There is just one, a body of a young woman (Laura Birn) in underwear, fishnet stockings and high heels wrapped up in nylon, suggesting that she is a femicide victim. Soon enough, she wakes up with a curse word on her mouth adding – "Not again", before she starts walking down the beach where she runs into another, older woman (Rea Mauranen). She will later on prove to be another vistim of femicide. At first, she does her best to see the "all show and no go" intruder off , stating she is quite satisfied with her life. "Let's smash the patriarchy!, the young replies in style of a Brechtian political theater. "I'm kinda busy." (she is not), replies the older woman in a typical Finnish, or at least Kaurismakian deadpan fashion.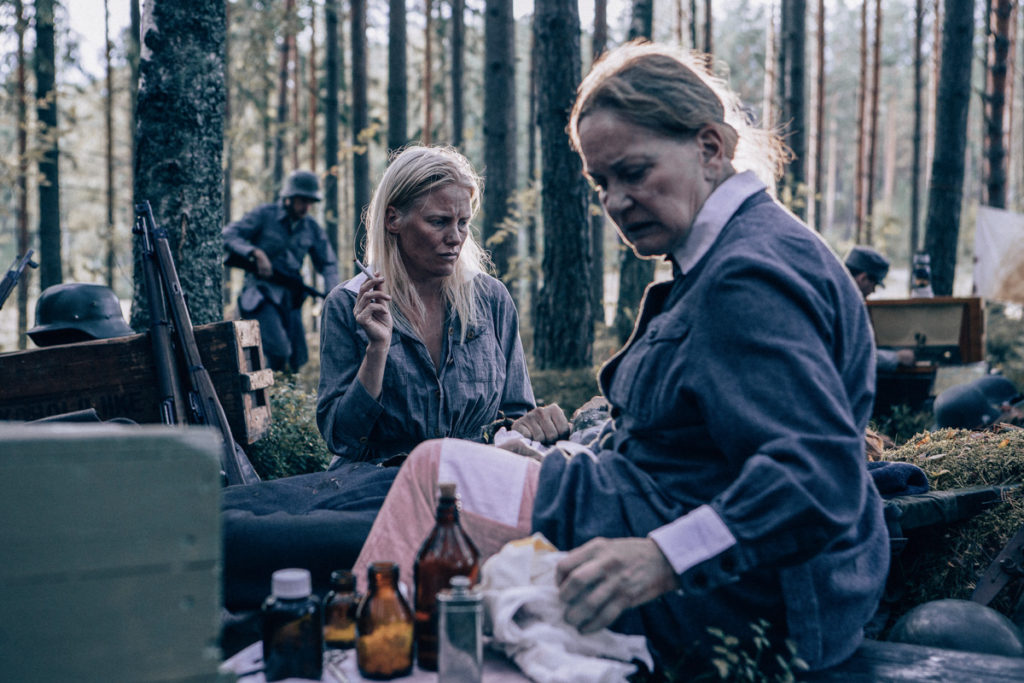 However, they forge an alliance that takes them places and times, from a trailer in the middle of the field on, to a forest in the midst of a WWII battle, to the post-apocalyptic desert, to the city of the future and so on. There is even a Bergmaneque funeral and a thrilling meta-film finale that literally takes no prisoners, so the level of weirdness is high at all times of the feminist parable called Two Bodies on a Beach, directed by Anna Paavilainen, shown on a number of respectable short film- and genre festivals (for instance, awarded at Austin Fantastic), that we finally got the chance to see at the online edition of HÖFF.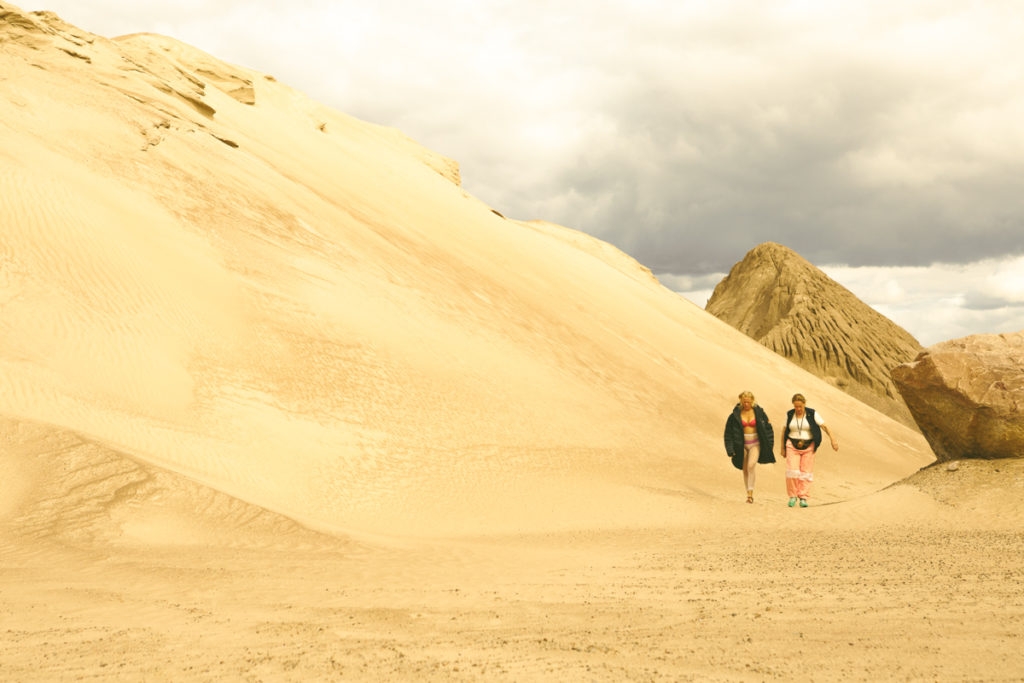 Strangely, the whole weirdness works perfectly: the viewer is magnetically drawn to the screen and is more than ready to swallow the whole of 20 minutes of the film's runtime in a single breath. The reason for that is fairly simple: it is an example of a top-notch craftsmanship and an impeccable style. Every world our heroines cross works on its own terms in the sense of film language, and Paavilainen simply enjoys playing with image formats, aspect ratios, colour schemes and palettes, types of cinematography (handled by Jarmo Kiuru) from crispy digital to grainy faux 16mm and back, the presence and the types of music written by Kasperi Laine. The cast lead by Laura Birn and Rea Mauranen as the younger and the older woman respectively, is also impressive at their job, given the fact that most of the dialogue, usually consisting of slogans and the ways to respond to them, makes little sense and offers even less explanation.
Two Bodies on a Beach is definitely one of the most remarkable shorts, genre and otherwise, still touring the festivals and available on the market. It is a viewing experience hard to simulate in any way imaginable.
---
Original title: Kaksi ruumista rannalla
Year: 2019
Runtime: 19′ 55"
Country: Finland
Language: Finnish, English
Directed by: Anna Paavilainen
Written by: Anna Paavilainen, Laura Birn
Cast: Laura Birn, Rea Mauranen, Tommi Korpela, Lauri Tilkanen, Lauri Maijala
Cinematography by: Jarmo Kiuru
Editing by: Tuuli Alanärä
Music by: Kasperi Laine
Sound by: Karri Niinivaara
Production design by: Heini Erving
Costume design by: Tiina Kaukanen
Make-up: Pia Mikkonen
Special effects by: Jonas Nourisson
Visual effects by: Jarno Elonen
Produced by: Misha Jaari, Jani Lehtinen, Mark Lwoff
Production company: Oy Bufo Ab
Distribution: Yleisradio