Review: Nine Shots (2020)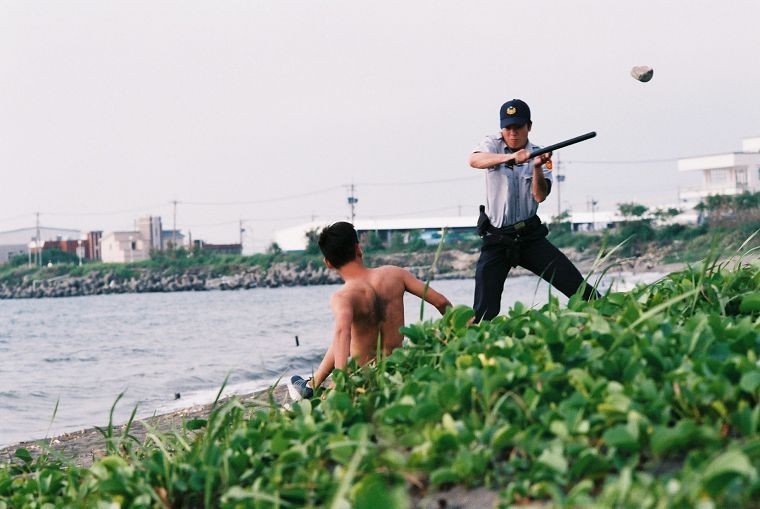 In the times of the murder of George Floyd by the hands (and knees) of a white police officer, and the chain reaction of the peaceful protests turning into chaos on the streets (which is also the fault of the reaction by the police and the officials), Su Che Hsien's based-on-true-events short Nine Shots is more than timely. It tackles the topic of police brutality fuelled by the long-standing racism and nationalism as the underlying reason that only changes its shapes and colours by crossing the borders, leaving the mechanisms pretty much intact. The film was selected for the international competition at Vienna Shorts and was shown in From Sea to Snow program section.
The victim here is a Vietnamese migrant-worker, possibly illegally in Taiwan. As it is usually the case, he was over-worked and under-paid to the extent that he had to use amphetamines to increase his output at work (it is a menial job of loading and unloading the boats at a pier) and alcohol to relax on the beach. The perpetrator is a police officer who wakes him up from an afternoon nap. Due to the worker's initial confusion and the language barrier between the two, the misunderstanding and the conflict ensues, ending up with the titular nine shots fired from the service weapon ending up in the head and the body of the unlucky guy just wanting to send some money home.

Only then, at the half of the film, we get to see the title, written in red letters over a pitch-black screen. It is an effective trick Su pulls, as it grabs the viewers' attention without the intention to let go. The rest of the film follows the aftermath of the shooting: the courtroom process regarding the bill for the transportation and the autopsy of the body and the worker's father coming to collect his son's body and take it home. The epilogue offers little to hope for.
Plot is central to Su's short film, clocking at 15 and a half minutes of runtime, but he manages to profile his characters at least to some extent. On the visual level, the film works quite well, taking the warmth of the analogue cinematography handled by Kao Tzu Hao, consisting of mainly longer, static shots from medium to greater distance. Nine Shots is a type of short that certainly leaves a strong impression.
---
Original title: Nine Shots
Year: 2020
Runtime: 15′ 26"
Country: Taiwan
Languages: Vietnamese, Chinese
Directed by: Su Che Hsien
Written by: Su Che Hsien
Cast: Le Hai Nam, Lin Shao Cian, Le Van Hiep, Chen Wei Hsien, Li Chia Ling, Nguyen Van Duc
Cinematography by: Kao Tzu Hao
Editing by: Liu Door
Production design by: Wang Zheng Xin
Make-up by: San Huang Jo
Colourist: Feng Jun Leng
Assistant director: Lai Jyun Syuan
Produced by: Lai Jyun Syuan
Production company: Kaohsiung Shorts