Marshawn Lynch: A History (2019)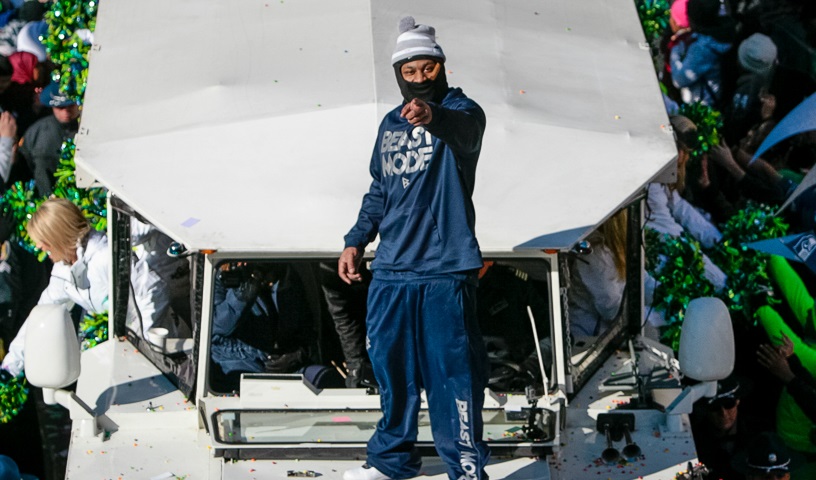 An urgent political polemic filtered through the lens of American football, Marshawn Lynch: A History feels especially timely during the current wave of Black Lives Matter protests. First-time director David Shields and his editor James Nugent take a boldly accelerationist approach to the visual grammar of documentary with a fast-moving jump-cut collage that crams more than 700 short bursts of archive video, TV news clips and first-hand interviews into a lean 84 minutes. This propulsive cine-essay feels jarringly dense and overstuffed at times, but it makes for a compelling pile-up messages and ideas. Screened at IceDocs festival in Iceland last week, this ambitiously rich cine-essay has clear appeal beyond specialist sports-fan audience.
Shields is mostly known in his native US as a writer of experimental non-fiction books, and Marshawn Lynch: A History mirrors some of the fractured, layered, feverish quality of his prose. Five years in the making, the project grew from aborted plans to adapt the author's 1999 book Black Planet into a film in collaboration with James Franco. Over time, focus shifted and the subject became Marshawn Lynch, a star running back for the American football teams the Seattle Seahawks, Buffalo Bills and Oakland Raiders. The end result is less a conventional bio-documentary, more a wide-ranging reflection on blackness in America, and specifically how Lynch subverts the one-dimensional roles imposed on high-profile African-American athletes by the white gaze: as flamboyant court jesters, stereotypical bad-boys and humble servants of the sports-industrial complex.
Nicknamed "Beast Mode" for his powerful, unstoppable energy on the field, the Oakland-born Lynch has long been a colourful public figure in the US, almost as famous for clowning around on TV talk shows as he is for his sporting prowess. But in 2013 he dropped his usual clownish public persona and began to treat the media with undisguised disdain, responding to mandatory press conferences with sullen, monosyllabic non-answers. Facing steep fines and possible disqualification for breach of contract from his employers, the NFL, he began fulfilling the minimum possible media obligations with terse, surreal interviews. Ahead of the 2015 Super Bowl, he stonewalled reporters by repeating the line "I'm just here so I won't get fined, bro."

In 2017, Lynch triggered more controversy when he refused to stand for the US national anthem ahead of a football game in Mexico, but then rose to his feet for the Mexican anthem. His actions drew inevitable heated criticism from President Trump and right-wing US news networks, while famous fans like Snoop Dogg fiercely defended Lynch. Shields links this defiant stunt with the more contentious case of Colin Kaepernick taking a knee during the US anthem. Both gestures gain extra political force in the current BLM climate.
Shields frames Lynch's story as part of a broad historical canvas interwoven with quotes and film clips featuring iconic Bay Area writers, artists and activists including Jack London, Angela Davis, Bruce Lee, Alice Walker, the Black Panthers, Philip K. Dick, Sly Stone, Sonny Barger, Clint Eastwood, Maxine Hong Kingston, Tupac Shakur and Ryan Coogler. He also draws other groundbreaking figures into this widescreen narrative including Richard Pryor, Stokely Carmichael, Muhammad Ali, Sun Ra, Henry Rollins, Dave Chappelle and Barack Obama. Quotes from the classic Doctor Seuss children's book The Cat in the Hat, a favourite of Lynch's, and from the black power campaigner H. Rap Brown, who famously claimed "violence is as American as apple pie", also serve as recurring motifs.
Rhythmic and fast-paced, Marshawn Lynch: A History has an almost musical feel, with strong stylistic echoes of Göran Olsson's 2011 documentary The Black Power Mixtape. Lynch himself had no direct input into the project, appearing only in pre-existing footage, but Shields is unashamedly partisan in framing the athlete as a modern-day folk hero. In interviews, the director describes Lynch's tense stand-offs with the media as a "magisterial act of wizardry" akin to high-level performance art. As the film ends, an on-screen text summary concludes that Lynch uses "silence, echo and mimicry as key tools of resistance" against a racist, capitalist America. Such loaded claims would deserve deeper examination in a more conventional documentary, but Shields is not pretending to be an objective film-maker here, he is sending an uncompromising love letter to Lynch and to all the complex rebel icons of black America.
---

Original title: Marshawn Lynch: A History
Year: 2019
Runtime: 84′
Country: US
Language: English
Director, screenwriter, producer: David Shields
Editors: James Nugent, Christian Palmet, David Shields
Music: David Nugent
Production company: Cargo Films