Review: Cockpera (2020)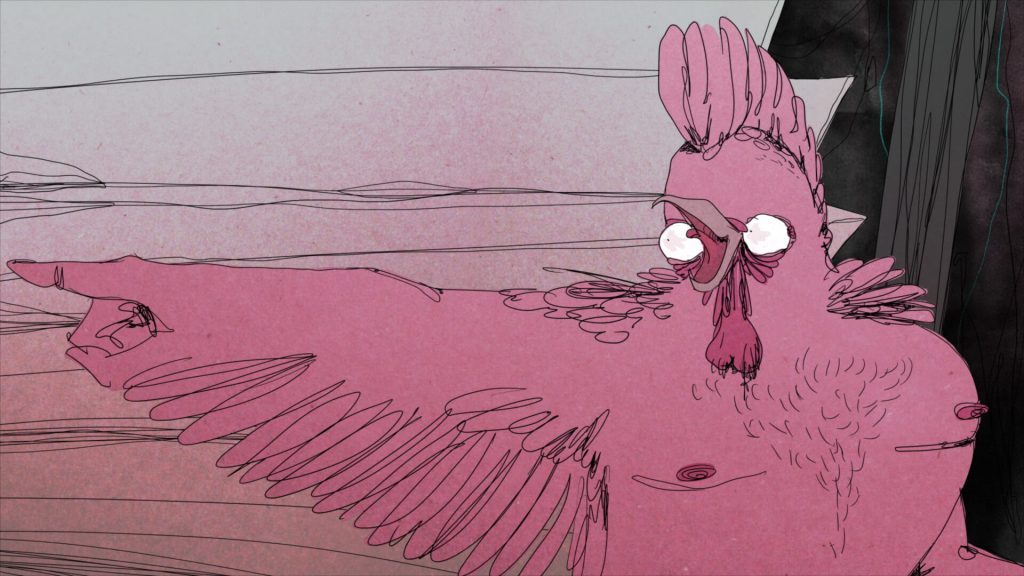 Kata Gugić's animated short film Cockpera deals with the multiple meanings of the word "cock" in a setting of a henhouse opera. It sounds weird, like most of the non-commercial animation cinema does, but it actually works in its mission to draw the webs of significance between the different interpretations of the term. It was awarded the Special Mention in the regional competition for the territory of ex-Yugoslavia at the recently finished FEKK.
Cockpera was inspired by Aesop's fable The Fighting Cocks and the Eagle, but instead of the eagle, another type of predator emerges in the end to deal with the two cocky cocks. It is not that hard to guess who the predator would be judging by the setting the filmmaker Kata Gugić envisioned. In the end, all the fables are about the behaviour patterns of one specific animal called human.
The thing Gugić nails in her film is the connection between the theatrics of a cock fight, opera and cocky behavior of humans. We have a principal cast of a tenor and a baritone as the fighters and a soprano as "the prize" they are fighting for. Even the weird, surreal detail of the birds' anthropomorhism too precious to spoil is here for a reason.
It is all packed in a compact format of four and a half minutes with no dialogue whatsoever. Instead, there is an interesting mock-opera sound scheme designed by the composer and sound designer Vjeran Šalomon over the hand-drawn 2D animation and the aesthetically well-rounded textures designed by Matea Kovač. Cockpera is a piece of extraordinary fun that offers some deep insight in a very humorous way.
---
Year: 2020
Runtime: 4' 34''
Country: Croatia
Language: No dialogue
Directed by: Kata Gugić
Written by: Kata Gugić
Voices: David Šeb, Max Hozić, Lucija Jelušić
Textures by: Matea Kovač
Music by: Vjeran Šalomon
Sound design by: Vjeran Šalomon
Production companies: Zagreb Film, Academy of the Fine Arts (ALU) Zagreb