Review: Consuming Contemporary (2019)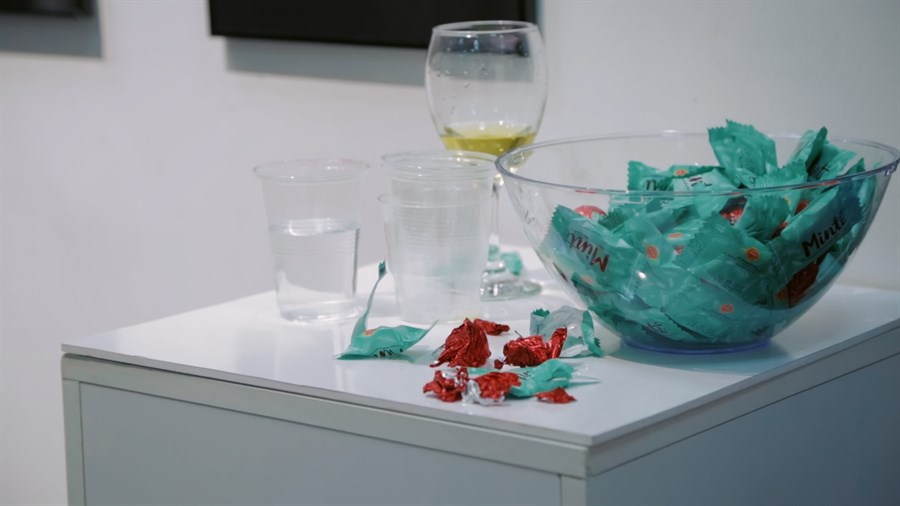 Some say that culture is food for soul and therefore as essential for one's inner life as nourishment is for the physical existence. This metaphor is used for a reason – food and drinks served after theatre premieres and exhibition openings can create some trouble for a gang of elderly "consumers of all the culture" from the North Macedonian capital Skopje in Ana Aleksovska's short documentary Consuming Contemporary that has just triumphed at the international competition of Ljubljana short film festival FEKK.
First we meet our protagonist Sunčica picking strawberries near her house in the village outside of Skopje and explaining that she just does some things out of pure pleasure. Her daily life is far from happy, her husband is a brute who berates her at any given opportunity. But when the evening falls, she goes to the capital to frequent all the cultural events with a group of like-minded and similarly aged people. However, she often gets spotted by the security and event organizers and accused of party-crashing and freeloading.
Sure, the free food and drinks are a part of her motivation for visiting all the cultural events available, but not only. Also, she is not that hard to spot being twice the age of the majority of other visitors, and her dressing style is not exactly modern nor worldly. The tragedy is that she gets denied of her pleasure and basic need on the not exactly socially just grounds.
Aleksovska combines different approaches to documentary filmmaking in order to paint a wholesome picture of an extraordinary protagonist. Observation is intertwined with interviews sometimes masked as over-heard conversations in order to provide the context for particular situations. Four cinematographers (one of whom is Honeyalnd's Samir Ljuma) and three editors in the crew are the testimony that Consuming Contemporary was a serious project all the way through, while the montage sequences set against the easy listening and rock music in Macedonian language and the kitsch of Skopje's "New Antiquity" glimpsed in the background are especially nice touches.
---
Original title: Gospodata od sovremena
Year: 2019
Runtime: 25' 58''
Country: North Macedonia
Language: Macedonian
Directed by: Ana Aleksovska
Written by: Ana Aleksovska
Idea by: Anželika Apsis
Cinematography by: Vladimir Dimoski, Samir Ljuma, Gjorgji Klinčarov, Branko Avramovski
Editing by: Mihail Dimitrov, Vladimir Dimoski, Bogoljub Milovanoski
Sound design by: Saško Potter Micevski
Sound recordist: Igor Popovski
Colourist: Gjorgji Klinčarov
Produced by: Marija Dimitrova
Executive producer: Dejan Krajčevski
Production company: List Production
Supported by: North Macedonian Film Agency (NMFA)