Review: Then the Evening Comes (2019)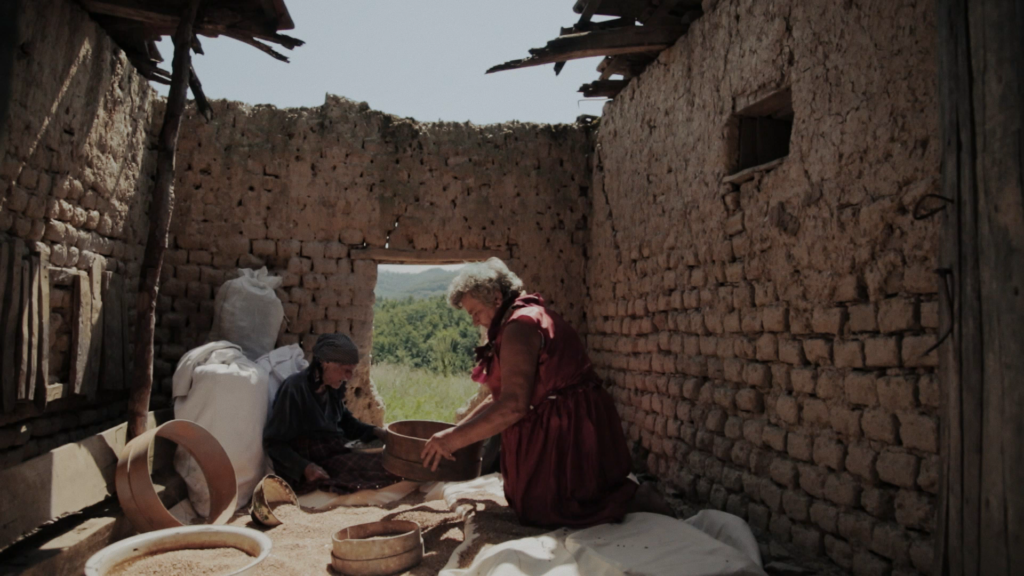 The mornings rise upon and the evenings fall onto a lonely, crumbling house and the farm surrounded by the forests, hills and fields. Two women live there without even the basic benefits of the civilization like electricity and running water, taking care of their crops, fruit and animals almost in complete silence, day after day. Their work seems hard, but their faces do not leave much impression whether it is or it is not so. It could be the only life they know of…
From that description, one could assume that the film in the spotlight is last year's double Academy Award nominee Honeyland, which is absolutely not the case. However, Maja Novaković's stunning debut short documentary Then Comes the Evening is a similarly themed, but different kind of cinematic work than Tamara Kotevska's & Ljubomir Stefanov's film which has been reaping awards since its world premiere at Visions du Réel in 2019. We finally had the chance to see it at the online edition of DokuFest.
The difference between the two documentaries from Balkans are numerous, yet subtle. They do not start and end with the format and the visual identity (the landscape here is far less arid). Thematically, Novaković is more interested in making a meditation about the simplicity and the occasional brutality of the life without any kind of technology than in the social and political-economic aspects of the low-tech agriculture.
The approach reflected in the treatment of the protagonists and the protagonists' relationship to the fact that they are being filmed is the key difference here. Unlike the charismatic and chatty leading lady of Honeyland, in Novaković's film the protagonist Vinka speaks only to her sheep and goats or when she has to chant for the storm-chasing ritual. Like their relationship towards the life and the civilization, Vinka and her mother Obrenija remain completely untouched by the fact that someone is filming them in order to tell their story.
Maja Novaković does a magnificent job doing so, never exploiting them and never imposing her own opinions through them. Aided by the young, but capable crew including Jasna Prolić as the cinematographer, Marija Kovačina at the proverbial editing table and Luka Barajević who handled the sound design, she manages to make a discreet, but strong film that works on its own terms and in a wider context, offering a unique viewpoint in the debate about the relationship between the humanity and the nature.
---
Original title: A sad se spušta veče
Year: 2019
Runtime: 27' 30''
Country: Serbia
Language: Serbian
Directed by: Maja Novaković
Written by: Maja Novaković
With: Vinka Radić, Obrenija Radić
Cinematography by: Jasna Prolić
Editing by: Marija Kovačina
Sound design by: Luka Barajević
Production design: Maja Novaković
Visual effects by: Ivan Milosavljević
Colourist: Dušan Grubin
Graphic design by: Nebojša Petrović
Produced by: Maja Novaković, Milan Milosavljević
Production company: DKSG – Academic Film Centre
Supported by: Film Centre of Serbia (FCS)