Review: Attachment (2019)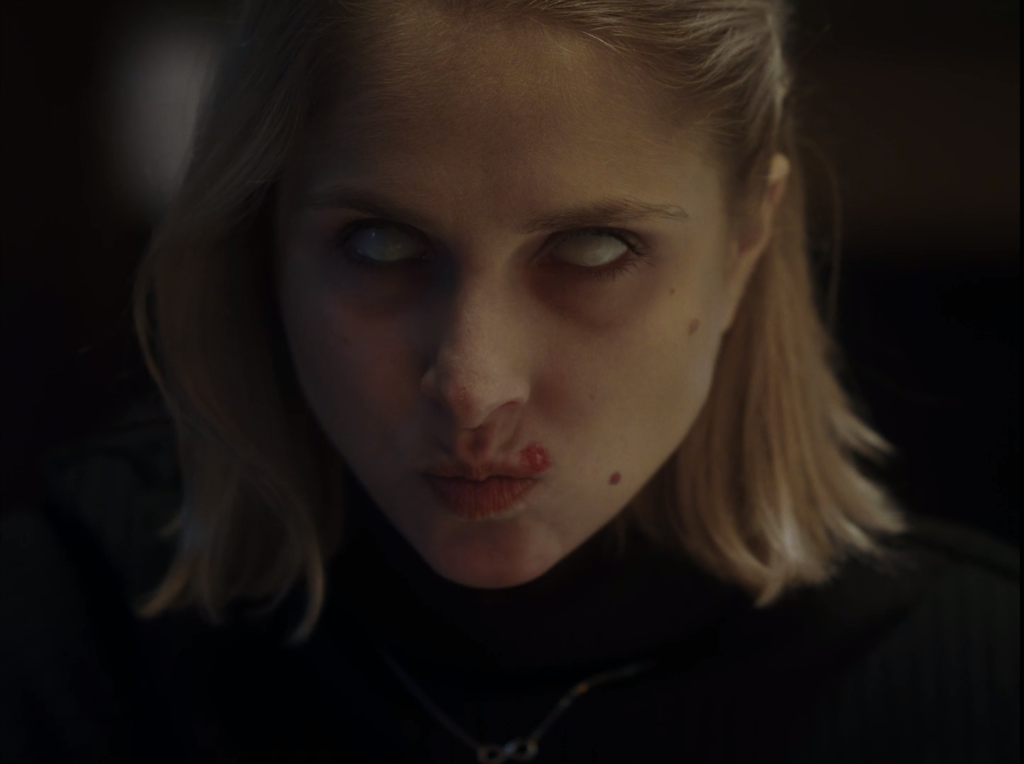 Moving in together is a huge milestone for any romantic relationship. Things that were taken with more ease in a more casual dating setting can prove to be huge obstacles as the coupled people move in together. In her festival-touring award-winning short Attachment, Kasia Babicz tackles this topic via the fantastic- and body horror metaphors and symbols, with significant nods to the more-fantastic oriented Polish New Wave auteurs. We had the chance to see it at Slash Film Festival.
We meet the unnamed couple played by Remigiusz Jankowski and Aleksandra Nowicka in the significant moment: he breaks the ice with the question is she'd be willing to live with him. She initially brushes it off because he is married, but the man remains insistant. Her reaction is nervous and physical, but she agrees on it.
Once they start living together in a remote cabin, the roles and the couple dynamics change: not just that she becomes a (sexually) dominant partner in their relationship, but he is genuinely scared of her, her night-time fidgeting and her transformation into an eyeless, disfigured demon. Is it a matter of his perception, a series of nightmares or a metaphor for the loss of a (patriarchal) control on his side?
Kasia Babicz, working on her own script in this Warsaw Film School production, does her best to show rather then tell what is going on. Already scarce dialogue in the prologue completely disappears from the picture once the couple moves in together, and the lack of it is covered with Jakub Zataj's finely measured sound design and Marcin Cyronek's ominous soundtrack that fills the atmosphere with tension and the sense of impending doom by a series of minimalist drones on different groups of classical instruments. While the cinematography by Mateusz Klimek, blending together the earthy colours in a boxy 4:3 aspect ratio, already creates the sense of claustrophobia, and the make-up and special effects Magda Malejko are responsible for some serious dreads.
It works as a compelling study of relationship dynamics, but even more than that, as a filmmaking exercise filled with tasteful nods to, rather than quotes of, the masters like Roman Polanski, Andrzej Zulawski and Jerzy Skolimowski. Attachment shows the great potential for its writer / director, her cast and her crew.
---
Original title: Przywiazanie
Year: 2019
Runtime: 16' 28''
Country: Poland
Language: Polish
Directed by: Kasia Babicz
Written by: Kasia Babicz
Cast: Remigiusz Jankowski, Aleksandra Nowicka
Cinematography by: Mateusz Klimek
Editing by: Karolina Krakowiak
Music by: Marcin Cyronek
Sound design by: Jakub Zataj
Production design by: Milena Stryjewska
Costume design by: Hania Pastor
Make-up by: Magda Malejko
Special effects by: Magda Malejko
Colourist: Stanisław Wójcik
Assistant director: Laura Mielczarek
Produced by: Maciej Ślesicki
Co-produced by: Kasia Babicz, Magda Malejko, Mateusz Klimek
Executive producer: Jarosław Grzymała
Production company: Warsaw Film School
Supported by: Polish Film Institute