Review: Fish Bowl (2020)
Uppsala Short Film Festival
International Competition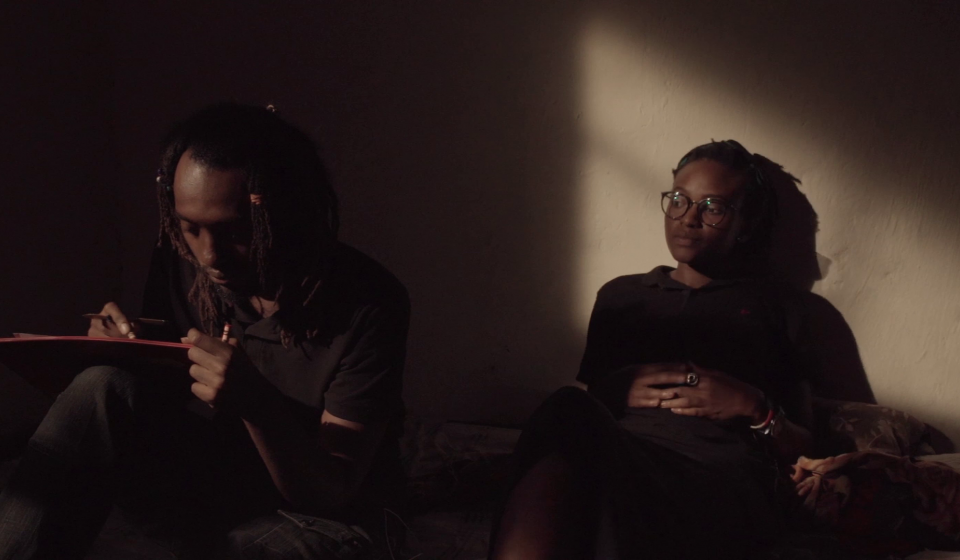 Life goes on in its unpredictable pace, and there's nothing we can do about that. Slowing it down and making it more controllable sounds good theoretically, but it is impossible in practice. People can take some time "for themselves", but sooner or later everybody has to go on in the same or slightly changed role. That awaits and frankly frightens the protagonist of Ngabo Wa Ganza's Fish Bowl that was screened at the Uppsala International Short Film Festival, in the International Competition slot called "Night and Day".
The movie's title is a clear metaphor for the situation we are observing on screen: a woman had died and a wider community gathered for her wake that could even last some days. Her son Emma, short of Emmanuel (Ganza Moise) does not exactly know how to deal with the whole thing, especially with the expectations that others, such as his well-respected uncle (Ntakirutimana Ibrahim) and the local priest (Kijyana Yves Peter), put on him. It seems that he wants to tune out or to disappear with his girlfriend (Uwamahoro Mucyo Rebecca), but he actually just wants to be left alone. On the other hand, the life cannot wait…
The sombre mood is set early on by Wa Ganza, with measured, longer takes either in static or hand-held fashion in dimly-lit confined spaces. Emma's anxiety and the sense of being bothered, coolly down-played by Ganza Moise, is stressed out in close-ups on his face. The mood continues throughout the film's runtime in a meditative pace, accenting the protagonist's numbness that contrasts the inflation of procedure, ritual and hectics around him. Beautifully lensed by the Ishimwe Karemangingo Ibrahim and swiftly edited by Tuyizere Nkinzingabo Jean Pierre, with the traditionally-flavoured production design by Birara Myriam, Fish Bowl is a beautiful film, while also being an emotional experience for its gentle portrait of silent grief.
---
Runtime: 14' 11''
Country: Rwanda
Language: Kinyawanda
Directed by: Ngabo Wa Ganza
Written by: Ngabo Wa Ganza
Cast: Ganza Moize, Uwamahoro Mucyo Rebecca, Ntakirutimana Ibrahim, Kijyana Yves Peter
Cinematography by: Ishimwe Karemangingo Ibrahim
Editing by: Tuyizere Nkinzingabo Jean Pierre
Sound by: Sibomane Alexandre
Production design by: Birara Myriam
Assistant director: Murekaze Hucyo Willy
Produced by: Ishimwe Karemangingo Ibrahim, Mbazi Aimé Philibert
Production company: Imitana Production
Supported by: Swiss Regional Cooperation Office Great Lakes, Goethe Institut Kigali, Rwanda Arts Initiative