Review: Land of the Free (2020)
Uppsala Short Film Festival
National Competition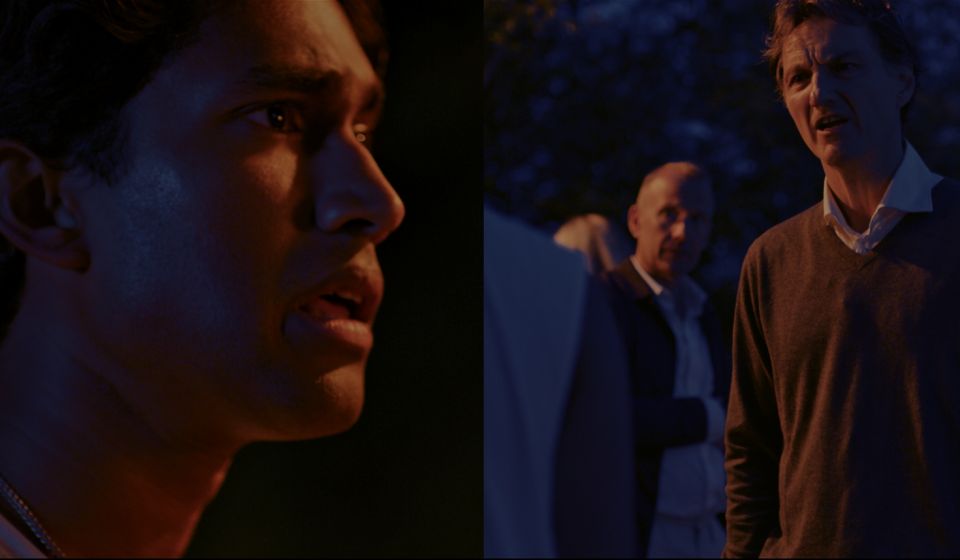 Discrimination is the kind of a problem even the most liberal and forward-thinking societies are facing. Sometimes, the discrimination is clear and easy to spot on, but more often than not it is a matter of perspective: different perspectives lead to misunderstandings. That would be the bottom line of Dawid Ullgren's short Land of the Free that premiered earlier this year at Göteborg Film Festival and is currently screened in the national competition of the Uppsala International Short Film Festival.
During the opening credits sequence, the screens with the cinematic action and title cards are alternating their positions, from left to right. When it is over, we are left with the screen split in two perfect squares through which we are observing what is going on from different perspectives.
The place of the action is a lake shore, the time is late night to early morning and the situation is a birthday party attended by four young men who form two gay couples. While one of the couples decides to go skinny dipping, the other stays at shore. Two older straight couples pass and walk on the two youths from the party kissing. One of the passers-by starts laughing (for whatever reason) and one of the gay men reacts to that. The quarrel ensues, and things escalate quickly, creating a rift that is not only along the lines of generational- and sexual orientation division, but also within both of the gay couples…
Ullgren, working on his own script, does the right thing to keep the screen split until the end and the anti-climactic epilogue of the situation, using a simple, yet elegant-looking device in order to play with the viewers' perspective. We never know what exactly happened, but it is besides the point, since everything revolves around the perspective and the understanding that is more on an emotional than on a cognitive level. What we see is aditionally blurred by the DoP Josua Enblom's darkened palette of colours and the shots that are either close-ups of telephoto ones from afar, with nothing in between that could explain the whole situation.
The discrimination exists, but not everything is discrimination. Also, the differences in the personal sensitivities dictate what could or could not be read as an act of discrimination. And freedom from the title also comes with a certain responsibility in Dawid Ullgren's Land of the Free whose original title Du gamla, du fria actually quotes the Swedish national anthem.
---
Original title: Du gamla, Du fria
Year: 2020
Runtime: 11' 8''
Country: Sweden
Language: Swedish
Directed by: Dawid Ullgren
Written by: Dawid Ullgren
Cast: Razmus Nyström, Samuel Astor, Carlos Romero Cruz, Björn Elgerd, Jessica Liedberg, Jonatan Blode, Susanne Barklund, Bengt Braskered
Cinematography by: Josua Enblom
Editing by: Anton Hemgren
Music by: Minna Bolin
Sound by: Bo Marcus Ohlsson, Therese Gylfe
Production design by: Tova-Li Aman
Costume design by: Tova-Li Aman
Colourist: Axel Rundquist
Produced by: Alyna Rydbeck, Manne Indahl
Production company: Crisp film
Supported by: Svenska Filminstitutet (Swedish Film Institute)