Review: Leave of Absence (2019)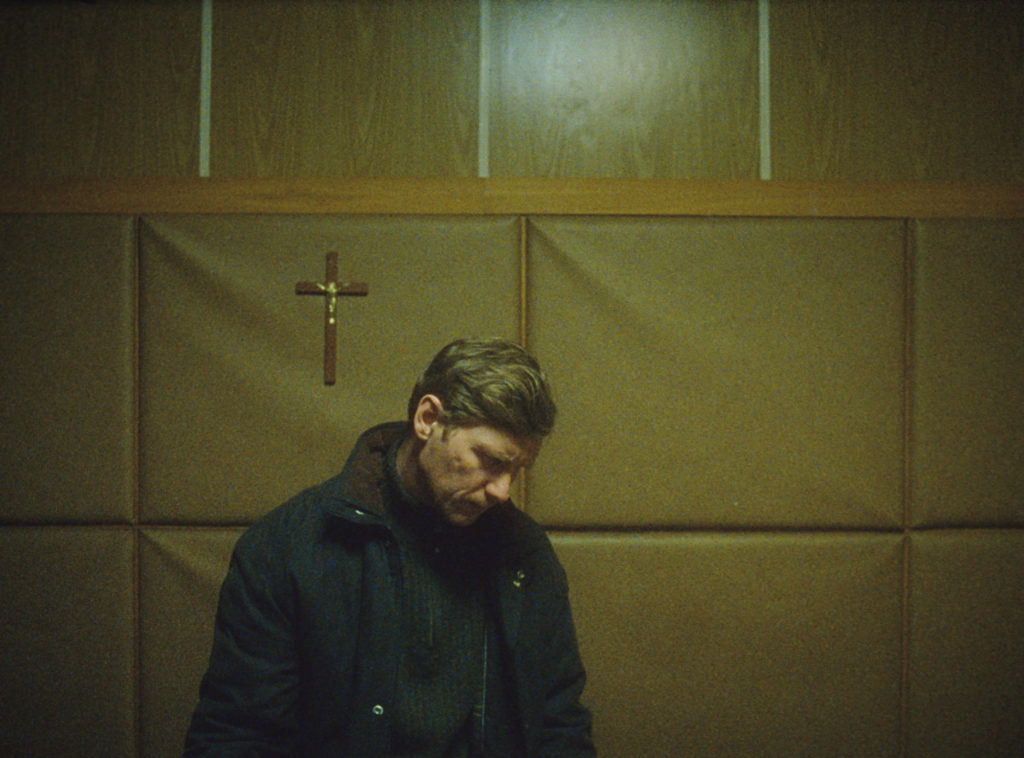 One might say that Artyom (Andrius Darela) is in a very bad place in his life. He works on a hard, uninspiring job at the meat processing plant, he is divorced from his wife with whom he is not on best of terms and he is in debt because of the funeral expenses for his recently deceased father, and he even has to borrow money in order to buy a birthday present for his son. What he actually needs is a leave of absence so he could take some rest or change his life. And the plan he hatched could backfire on him big time.
Anton Sazonov's strong and distressful short fiction film Leave of Absence premiered at the last year's edition of Locarno, where it was awarded for the best direction in Leopards of the Future competition. Its festival route took it also to the official selection at Sundance and the shorts competition at Vilnius. It currently competes at the International Shorts Competition at Zagreb Film Festival.
It is an amazingly tense and unpleasant piece of work from the start until the end of the relatively brief runtime of 12 minutes. It opens with a shot of a socialist building, signalling the dehumanization, estrangement and protagonist's loneliness among people. His routines are equally lonely, boring and cold, especially if shown in an accent-less measured pace, where only the modern atonal music by Dmitriy Evgrafov gives the sense that something is out of place in a more serious fashion than the regular social-realist daily grind.
Working as a writer and director, Anton Sazonov keeps everything under the tight control. The scarceness of the dialogue is highlighted with a slightly stiff line delivery by the actors, while the shots, static and dynamic are beautifully composed and executed by the cinematographer Aydar Sharipov. Probably the best decision was to shoot the film on 16-mm tape and in a boxy 4:3 aspect ratio, amplifying both the realism of the outer world and the sense of anxiety within Artyom. Leave of Absence is an exceptionally strong and tense viewing experience.
---
Original title: Otpusk
Year: 2019
Runtime: 12' 02''
County: Russia
Languages: Russian, Vietnamese, Kirghiz
Directed by: Anton Sazonov
Written by: Anton Sazonov
Cast: Andrius Darela, Alexander Zotov, Daria Rumyantseva, Ion Doze
Cinematography by: Aydar Sharipov
Editing by: Vadim Krasnitskiy, Anton Sazonov, Ilya Lyamshev
Music by: Dmitriy Evgrafov
Sound by: Ruslan Huseynov
Production design by: Ruslana Osmanova
Costume design by: Anna Bashtovaya
Make-up by: Yana Kolotusha, Ekaterina Izotova
Assistant directors: Alisa Gavura, Jeyhun Abilov
Produced by: Mikhail Marizov, Ekaterina Telegina, Anton Sazonov, Vadim Byrkin, Anastasiya Pelevina, Elena Ilyushenok
Production companies: Spot, After Hours Films