Review: Community Gardens (2019)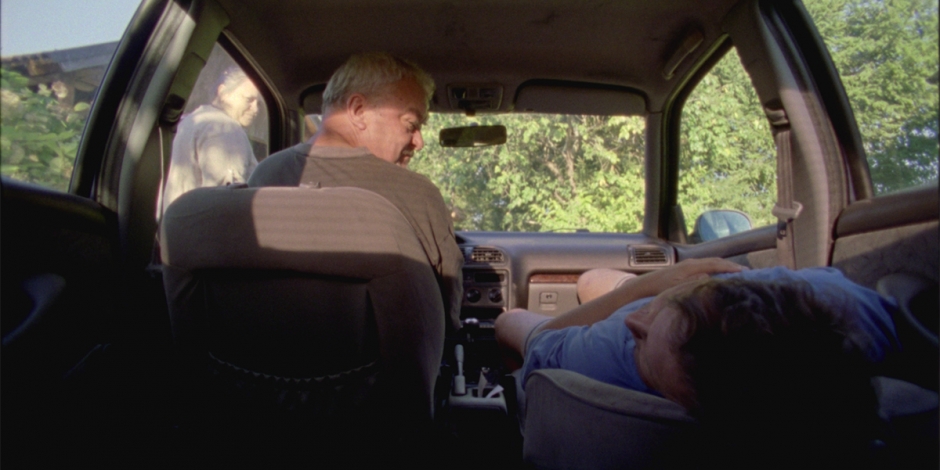 Since its premiere at Cannes' sidebar Semaine de la critique in 2019, Vytautas Katkus' short film Community Gardens had a long and fruitful festival tour, competing and occasionally reaping awards at festivals like Sarajevo (2019), Stockholm (2019), Ghent (2019) and Palm Springs (2020). The film also had a considerable success at home, competing at Vilnius International Film Festival and winning at the national film awards. Now it comes home for one last hurrah, competing at the national competition of Vilnius Short Film Festival happening online from the 15th to the 19th of January.
The title of the film comes from the type of a settlement outside the city where people come to spend some time, usually on weekends and in summer, close to the nature. For our unnamed protagonist, a thirty-something man played by Vygantas Bachmackij, it is certainly a place of fond memories where he can still engage in different sorts of immature behaviour. He can get dirty or feel like being lazy and dozing off or simply spend some quality bonding with his father (Arvydas Dapšys), while the mother (Jelena Juščenko) is stuck with the housework. The other reason why the young man likes spending time there (later we learn he lives abroad and is there for a vacation) could be "the one that got away", the young blonde from the house next door, now married and with a baby. The unexpected event of a fire in the settlement and the reaction of the neighbours, busy theorizing about the reasons of the fire rather than offering help or calling the fire department, offers him an opportunity to re-evaluate the place and the people he has the fond memories of.
Loose in its structure and free-wheeling regarding the pacing, Community Gardens perfectly recreates the feeling of warm and slow summer days. The effect of it is amplified with the analogue cinematography making the soft edges practically melt in the naturally warm palette of colours. Composed of longer, dynamic takes by Katkus as his own cinematographer, tactfully edited by Laurynas Bareiša, Community Gardens is an artful and crafty piece of cinema that perfectly comes to its place in the realm of introspection by the time the ending credits roll.
---
Original title: Kolektyvinai sodai
Year: 2019
Runtime: 15'
Country: Lithuania
Language: Lithuanian
Directed by: Vytautas Katkus
Written by: Vytautas Katkus
Cast: Vygantas Bachmackij, Arvydas Dapšys, Jelena Juščenko, Aiste Zabotkaite
Cinematography by: Vytautas Katkus
Editing by: Laurynas Bareiša
Sound design by: Julius Grigelionis
Sound recording by: Ignas Mateika
Production design by: Juste Vazgyte
Costume design by: Ruta Venskute
Make-up by: Emilija Vaitekuniene
Special effects by: Artiom Grigorian
Colourist: Justinas Vencius
Assistant directors: Robertas Nevecka, Giedrius Tamoševičius
Produced by: Viktorija Seniut
Production company: Viktoria Films
Supported by: Lithuanian Film Centre