Review: Zaho Zay (2020)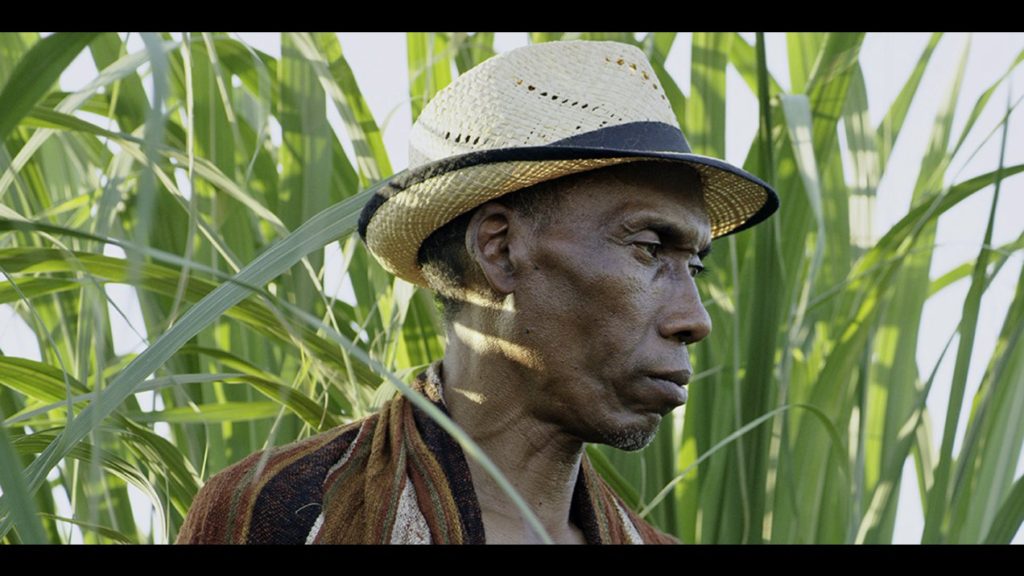 You would expect some sort of shock from a documentary set in an over-crowded prison in Madagascar, but nothing is actually shocking, and nothing feels colonial or exploitative in Maéva Ranaïvojaona's and Georg Tiller's lyrical essay Zaho Zay which was partly shot at the aforementioned prison. Instead, we get to see something that could be described as a piece of folklore in the making.
Zaho Zay premiered at last year's edition of FID Marseille, embarking on a festival tour that included Ji.hlava, Viennale, FICUNAM, and most recently – CPH:DOX. We finally caught it at Diagonale in Graz, Austria, where it was a part of the Documentary Competition.
Our unnamed protagonist is a prison guard who is on a personal mission to find her father, a semi-legendary "Dice Killer" (as he rolls the dice to decide someone's fate) who might or might not be there. Before he left her and her mother, he killed his own brother. Our hero starts imagining his life path as a runaway and as a prisoner, daydreaming about finally meeting him, but life has other plans for them both.
Finding a ghost is not easy and finding a particular person in prison where the inmates start looking and acting like one another resembles a search for a needle in a haystack. Our protagonist is disillusioned about her country and her job, but she still idolizes her absent father enough to dedicate her life to search for him because she sees him as an embodiment of the beautiful, but extremely harsh and ferocious nature around her.
It might all be some kind of fiction, a figment of imagination or a bit random stream of thoughts, since the whole verbal component is delivered by the means of voice-over narration written by Jean-Luc Raharimanana and read by Nabiha Akkari. Eugene Raphael Ranaïvojaona's and Michelle Eva Ranaïvojaona's "roles" of the father and the daughter, respectively, are therefore dialogue-free and their actions are more of an illustration than a reconstruction. The last name they share with one of the filmmakers behind the film is probably not a coincidence, but rather Maéva Ranaïvojaona's deliberate choice to cast the members of her extended family who, unlike her, remained living in Madagascar.
Somehow it all adds up together, creating a feeling that can lull the viewer or hypnotize it, depending on the mood. As the cinematographer, Georg Tiller opts for static shots, whether they are close-ups or more distant ones, and slightly longer takes that leave the space and the time for the rich texture to be noticed. The visual texture is further enriched by the auditive interventions, both in sound design and in the score department, both handled by André Fèvre. The music, either heard ambientally, from the prisoners playing folk songs and early rock n roll on guitars, or added on, is actually the real gem here. The rhythm that comes from Barbara Bousset's editing is meditative, and the final runtime of 78 minutes seems like the right measure, although Zaho Zay, as it is, could work also as a short-to-mid-length or as a longer feature film.
Zaho Zay (the title is a variation on the response to a roll call in Malagasy) is something that has to be experienced rather than understood.
---
Runtime: 78'
Countries: Austria, France, Madagascar
Languages: French, Malagasy
Directed by: Maéva Ranaïvojaona, Georg Tiller
Written by: Maéva Ranaïvojaona, Georg Tiller, Jean-Luc Raharimanana
Narrated by: Nabiha Akkari
With: Eugene Raphael Ranaïvojaona, Michelle Eva Ranaïvojaona
Cinematography by: Georg Tiller
Music by: André Fèvre
Sound design by: André Fèvre
Sound recording by: Terence Meunier, Herimandresy Randriambololona
Produced by: Maéva Ranaïvojaona, Georg Tiller, Thomas Lambert
Production companies: Subobscura Films, Tomsa, Katrafay Films