Sheffield review: Lydia Lunch – The War Is Never Over (2019)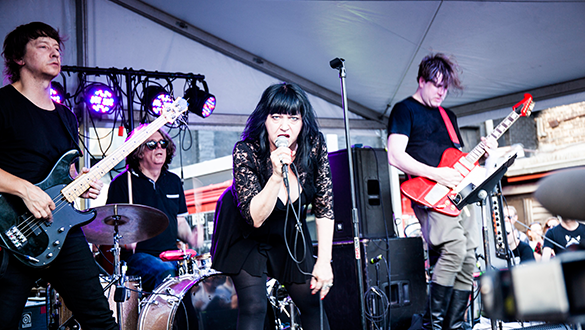 Time has failed to soften cult icon Lydia Lunch. For over forty years, the committed iconoclast has lifted a middle digit in the direction of the societal discrimination and the patriarchy through her art. In the intervening years, neither her anger nor her creative output has compromised one jot.
The 75-minute documentary Lydia Lunch – The War is Never Over is a punchy overview of Lunch's substantial career from the moment she hopped on a Greyhound bus at the age of 16 in the late 70s to flee an abusive upbringing and found solace in the underground music scene found at Max's Kansas City in New York. Made with director Beth B. – a trusted voice for the artist thanks to a working relationship that dates back to 1978 when she starred in the filmmaker's 23-minute short, Black Box – the film emerges as perhaps one of the more accessible and conventional collaborations in Lunch's considerable canon.
The revelations are colourful and plentiful. From Lunch peeing on a stairwell in front of Sonic Youth's Thurston Moore, to Nick Cave Bad Seed Jim Sclavunos being "de-flowered" by the artist as part of his initiation into Lunch's avant-garde, No Wave band Teenage Jesus and the Jerks, we hear how she has forever been committed to shock and challenge social mores. With trademark candour, Lunch freely admits that she was a sexual "predator" in the past and explains how her music career has been supplemented by spoken word monologues/poetry and pornography. Beth B draws upon many of Lunch's cohorts and admirers to create a picture of a single-minded firebrand who has seduced, galvanised, inspired and more.
In the social media 'look-at-me, look-at-me' age, an era where it often seems that it is the emptiest of vessels that make the loudest of noises, Lunch's staunch authenticity and dedication to being what L7's Donita Sparks calls 'the misfit amongst misfits' feels more vital than ever. You might not like what she is selling or how she's selling it, but she possesses the articulacy and intelligence to go toe-to-toe with anyone in order to defend her views.
What rings through loud and clear is that Lunch remains impervious to the passing of time, impervious to any crinkles that may appear on the skin and any attitudinal shifts that may, or may not, be taking place culturally. There is always an angle for more rabble-rousing and galvanising. Women's rights need advocating and abusers of power and/or position need to be taken to task.
Lydia Lunch, America's grand dame of purposeful provocation through the medium of art, continuing to rail, rally and ricochet unpredictably. Society hath no fury like Lunch scorned. She would argue that there is more work to be done. Indeed, the war really is never over.
---
Country: USA
Language: English
Year: 2019
Runtime: 78′
Directed/ Produced/ Edited by: Beth B
Produced by: B Productions
Co-Producer: Kathleen Fox
Director of Photography: Peter Gordon
Camera: Beth B
Re-recording Mixer: Randy Matuszewski
Colorist: Keith Jenson
With: Thurston Moore, Kembra Pfhaler, Jim Thirwell, Henry Rollins, Donita Sparks