Review: Strawberry Cheesecake (2021)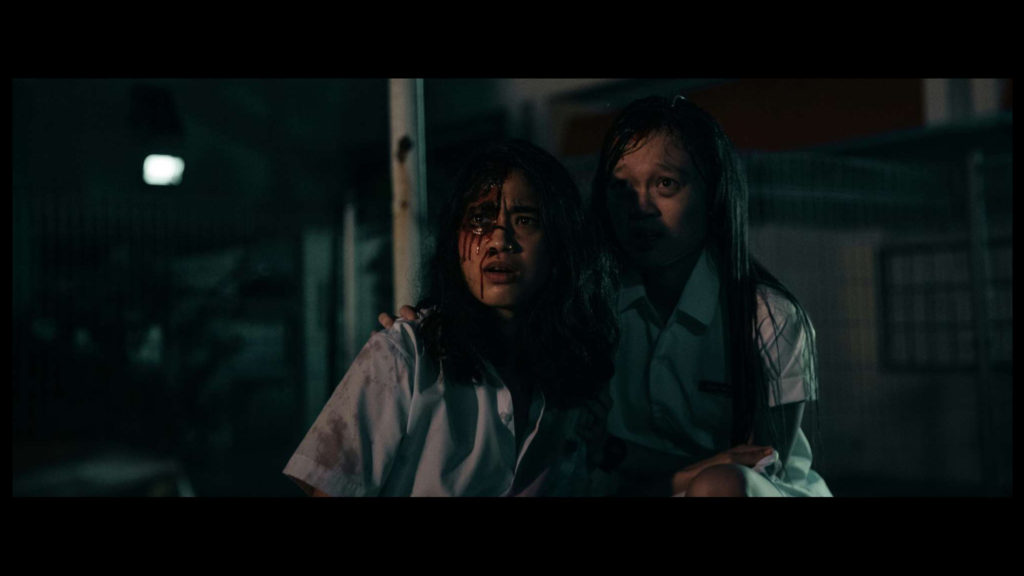 Smoking in high school is usually seen as an attention-seeking attempt at rebellion against the world of the clean-cut adults. In Singapore, however, smoking is strictly forbidden for youngsters as well as adults. This is not the end either: vaping is also outlawed, so kids are not allowed to play with inhaling smoke in order to express themselves, look cool and stand out in a strictly uniformed society.
That is the starting point of Tan Siyou's short film Strawberry Cheesecake that competed at Pardi de domani section of this year's Locarno. Its title is actually the name of one of vaping flavours.
Light footsteps of a schoolgirl break the silence in empty school corridors shot in a series of static shots in the film's introduction. She goes to the "secret" spot on the rooftop she shares with two more friends to have a smoking/vaping and gossiping sessions with them. Teens will be teens, meaning that the outlawed things will be even more appealing to them. And teens will be teens, meaning that they will keep getting caught in their mischiefs. With the principal's threat of expelling them from school, they decide to frame her by pulling a brutal prank. When the prank goes too far, it is going to end in tragedy. Or is it really?
The plot goes in more or less predictable directions, with carefully placed plot twists, but the way Tan as the director and cinematographer handles his own script makes it very enjoyable. Firstly, the succession of longer takes, static and dynamic at designated places works perfectly in order to make Strawberry Cheesecake appear like a very elegant piece of cinema. Aspects like visual effects (handled by Joao Rosa) and practical make-up effects (kudos to Dolles Seah and Hazel Tan) stand out.
Acting is also one of the film's high points. It is not that much about the individual efforts (which are on quite a high level), but the younger cast members forge a compelling, convincing dynamic between their characters, channelling their youthful energy and making Strawberry Cheesecake quite a pleasant, entertaining watch with a kick.
---
Runtime: 9' 16''
Country: Singapore
Language: English
Directed by: Tan Siyou
Written by: Tan Siyou
Cast: Rachel Loong, Ong Yin Meng Taylor, Xener Gill, Serene Chen
Cinematography by: Tan Siyou
Editing by: Armiliah Aripin
Sound design by: Hao Ting Si
Production design by: James Page
Costume design by: Meredith Lee
Make-up by: Dolles Seah, Hazel Tan
Visual effects by: Joao Rosa
Colourist: Eugene Seah
Assistant director: Benjamin Yap
Produced by: Fran Borgia
Production company: Akanga Films Asia
Supported by: Scape, National Youth Council