Review: Will My Parents Come to See Me (2022)
Vienna Shorts
Austrian Short Film Award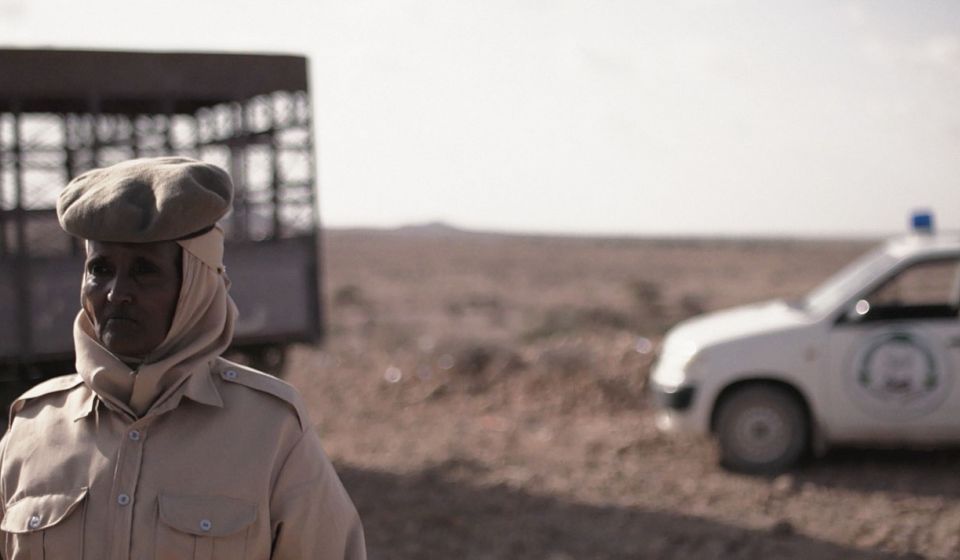 The Somalia-born, Vienna-based filmmaker Mo Harawe is one of the rising stars of the European short film scene. Last year, his short Life on the Horn won the audience award at Vienna Shorts, and this year he is back with Will My Parents Come to See Me, which got the Austrian Short Film Award, securing him qualification for Oscar nomination.
The first impression of this slow-burner might be a bit misleading, due to the filmmaker's and his cinematographer choices of usually long static, mid-to-long distance takes from lower racourses and "Dutch" angles. It might seem that the emphasis is on the futility of procedures a seasoned policewoman and a young inmate Farah who is in her custody, have to undertake. But as the plot points are slowly revealed, we get to learn that seemingly detached Farah is actually convicted for the act of terrorism and is about to be executed the next day. As the event is nearing, Farah is breaking under the pressure, but so is the policewoman…
Approach Harawe takes shows both similarities and differences to his previous short. Both films are slow-burners centred around how the individuals deal with the certain life-changing or life-ending events in the contemporary Somalia that shows some of signs of a failed state. But this time, Harawe opts to shoot in colour, and to expose some of the background of the events and dilemmas. He effectively shows that the system functions in parts, such as different procedures around imprisonment and execution of the death sentence, from the brass band we overhear rehearsing at some points, to the "good news" that, since this year, the death row prisoners are allowed to pray. The music usually heard ambientally from the car- or public spaces radio, and the sound design in which the sounds of the nature switch with the sounds of a busy city give depth to the landscape, while one Harawe's decision in particular, to employ handheld camerawork at the crucial moment, proves to be exceptional, making Will My Parents Come to See Me a harrowing exploration of fate and means to deal with it.
---
Runtime: 28'
Countries: Austria, Germany, Somalia
Language: Somali
Directed by: Mo Harawe
Written by: Mo Harawe
Cast: Xaliimo Cali Xasan, Shucayb Abdirahman Cabdi, Maxamed Axmed Maxamed, Mohamed Hirsi, Yasra Geenyada Madaw, Faysal Colaad Muxumed, Guuleed Xasan Saleebaan
Cinematography by: Steven Samy
Editing by: Alexander von Piechowski
Music by: El Wali, Salim Saciid
Sound design by: Cristi Iorga
Sound by: Mohamed Abdinur Isse
Colourist: Jakob Plattner
Produced by: Mo Harawe, Alexander von Piechowski, Nuh Musse Berjeeb, Ahmed Farah
Production companies: Blautöne, sixpackfilm, Kunsthochschule Kassel
Supported by: Bundesministerium Kunst, Kultur öffentlicher Dienst und Sport; Stadt Wien; AFAC – Arab Fund for Arts and Culture