MERKEL'S TRACES OF POWER
Exhibition "Head2Head. Politics and the Public Image"
in KUNSTHAUS WIEN (Hundertwasser Museum)
Only until 3rd of June!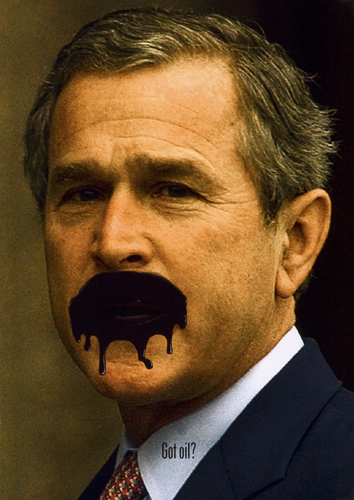 Until a couple of decades ago a picture of one totalitarian was just about everywhere in my country of origin – his portraits adorned markets, classrooms and public transport, waiting rooms and banks. There were posters and billboards of him hugging kids, talking to the farmers, shaking hands with workers, opening factories, hospitals, you name it. TV news was showing him hugging kids, talking to the farmers, shaking hands with workers, opening factories, hospitals… These were the times of political perpetuum mobile when all you had to do was let the state do the thinking, wave little flags when he passes the streets of your town, sing songs about him…
Twenty-something years later I am in KUNSTHAUS WIEN, standing in front of a poster showing Mao Tse Tong surrounded by children. The poster bares a somehow familiar title "All Chinese children love Mao!" (Apart from the obvious that I'm not Chinese and that I didn't have the "pleasure" of living under Mao's regime). Next to it, there is another poster with an almost identical motive, but this time with Josef Stalin who "brightens children's future". I dare say that both lose against their Vietnamese brother in arms, because "no one loves children like Uncle Ho Chi Minh".
One feels teleported back to the time of flowery phrases and the leader cult which, fortunately, was one of the few things that former Yugoslavia had in common with other communist countries. As awkward as it is for me to look at this political propaganda, it must be even more so for someone with completely different background. Curiosity to experience the unknown has led the Swiss photographer Nicolas Righetti to Turkmenistan on the trail of dictator Saparmurat Niyazov personality cult, where he created his pictorial essay "Love me Turkmenistan" which won the World Press Photo Award in 2007.
The cult of Ernesto Che Guevara (1928-1967), one of the most exploited faces of the 20th century, is still strongly present. KUNSTHAUS WIEN shows a couple of famous and some rather unknown examples of commercial and political exploitation of Che Guevara's name. One of them is "The spirit of Che lives in Evergreen!", the exact copy of the poster by the literary magazine Evergreen that was put on display in NY 1968. This cover has provoked the anti-Castro movement that bombed the editorial office same year.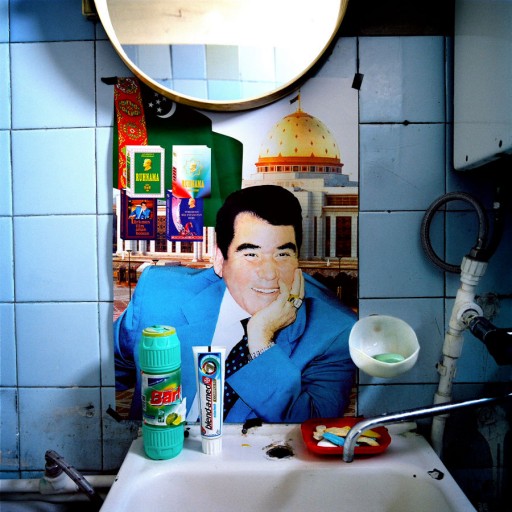 The current exhibition in the KUNSTHAUS WIEN deals with politicians' playing with the voting body, their manipulation of media and winning strategies used in elections , in particular careful construction of personal image.
In 1991 the German photographer Herlinde Koelbl started a project which, from today's perspective, has very special significance. Koelbl had a precise plan – she wanted to find a female politician freshly elected to the Bundestag, but with good career prospects. Her candidate was the present Chancellor of Germany Angela Merkel. What we see at the KUNSTHAUS WIEN is a series of 16 black and white portraits entitled "Traces of Power. The Transformation of the Individual Through the Office – a Long-term Study" (1991 – 2008) that show clear changes in Merkel's development. Sticking to a series of very strict rules, Koelbl never wanted to show any state- or political symbols and she was only using a white background for her takes. The first portrait from 1991 shows Merkel as a shy woman, with her head slightly bend forward. Her body language visibly changes from 1995, showing the first clear signs of self-confidence: the glaze is stern, the clothes more conservative. "I will take pictures of her long after she stepped down from her present job", says Keolbl about her project.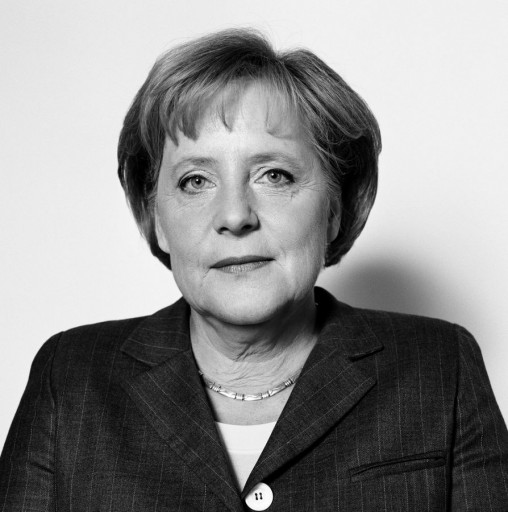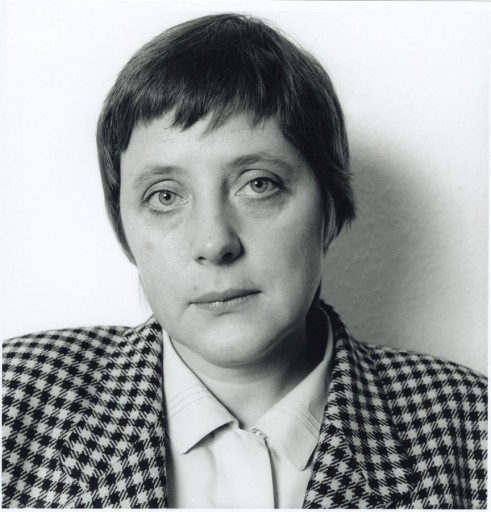 It would be unthinkable to have an exhibition on politics and power in Austria without mentioning its biggest political export, the former body building champion, Hollywood action hero and the Governor of California Arnold Schwarzenegger. He is given a special section with a full-length documentary "How Arnold won the west" by Max Cooke, posters and photographs.
Interesting, captivating, sometimes disturbing, but worth your attention!