New works of Hundertwasser in KUNSTHAUS WIEN
KUNSTHAUS WIEN better known as The Hundertwasser museum, has lent its works to the Marseille-based centre de la Vielle Charité for the retrospective "Hundertwasser – le rêve de la couleur". This exhibition which takes place until the 9th September, shows 90 paintings, graphic works, tapestries and hand-knotted carpets of the famous Austrian artist, otherwise part of the permanent exhibiton in Vennese KUNSTHAUS WIEN.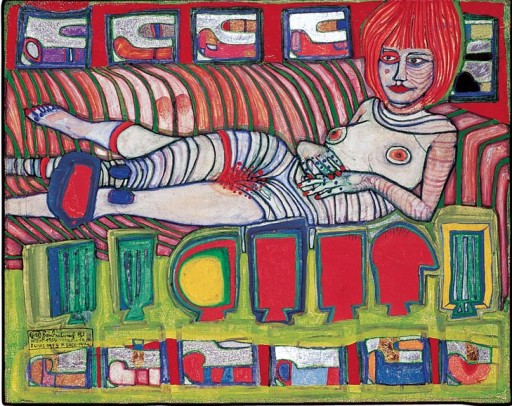 For the duration of the retrospective in Marseille, Hundertwasser Museum in Vienna has replaced the absent works made by loans from private collections and other Austrian museums. Among them is "Rain over China in flames" (1958) – a typical example of Hundertwasser's "trans automatism" and one of his most important works which was given to the museum by a private collector on permanent loan with immediate effect. Two other outstanding Hundertwasser paintings from mid-1960's, "The Walker" (also coming from a private collection) and "Homesickness" from the Essl Museum in Klosterneuburg, have never been exhibited in KUNSTHAUS WIEN before.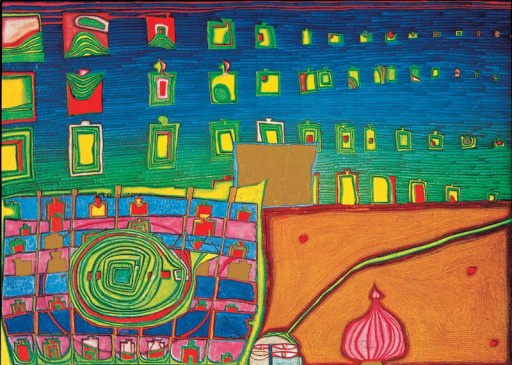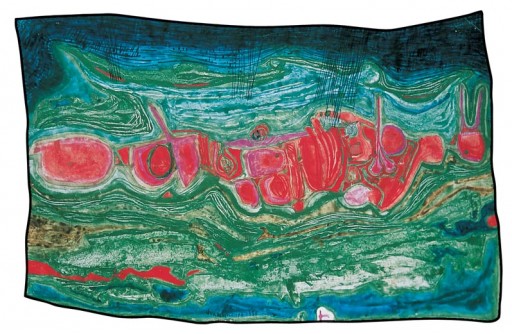 Hunderwasser was, as of early 1950s, mainly because of his love for nature more and more involved in architecture. His experiments with materials and forms established him as one of the most authentic building designers. He showed distaste for sterile, clear cut forms and became notorious for the use of spheres, pillars, turrets, bright tiles and the use of organic forms. From this interest in architecture occurred a number of works with architectural motives predominant in paintings
"Pavilions and Bungalows for Natives and Foreigners" (1980; Painting Gallery of the Academy of Fine Arts Vienna), "Positive soul trees – negative houses of men" (1987; Eisenberger Collection, Vienna) and "Marching grass" (1987; Kastner Collection). In his essay on "Positive soul trees – negative houses of men" Hundertwasser wrote: "what man makes is evil, what nature makes isgood. All this becomes a fable in this painting, a fairy-tale composition the way it always is with me. The trees have a silvery shine; something like a vase of flowers can be seen; and when the painting is stood on its head, the vase turns into a kind of rain. I show the coexistence of human houses and "human trees". (published in the brochure Kunstwerk, Die Hundertwasser Ausgabe der Brockhaus Enzyklopädie, n.p. 1989, p.21)
Other loans in KUNSTHAUS WIEN are "Taranto invites and Expels Irina – The Cinema" (1969; Peter Infeld Private Foundation, Vienna) and "Red Lady with the mirrors of Mr. Neuffer" (1974; Eisenberger Collection, Vienna).
All paintings, save "Rain over China…" will be returned to their owners after the finishing of Hundertwasser retrospective on the 9th September.
Opening Times
Exhibitions and Shop: daily, 10 am to 7 pm (ticket office closes at 6:30 pm)
CafeRestaurant: Daily, 10 am to 8 pm
Address and Directions
KUNST HAUS WIEN. Museum Hundertwasser
Untere Weißgerberstraße 13, 1030 Vienna
Museum: Phone +43-1-712 04 91 (daily, 10 am to 7 pm)
Public Transport:
U1 or U4 to Schwedenplatz, continue on tram 1 (direction: "Prater Hauptallee") to Radetzkyplatz
Or: U3 or U4 to Landstraße Wien Mitte, continue on tram O (direction: "Praterstern") to Radetzkyplatz