Mathias Poledna to represent Austria at 2013 Venice Biennale
Mathias Poledna, Austrian artist who has been working in Los Angeles for the past twelve years, will represent Austria with a solo exhibition at the 55th Venice Biennale 2013.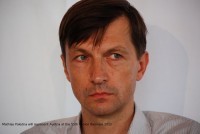 At the press conference opened by the Federal Minister for Education, Arts and Culture Claudia Schmied, the new Commissioner for the Austrian pavillion Jasper Sharp said: "In making the selection it was essential that work and approach of the selected artist should be of unquestionable relevance for the moment that we are in right now – chosing the right artist at the right time. There were to many examples of artists representing countries in Venice at the wrong moment in their career. I think that this is the ideal moment for Mathias Poledna to take this challenge." Sharp underlined the importance of selecting an artist with great experience with international institutions, a person able to work under considerable preassure to develop a project of outstanding quality: "Poledna has for a long time being recognized in Austria as one of most talented artists of his generation and he has exhibited at many of this country's leading institutions – at MUMOK, Generali Foundation, his work is hanging at the Schausammlung exhibition at the Belvedere…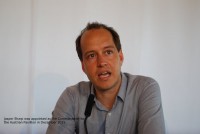 By selecting Mathias Poledna to represent Austria at the next Venice Biennale, Jasper Sharp has found the artist with all previously listed requirements; Poledna has gained significant international recognition on the museum level with institutional exhibitions around Europe and in the States. His work is represented in some of the most prestigeous international museums such as MoMA and Whitney Museum of American Art (New York), Stadelijk Museum (Amsterdam), Museu d'Art Contemporani de Barcelona and Museum of Contemporary Art (Chicago).
In the press release issued yesterday by the Austrian pavillion, Poledna's work is described as following: "it examines the interconnections between art and entertainment, modernity in architecture and design, the language of film, cinema and the process of image making in our culture. Often informed by extensive research, his projects of recent years have taken the form of minimal and highly evocative film installations that suggest a complex tension between their visceral attraction and concepts circulating around them." As typical examples of this complexity, two films by Mathias Poledna are often mentioned: 'Crystal Palace', a 35mm film installation shot in Papua New Guinea and commissioned by New Museum in NY, the Museum of Contemporary Art, Chicago and the Hammer Museum, Los Angeles & 'Double Old Fashion', a 16mm which soon will become a part of the permanent collection of the Stadelijk Museum in Amsterdam. The point of departure of this film is an ensemble of crystal glasses designed by Adolf Loos and first manufactured by famous Viennese company L & J Lobmeyr in 1929.

Mathias Poledna is currently working on several museum exhibitions in the near future.
Open office and an exciting new publication
Jasper Sharp and his team of experts involved in tutorial, archiving, production, press & graphic design for the Austrian Pavillion at the Venice Biennale 2013 have recently moved into a public office on the street level in Vienna's town center."It was important that the project which was heavily funded by public money should have a public space somewhere where people can walk up from the street, ask questions, find out details about Venice, plan their trip, speak to us…", says Sharp. The new office will also serve as an archive – in January of this year a decision was made of making preparations on a landmark publication which will examine in comprehensive detail 120 years history of Austria's presence at the Venice Biennale. The book (financed by the Ministry of Culture) will present a complete overview of every individual exhibition beginning with 1895, with the help of unpublished photographs, documents and correspondence, papers from public and private archives, tax papers, even the price list and the list of buyers – Biennale di Venezia was after all, the selling exhibition until 1968. This ambitious publication will explore not only the art itself, but also a broader political and cultural curcomstances under which individual exhibitions took place. A significant ammount of research was alreaedy made in the archives of Venice, but the difficulties still surround tracking the first 40 years of Biennale which were poorly or not at all documented.