We recommend: save the date for Technosensual!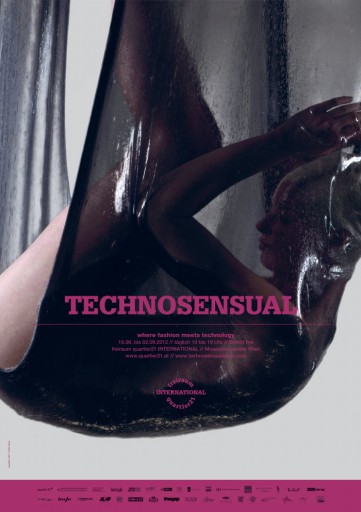 We were craving for a stronger nuance of craze amidst plenty of interesting, yet "normal" cultural events. A bit of J.G. Ballard phantasy, a pinch of Cronenberg's creative madness, a touch of Jodorowsky/ Moebius spirit and a sense of revisiting our most exciting dreams and all that in connection with reality! Technosensual is the place where phantasy, science and design melt into a unity. It is going to be easy to get attached to the concept of exhibition's curator Anouk Wipprecht with her "fresh approach to creativity that merges design, fashion, science, and technology with each other by taking the body as a common platform for exploration."
TECHNOSENSUAL.where fashion meets technology' is the exhibition that will probably meet our appetite for new: with presentation of electronic textiles and "helpful" clothes "intelligent" enough to mix your drinks and lead a life of their own! This promising exhibition opens on June 14th at 8 pm and can (until September 2nd) be visited daily, 10 am -7 pm in freiraum quartier21 INTERNATIONAL, quartier21/MuseumsQuartier Wien. Free admission should be a reason enough for the laziest to join the party that kicks off at 8 pm and for the rest -performances by Bart Hess and Maartje Dijkstra, special guest Dr. Sabine Seymour and robotic drinks served by DareDroid2.0 should be a more inspiring motive to leave the house and go to freiraum quartier21 INTERNATIONAL.
To give you a better insight into what the exhibition is all about, we present you an excerpt from the Technosensual web page: "Dresses can mix cocktails, change color, and lead a glamorous life of their own. "TECHNOSENSUAL. where fashion meets technology" proves that intelligent fashion has long gone beyond being a vision of the future. The designers and artists participating in the exhibition predominantly come from the Netherlands. Their designs, prototypes, and collections move in a creative triangular constellation involving fashion, human beings, and machines. The use of modern technologies expands these contemporary designs – not only optically, but also in terms of function. TECHNOSENSUAL is an interactive exhibition accompanied by lectures, performances, and workshops and represents a highlight of the Summer of Fashion at the MQ, a complex-wide program dedicated to the various aspects of fashion from June to September. Fashion exhibitions in the summer are already a tradition at freiraum quartier21 INTERNATIONAL. In this, the tenth exhibition since the inception of the series, you can experience how much of the future (of fashion) is happening in the here and now."