Impresije sa sajma VIENNAFAIR The New Contemporary (20.-23. septembar 2012)

Vetar promena je produvao kroz srž bečkog sajma umetnosti – VIENNAFAIR-a, napravivši mesto za dodatne projekte i interesantne performanse upakovane u bolje struktuiran program. Atmosfera je različita u odnosu na prethodne godine naročito po pitanju ozbiljnog nastojanja uprave sajma da uspostavi jaču vezu između umetnosti i galerija Centralne- i istočne Evrope (CEE). Novo ime, nove umetničke driektorke (Christina Steinbrecher and Vita Zaman) i jasniji programski koncept su značajno doprineli internacionalnijem sentimentu.
Na samom početku bih želela da izdvojim dva projekta koja su najviše najavljivana i marketinški zastupljena: 1) VIENNA Kvintet, posvećenog novoj umetnosti iz Azerbejdžana, Belorusije, Gruzije, Kazahstana i Ukrajine i 2) DIYALOG: Umetnost iz Turske (kustos Nazlı Gűrlek) – projekat osmišljen kao platforma za sedam uglednih istambulskih galerija (Empire project, Mars Istanbul, Galeri Nev Istanbul, NON, Rampa i Rodeo), a koji istovremeno daje prostor i važnim kulturnim institucijama, muzejima, nezavisnim organizacijama i drugim inicijativama kao što su Istanbulski-, Mardin- i Sinop bejanala, Istanbul Modern, Arter, Proje 4 L / Elgiz muzej savremene umetnosti, DEPO Istanbul, BAS, Cuma, Protocinema, collectorspace ili PiST Interdisciplinary Project Space_ Istanbul, koji predstavljaju svoje aktivnosti u INFO ZONI.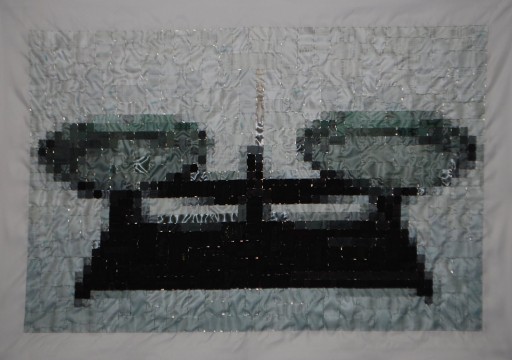 Posetivši priličan broj štandova domaćih i inostranih izlagača, moj prvi izbor pada na pet umetnika. Prvo ime koje mi smesta pada na pamet je Sabire Susuz (zastupa je galerija Merkur iz Istanbula) koja radi sa etiketama sa odeće pričvršćenima na tkanine, uglavnom na svilu. Umetnica koristi etikete uklonjene sa sopstvene garderobe kao način kreiranja sopstvenog brenda identiteta i spaja ih u pečvork kreacije aranžirane sa filiganskom preciznošću koja nastala dela optički približava uvećanim pikselizovanim fotografijama.
Moj drugi izbor pada na turskog umetnika Alija Taptika (zastupa ga galerija The Empire Project, takođe iz Istanbula) koji živi i stvara na relaciji Istanbul-Beč. Njegov triptih "Depresija, Gürtel & Čežnja" kao kritički osvrt na bečku oblast poznatu pod imenu Gürtel duž koje su načičkani zloglasni mini bordeli i saloni za masažu, pretvara se u oštroumnu vizuelnu analizu sve lakšeg pristupa komercijalnoj pornografiji putem mašina za pretragu na internetu i mobilnih telefona. (Gürtel ili "Pojas" je prometna ulica u Beču koja prati liniju zidina nekadašnje tvrđave podignute u 17. veku za vreme vladavine Leopolda Habsburškog. Gürtel se proteže kroz nekoliko gradskih distrikta i danas je deo metro linije U6).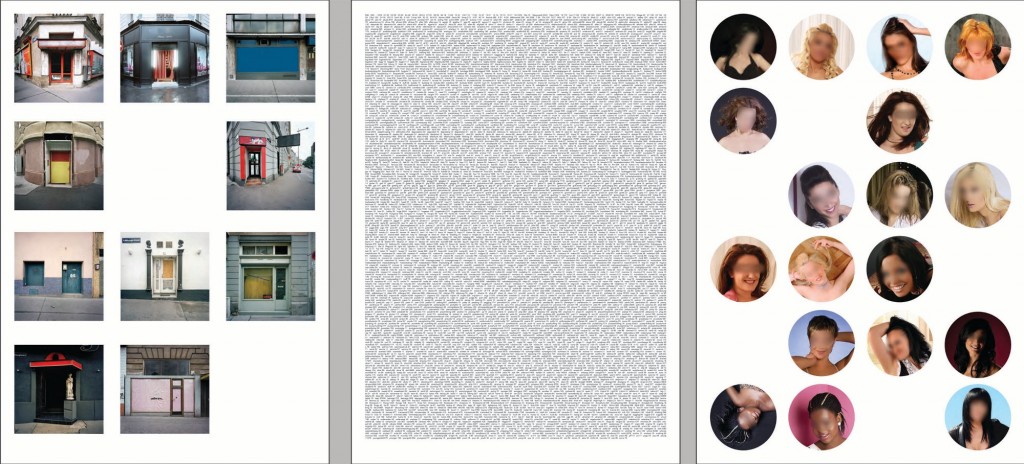 Ne mogu da odolim da ne spomenem jednog internacionalno etabliranog umetnika čija me je instalcija okovala za štand Vartai Galerije iz Vilnjusa – Žilvinas Kempinas, koji je predstavio svoju zemlju porekla Litvaniju na 53. bijenalu u Veneciji (2009) sa instalacijom "Cev", 25 metara dugim hodnikom od rastegnutih traka video kaseta. Nenamotane trake su već godinama Kempinasov omiljeni materijal i posetioci VIENNAFAIR-a će imati prilike da bace pogled na jednu od njegovih najnovijih instalacija – "Fontanu", takođe kod Vartaia. U pitanju je impresivan rad sa efektom talasa od trake koji konstantno izranjaju iz ventilatora u pogonu.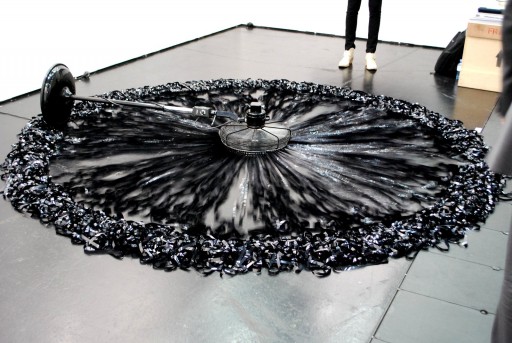 Galerija Campagne Première iz Berlina izlaže, među ostalim umetničkim delima, selekciju video radova i instalacija Noe Gur: "Gorući grm" iz 2012. (video instalacija, 28 min. traka), "Slikanje na sve četiri" iz 2010 (C-print/alu-dibord) i "Tears go black", 2009, dvo-kanalnu video instalaciju sa projekcijom vode koja kaplje preko utičnice na zidu i sa drugom koja pokazuje polako-rastuću lokvu vode na popločanom podu. To je priča o početku i kraju jednog umetničkog procesa, složena u skladnu vizuelnu formu.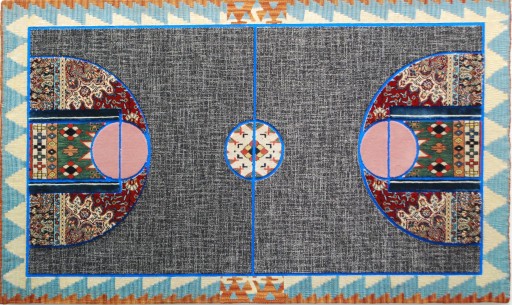 I na kraju, želela bih da spomenem kolaž od komada tepiha različitog porekla "Pattern Matching" (2010) turske umetnice Nevin Aladağ. Delo pokazano na VIENNAFAIR-u od strane galerije Rampa je petina istoimene serije. Aladağ je već koristila tepihe u drugim projektima, na primer za "Igru tepih-lopte" (koja se takođe nalazi na štandu Rampe) i za instalaciju "Tepih stub" pokazanu u OK centru za savremenu umetnost na bijenalu Cuvée u Lincu 2009, za koju je šest postojećih stubova u prostoriji obmotala tepisima podešene veličine.

Mali podsetnik: VIENNAFAIR The New Contemporary 2012 ugošćuje 122 austrijskih i internacionalnih izlagača iz 26 zemalja.
Radni sati:
Četvrtak, 20. septembar: 11:00 – 19:00
Petak, 21. septembar: 11:00 – 21:00
Subota, 22. septembar: 11:00 – 19:00
Nedelja, 23. september: 11:00 – 18:00
Više praktičnih informacija i pun program pronaći ćete na zvaničboj internet stranici VIENNAFAIR The New Contemporary 2012 official website