Time(less) Signs
Beč: Izložbom "Time(less) Signs" Künstlerhaus daje omaž bečkom sociologu, političkom ekonomisti i filozofu nauke Otto Neurathu (1882-1945) u godini u kojoj se obeležava njegov 130. rođendan. Iako toga nismo svesni, niti je većina nas ikada čula za njegovo ime, okruženi smo nasleđem Otta Neuratha. U pitanju je čovek koji je doprineo rađanju piktograma kakve danas poznajemo (već tokom 1920-ih i 1930-ih) a njegov "Bečki metod piktografske statistike" – kasnije preimenovan u ISOTYPE – bio je prvi ozbiljan korak u uvođenju jednostavnog, ne-verbalnog, globalno razumljivog vizualnog jezika koji je značajno doprineo lakšem protoku informacija. Zajedno sa nemačkim umetnikom Gerdom Arntzom, Otto Neurath je tokom 1940-ih dizajnirao veliki broj piktograma koji su brzo postali internacionalno prihvaćeni, što je obojici donelo ponude da rade za različite konferencije i izložbe širom Evrope i SAD. Polazna tačka izložbe u Künstlerhausu koja pokazuje eksponate 43 savremena umtnika/umetnica i umetničkih kolektiva je Sign:table Waltraud Palme, kompleksno umetničko delo sa stonom pločom koja liči na slagalicu sastavljenu od velikog broja piktograma. Ovo je, na kraju krajeva, rad koji je Waltraud Palme posvetila Otto Neurathu davne 1995. u svrhe izložbe "Filozofov sto". Kustoskinje Maria Christine Holter i Barbara Höller su se odlučile na svež pristup, odabravši da se koncentrišu na savremene umetnike/ umetnice čiji je rad obeležen upotrebom piktograma, bilo namerno sa direktnim referencama na Otto Neuratha ili potpuno oslobođeni od uticaja iz prošlosti, sa korenima u vizuelnim trendovima 21. veka. Postoji sedam takozvanih "zona ideja", svaka od njih posvećena jednom od zasebnih poglavlja Neurathove reforme piktoralne reprezentacije: Sign image, Number Field, Speak Out, Urban Area, World Power, Body Matters i Market Place (tržište).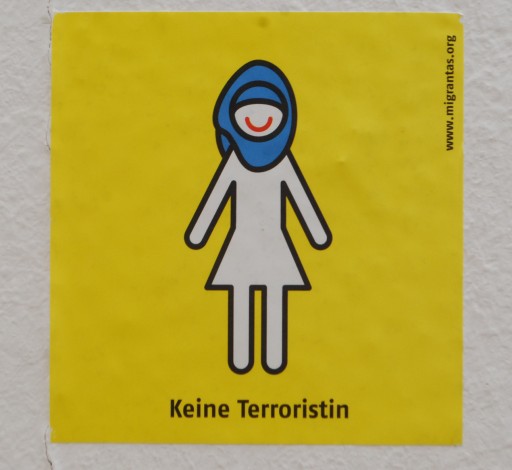 Bečki umetnik Nikolaus Gansterer svoju fascinaciju prema dijagramima izražava u kompleksnoj instalaciji Housing of theory 13 (Ottov košmar) kao direktnu kritiku navodne jednostavnosti piktograma, odlučivši se na suprotan metod od Neurathovog; razvivši skoro nerazumljiv sistem grafika i njihovih referentnih sistema. U njegovom drugom radu – Sve stvari koje su nam neophodne, Gansterer transformiše reklamne brošure nisko-budžetnog lanca samoposluga Hofer sasvim prekrivajući crnim flomasterom bilo šta što bi ukazivalo na poreklo originala, time stvarajući jednostavne, skoro stripovne crteže. Gansterer se poigrava sa klasičnim komercijalnim vizualnim prezentacijama i porukama koje kompanije (u ovom slučaju lanac samoposluga) stavljaju na korišćenje konzumentima koristeći se jasno definisanom ikonografijom.
Künstlerhaus takođe prikazuje kontroverzni projekat Semafori (dokumentacija: stakla sa semafora, video i tekst, 2007) češkog umetnika Romana Tyca, ko-osnivača umetničkog kolektiva Ztohoven. Posetioci muzeja mogu da studiraju grafičke reprezentacije šest od ukupno pedeset modifikovanih signalnih sočiva koje je umetnik namontirao na semafore u Pragu – neke od alteracija predstavljaju čoveka koji urinira/ obavlja veliku nuždu/obešenon (kao supstitut za klasičnu, sveopšte poznatu ukočenu figuru koja stoji za crveno svetlo) ili čoveka sa psom/ čoveka koji pozira ili pada pijan kao alternative za zeleno svetlo. Za one koji bi rado da učestvuju u eliminaciji ili u multiplikaciji dnevnih katastrofa kao što su ekonomska kriza, diktature, nasilje, gramzive političke partije i slično, umetnički par Michael Bielicky & Kamilla B. Richter nude rešenja putem polu-interaktivne video igre Garden of Error and Decay (kompjuter, internet, interface, projektori, speciajalan software; 2010-2012) u kojoj su posetioci putem joysticka ili miša pozvani da menjaju stvari. Igra je projektovana na čitavu dužinu zida jedne od izložbenih prostorija. Turski umetnik Erdal Duman se na vrlo zanimljiv način obračunava sa užasima vojnih intervencija i sa njihovom neizbežnom prisutnošću u životima mnogih ljudi time što na primer, inače preteće objekte (voje avione i bombe), intergriše u moderan svet opčinjen glamurom, udahnjavajući im boju i čineći ih skoro primamljivim.
Manje spremni na kompromise sa realnošću su umetnice iz berlinskog Kollektiv migrantas koje se fokusiraju na probleme imigranata da ih prihvate u njihovoj domovini po izboru – Nemačkoj. Umetnice aktivno učestvuju u projektima koji objedinjuju elemente umetničkog izražavanja kao što su grafički dizajn, vizualne umetnosti i aktivizam. Jedan od njih – serija piktograma kreiranih da odraze stav javnosti, na primer – prema ženama koje nose hidžab, ali i odgovor na netoleranciju putem jednostavnih poruka "nije terorista" – je pokazan na izložbi u Beču.
U svojoj instalaciji up&DOWn – Dow Jones Rollercoaster Christian Rupp daje posetiocima priliku da se, zauzimajući mesta u pravom vagonu iz zabavnog parka Prater, "provozaju" na toboganu Dow Jones berzanske linije koja počinje u proleće 2007 (početak najveće hipotekarne krize u SAD) a završava se na proleće 2012 (na vrhuncu ekonomske krize Evropske unije).
Izložba "Time(less) Signs" nudi mnogo više iznenađenja od onih pokrivenih ovim člankom. Savetujemo vam da proverite čega sve još ima!
konferencija-za-stampu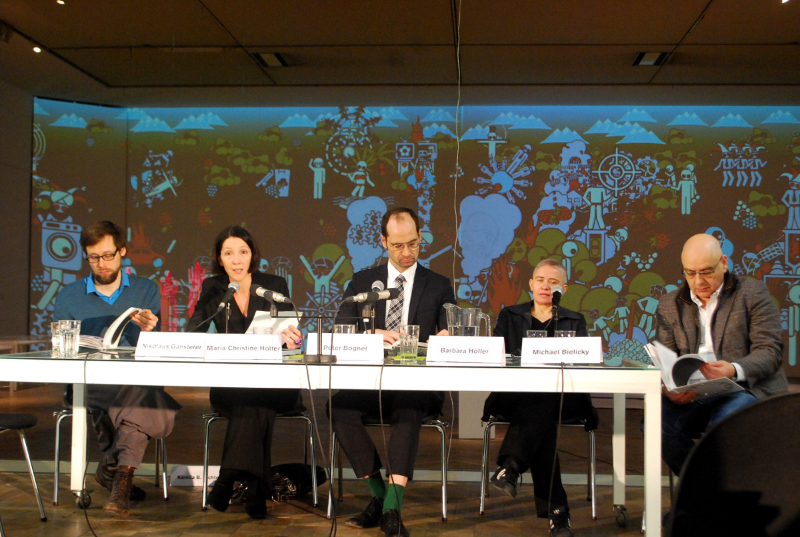 Kompletna lista umetnika: Michael Bielicky & Kamilla B. Richter, Anthony Burrill, Bernhard Cella, Ilse Chlan, Erdal Duman, Hazem El Mestikawy, Harun Farocki, Nikolaus Gansterer, Wilfried Gerstel, Christoph Hinterhuber, Christian Hutzinger, Martin Kaltenbrunner & Günter Geiger & Marcos Alonso & Sergi Jordà, Karl-Heinz Klopf, Matthias Klos, Lena Knilli, Clemens Kogler & Karo Szmit, Richard Kriesche, Alexander Lehmann, Gert Linke, Stano Masár, Kollektiv migrantas, open3.at, Bernd Oppl, Olaf Osten, Hermann J. Painitz, Waltraud Palme & Richtex, Rodolfo Peraza, Philippe Rekacewicz, Andrea Ressi, Christian Rupp, Sito Schwarzenberger, Société Réaliste, Roman Týc, Niko Wahl, Michael Wegerer, Peter Weibel, Jun Yang