Time(less) Signs
This post is also available in: Serbian/Croatian/Bosnian
Vienna: With the exhibition "Time(less) Signs" Künstlerhaus is paying tribute to the Viennese socioligist, political economist and philosopher of science Otto Neurath (1882-1945), thus marking the 130th anniversary of his birth.
We are surrounded by Neurath's legacy without even being aware of it and most probably not many of us have heard of his name before. He is a man who contributed to the birth of pictograms as we know them today (in 1920′s and 1930′s) and his "Vienna Method of Pictorial Statistics" – later renamed to ISOTYPE – was the first serious step towards the introduction of simple, non-verbal, globally comprehensive visual language which has significantly contributed to the easier flow of information. Together with the German artist Gerd Arntz, Otto Neurath has designed a large number of pictograms which gained international popularity and brought them work for diverse conferences and exhibitions across Europe and USA in the 1940′s.
Starting point of the exhibition in Künstlerhaus which showcases exhibits by fourty three contemporary artists and artist collectives is Sign:table by Waltraud Palme, a complex artwork with the puzzle-like table-top consisting of a great number of pictograms. This was, after all, a work which Palme dedicated to Otto Neurath back in 1995. for the exhibition "Philosopher's table".
Curators Maria Christine Holter and Barbara Höller have opted for a fresh approach, chosing to concentrate on contemporary artists whose work is marked by the use of pictograms, whether intentionally with direct reference to Otto Neurath or freed of past influence and rooted in visual trends of the 21st century. There are seven so called "idea zones", each dedicated to separate "chapters" of Neurath's reforms of pictorial representation : Sign image, Number Field, Speak Out, Urban Area, World Power, Body Matters and Market Place. Vienna-based artist Nikolaus Gansterer expresses his fascination for diagrams in a complex installation Housing of theory 13 (Otto's nightmare) as a direct critique of the alleged simplicity of pictograms, opting for a reverse process to Neurath's in developing an almost incomprehensible system of graphics and their referential system. In his other work – All The Things we Need, Gansterer transforms the advertising leaflets of the low-budget supermarket chain "Hofer" by totally blackening their content with a thick black marker , thus transforming them into a simple, comic-like drawings. Gansterer is playing with the classical commercial visual representations and messages that companies (in this case – supermarket) send to consumers by using certain iconography.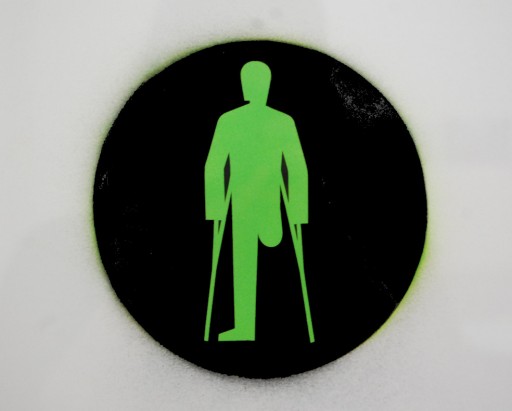 Künstlerhaus also displays parts of the controversial project Semaphores (documentation: crossing light lenses, video, text 2007) by the Czech artist Roman Tyc, the co-founder of the artist collective Ztohoven. The museum visitors can study the graphic representation of six out of 50 of his modified pedestrian crossing signal lenses which the artist used to replace the regular street traffic lights in Prague with some hillarious alternations such as a man urinating/ defecating/ being hanged (as the substitute for the classical, globally known male stiff figure signaling red light/ don't cross the street) or walking a dog/striking a pose/ falling down drunk (for the green light).
For those who would gladly like to anticipate in elimination or multiplication of daily disasters such as economy crisis, dictatorships, violence, greedy political parties and such, the artist duo Michael Bielicky & Kamilla B. Richter offer solution of a semi-interactive game Garden of Error and Decay (computer, internet, interface, projectors, special software; 2010-2012) in which users can grab joystic or mouse and intervene, only partially being allowed to change things. The game is projected on the full lenght of the wall in one of the exhibition rooms. Likewise, with a clever mean of dealing with the atrocities of military interventions and their inevitable presence in life of some people, Turkish artist Erdal Duman suceeds in integrating, otherwise threatening objects (military planes and rockets) into the glamour-loving modern world by making them bright and almost inviting.
Less willing to compromise with the depiction of reality is the Berlin-based Kollektiv migrantas (consisting solely of women) which focuses on the issues of migrants' troubles to be accepted in their home by choice – Germany. Their active involvement in a number of projects which unite various elements of artistic expression such as graphic design, visual arts and activism, resulted in many exciting artistic works, also those involving direct creation of new pictograms showing women covered with hijabs, followed by simple sentences such "not a terrorist".
In his installation up&DOWn – Dow Jones Rollercoaster Christian Rupp gives the viewer a chance to have a ride of their lives – by taking the front seat in a real rollecoaster wagon, they can follow the curve of the Dow Jones Industrial Average from spring 2007 (start of the largest mortgage crisis in the USA) to spring 2012 which marks the peak of the EU economic crisis.
The exhibition "Time(less) Signs" offers far more surprises than covered in this article. We suggest you to go and check it out!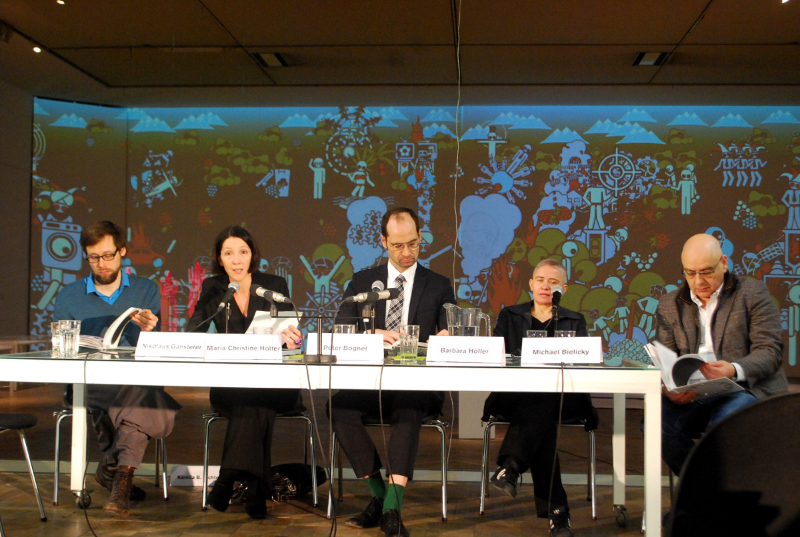 List of participating artists: Michael Bielicky & Kamilla B. Richter, Anthony Burrill, Bernhard Cella, Ilse Chlan, Erdal Duman, Hazem El Mestikawy, Harun Farocki, Nikolaus Gansterer, Wilfried Gerstel, Christoph Hinterhuber, Christian Hutzinger, Martin Kaltenbrunner & Günter Geiger & Marcos Alonso & Sergi Jordà, Karl-Heinz Klopf, Matthias Klos, Lena Knilli, Clemens Kogler & Karo Szmit, Richard Kriesche, Alexander Lehmann, Gert Linke, Stano Masár, Kollektiv migrantas, open3.at, Bernd Oppl, Olaf Osten, Hermann J. Painitz, Waltraud Palme & Richtex, Rodolfo Peraza, Philippe Rekacewicz, Andrea Ressi, Christian Rupp, Sito Schwarzenberger, Société Réaliste, Roman Týc, Niko Wahl, Michael Wegerer, Peter Weibel, Jun Yang