Xenia Hausner "ÜberLeben"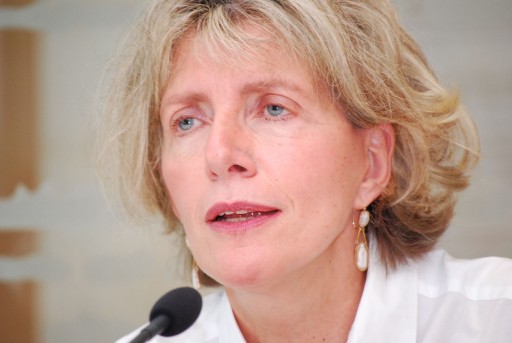 ESSL museum presents a selection of works by one of the most significant Austrian figurative painters, Xenia Hausner, in a solo exhibition consisting of one installation and 12 large-format paintings, most of them never shown publicly before. One of them – "Free fall", a giant dibond work (250×815) was finished exclusively for this exhibition. The title "ÜberLeben" is intentionally ambiguous – both interpretations: "survival" or "above life" – can easily be connected to the symbolism of Hausner's paintings with their – at first glimpse idyllic compositions which always have a presence of lurking danger and uneasiness. Painting "Pensée sauvage" (2011) which greets the visitor with its creepy aura at the exhibition entrance is a typical example of the artist's way of dealing with the complicated dimensions of human emotions. While the expressionless face of a girl in a bright red pullover stares into the gloom, another female figure behind her back holds a knife in a gesture that could mean everything from a naive situation taken out of the context – such as preparing a meal, to the beginning of a brutal crime. Transfixed by this scene the visitor will eventually notice a detail in the upper left corner of the composition – two toothbrushes crossed like swords before a duel warn that the scene in front of their eyes isn't just another episode from everyday domestic life.
Most of Xenia Hausner's protagonists are women depicted in acts of love, passion, pain, friendship/ enmity or direct conflict. The most powerful quality of her compositions rests in the capability of catching the moment, in eternalising that very special facial expression which bares the whole figurative narrative. This is the case, for instance, with a painting called "Andante" (2011) which shows the face of a girl playing violin, most probably tired of practising one single score over and over again.
After half an hour spent at the exhibition it becomes clear what Xenia Hausner meant by saying, on one occasion, that she stages her own dramas on canvas .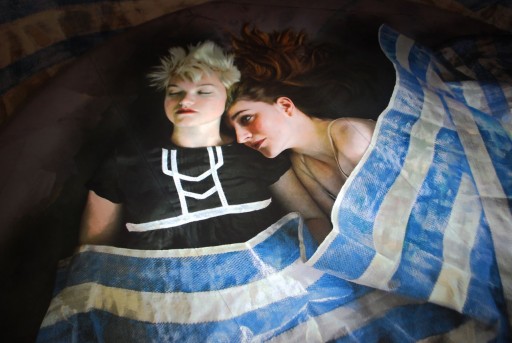 Scenic design is, after all, her true call – she dedicated herself to painting first at the beginning of 1990's after a long successful career in the theatre. Experience in scenic design is particularly obvious in Hausner's photo installation "ÜberLeben", displayed in the museum's rotunda, depicts a young couple lying in bed, unaware of a large rock hanging above their heads. This threatening element stands in sharp contrast with the cocooned cosiness of draped (photo) walls.
Collector couple Karlheinz and Agnes Essl have made a final decision about pulling Xenia Hausner's solo exhibition after they paid a visit in her Viennese studio in 2010. At the time of their call, she was working on her dibond painting "Blind happening" for which a half an auto body "modelled". This dedication for detail is obvious in every single piece of Xenia Hausner's works.
Visit our photo gallery and have a glimpse at some of Xenia Hausner's paintings exhibited in Klosterneuburg.
FREE BUS SHUTTLE TO THE ESSL MUSEUM

A shuttle bus now takes visitors from the centre of Vienna to the Essl Museum in Klosterneuburg in only 25 minutes. If you purchase museum tickets at the bus (at museum prices: adults € 7, concessionary € 5, family ticket € 10) the transfer to and from the museum is free of charge.
DEPARTURE Vienna: 1., Albertinaplatz 1 (in front of Albertina)
VIENNA – ESSL MUSEUM 10 a.m., 12 a.m., 2 p.m., 4 p.m.
ESSL MUSEUM – VIENNA 11 a.m., 1 p.m., 3 p.m., 6 p.m.