Ernst Caramelle's permanent installation opens at the Art Passage, Karlsplatz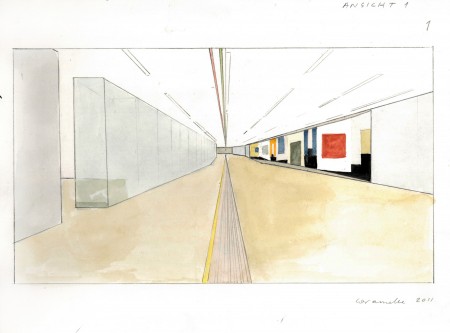 On Tuesday September 17th at 7.00pm, the new Karlsplatz installation will be reveiled in the presence of the artist Ernst Caramelle.
Caramelle's painting on the elongated side wall of the pedestrian passage spreads over eight fields, all of which are occupied by simple spatial constellations. Fields with frontal views and fields with perspectivally distorted views alternate. Depending on the direction you walk through the passage, this arrangement conveys the impression of individual parts of the wall swiveling out from the straight surface of the tunnel wall to obstruct the passer-by's progress. Other parts correspond with the usual perspective and yet others exaggerate it. The entire configuration is adjusted to the real circumstances of use and produces the effect of a broken zigzagging wall and, thus, the feeling of spatial extension and rhythmized movement. This feeling of extension and rhythmization is enhanced by the faint reflection of the wall painting in the opposite milk glass wall, in whose additionally inserted mirrors you see individual details popping up for an instant when walking by.
***
Ernst Caramelle, born in Hall, Tyrol in 1952, lives and works in Frankfurt/Main, Karlsruhe, and New York.
***
Ernst Caramelle's installation was realized as a joint project by KÖR Kunst im öffentlichen Raum Wien and WIENER LINIEN.
(text source: KÖR)