The artists collective FORT receives the Award for ART COLOGNE NEW POSITIONS 2014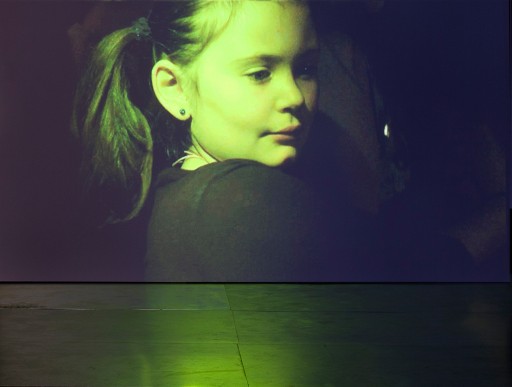 An independent jury honored the artist collective FORT – represented by the Galerie Elisabeth and Klaus Thoman (Vienna/ Innsbruck) – with the Award for ART COLOGNE NEW POSITIONS.
FORT was founded in 2008 by Anna Jandt (* 1980), Jenny Kropp (*1978) and Alberta Niemann (* 1982). Since 2014 Jenny Kropp and Alberta Niemann work under the name FORT as a duo. In large installations, performances and videos the artists, often with irony and humor, deal with everyday situations by transferring them into the institutional space.
FORT
THE SHINING 2013
Installation , HD video, 9:00 min
The desire of adults to return to childhood is equality present as children's desire to grow up as fast as possible. The amalgamation of childlike innocence with the extreme experiences of youth and adulthood finds its frightening and absurd comic counterpart in the video THE SHINING, which shows children's trance-like dancing in a night club to the loud bass of techno music. Here, the title bears reference to the radiant expression of a carefree childhood and at the same time to the homonymous horror movie by Stanley Kubrick from 1980.
FORT presented its artpiece THE SHINING at a separate (locked) room which belonged to the gallery stand in the Hall 11.3 Stand D38. Designed to look like a night club, with its floor lined with mirrored metal plates and darkened room, the space was entered by a graffiti smeared door reminiscent of the entrance to the Berlin club Berghain.
With this work artists created a contradiction between the codes and attitudes of a specific youth culture and their dreams and aspirations, as well as the expectations of the viewer in the tradition of installation art. Their works has been shown at a number of exhibitions, among others, at the Kunst-Werke Berlin, Muzeum Sztuki in Lodz, Kunsthaus Dresden and the Art and Exhibition Hall in Bonn.
The members of the jury of the ART COLOGNE Award for NEW POSITIONS are: Christiane thing (Artistic Director of artothek, space for young art, Cologne), Oriane Durand (Bonner Kunstverein), art historian Gerard Goodrow, Nathalie Hoyos (Curator of the Art Collection Deutsche Telekom) ,Antje Hundhausen (Head of the 3D Brand Experience German Telekom) and Moritz Wesseler (Kölnischer Kunstverein).
About the NEW POSITIONS
NEW POSITIONS', ART COLOGNE's international sponsorship programme for young, innovative artists is supported by the German Federal Government, Koelnmesse – the Fair organizers – and the Bundesverband Deutscher Galerien und Kunsthändler (BVDG). The Art Award for NEW POSITIONS is presented to the best of these young artists. The prizewinner is given a solo show at Cologne's Artothek and includes the publication of an exhibition catalogue.