Az W Photo Award 2014 ("Razmišljaj globalno! Gradi socijalno! Arhitektura za bolji svet"), Krajnji rok: 15. Septembar 2014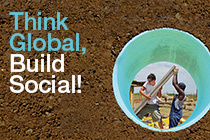 Ove godine se održava četvrto foto takmičenje Bečkog arhitektonskog centra (Az W Photo Award). Tema je "Razmišljaj globalno! Gradi socijalno! Arhitektura za bolji svet".
Fokus je upravljen na alternativna, socijalno angažovana rešenja. Pošaljite jednu ili više fotografija do sledećeg roka: Ponedeljak, 15. septembra 2014. U AZW-u je u toku izložba "Think Global, Build Social! Architectures for a Better World" na kojoj su predstavljeni građevinski projekti. Informacije o uslovima za učešće na konkursu kao i formular za aplikaciju možete pronaći na sledećoj internet adresi: www.azw.at/photoaward2014
Krajnji rok prijave: Ponedeljak, 15.09.2014
Žiri će imena finalista i pobednika objaviti na jesen i uvrstiće njihove radove u izložbu koja će se postaviti Hali F3 od 06.11. do 24.11.2014. Ovaj ivent se poklapa sa manifestacijom "Mesec fotografije".
Izložba će biti otvorena u sredu 05.11.2014 u 19 časova.
JOIN IN AND WIN:
1st prize: overnight stay in the Looshaus am Kreuzberg, Payerbach
2nd prize: ship journey for 2 persons in Vienna or the Wachau
with buffet and live music, on the DDSG Blue Danube
3rd prize: 6-bottle box of Blaufränkisch red wine from Weninger
as well as annual tickets for the Az W and Az W catalogues
ENTRY CONDITIONS
Submissions must arrive at the Architekturzentrum Wien by 15 September 2014 to qualify for entry.
Detailed information can be found on the AZW official website