Review: Austral Fever ( 2019) by Thomas Woodroffe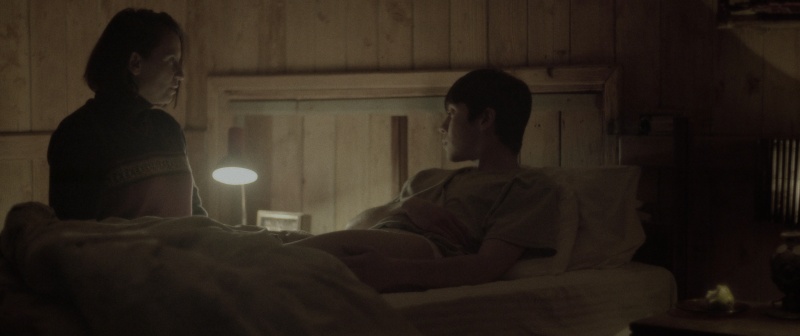 Thomas Woodroffe's 3rd short film Austral Fever which screened in Venice's Orizzonti Shorts Competition, doesn't accidentally look like an artwork that came to life in a story about pleasure and pain set up in Chilean mountains. Visually inspired by the artwork of Woodroffe's aunt Carmen Silva whose monochrome paintings were "violent, seductive, static, erotic and outrageous", as the director describes them in his own words, Austral Fever is vibrant with curiosity about suppressed sexual desires that slowly and with a great dose of timidity get discovered in adulthood. Wilhelm Reich would have enjoyed to see this free form of his vegetotherapy in a film that in its essence speaks about the field he pioneered – orgastic potency, a healthy adult sexual experience which in this case never turns into a concrete sexual act.
The film opens with a never quite explained accident in which a teenage Octavio (Roberto Villena) gets shot in his upper tight during a hunting trip with his best friend Daniel (Nicolás Sobarzo). Being scared of the prospects that his mother might never allow him to return to Daniel's house, Octavio decides to keep quiet about the incident, and his lie is easily protected by the large physical distance to home. There where he is, in the house where Daniel lives with his 46-year-old mother Amanda (Francisca Gavilán) , the only connection to the outside world runs through the citizen band radio. It is through one of such calls he gets a medical help, and the only doctor (José Soza) who operates in the area performs a simple procedure on his young patient with a cigarette dangling from the corner of his mouth. It is such small details that speak about the isolated area in the mountain, where only local rules apply.
As he's lying in the bed, the youth becomes intensely drawn by the wound, and with every movement of the hand that tries to explore, poke and rub it, his whole body becomes tense with new desire. This strange form of sexual sensation is painted in realistic tones of the awakening of teenage self-awareness and without voyeuristic banality. But it turns out that both the accident and the wound attract all kinds of emotions in the other two residents of the house. Without even a hint of Daniel's sexual orientation, the film becomes charged with homoerotic energy, and yet it slides in a completely different direction. Austral Fever is a fine minimalist study of the unexplainable connection between the body and the mind, and the invisible, stretchable border between pleasure and pain.
Thomas Woodroffe, who was one of two cinematographers of Diego Céspeds' Cannes Cinéfondation winner The Summer of the Electric Lion in 2018 (the film also bagged the NEST prize in San Sebastian) is already plotting two new film projects. One of them is a feature-length movie called Erratics based on a footage shot by two ethnographers about the Kawésqar people in Terra del Fuego in 1925, which was recently discovered in the Cinématheque de Toulouse.
---
Original Title: Fibre Austral
Language: Spanish
Year: 2019
Length: 25'
Director: Thomas Woodroffe
Script: Thomas Woodroffe, Camila Aboitiz & Gabriel Goicoechea
Cinematography: Emilia Martin
Editing: Camila Aboitiz & Gabriel Goicoechea
Production Design: Rafael Pontigo
Costume Design: Franklin Sepulveda
Makeup Artist: Dominga Espinosa
Special Makeup Effects: Franklin Sepulveda
Assistant Art Director: Pascal Viveros
Boom Operator: Claudio Carrasco
Re-recording Mixer: Roberto Zuñiga