Review: Delphine (2019), by Chloé Robichaud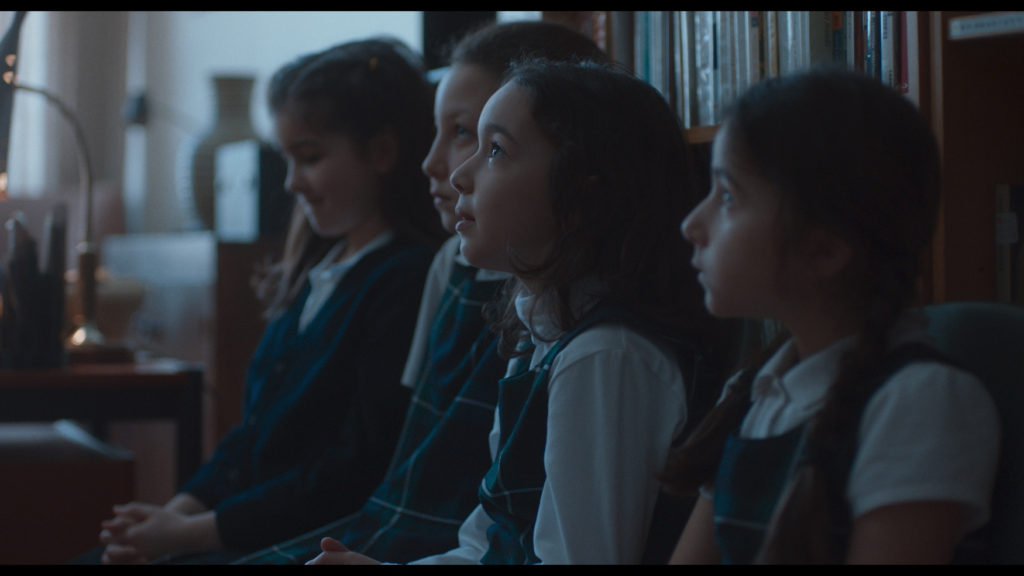 There are couple of things that stick to one's memory after watching Chloé Robichaud's short Delphine based on Nathalie Doummar's play adapted for the screen: the excellent score composed by Simon Bertrand and the spotted bananas. The exotic fruit the western consumers are so careful bying after its perfect, unspoiled yellow-barely-past-the-green-colour texture, gets a very special place in the film's narrative, standing as a symbol of the outcast otherness. When Delphine (Daria Oliel Sabbagh) as a little girl who freshly immigrated to Canada boards the school bus, it's the spotted, almost black banana she sinks her teeth into after being bullied by the kids for her inability to speak French. Her quiet observer Nicole (Ines Feghouli) says in a voice-over (the voice actually belongs to Nathalie Doummar): "They told us the brown spots in bananas were honey, but I knew it wasn't honey, it was sadness. I remember her banana breath smelled like sadness." It's a fine start to a film dedicated to the late Canadian film critic Elias Doummar, and a strong contender of the Orizzonti Shorst Competition in Venice. Shortly after, the film was screened at the Toronto International Film Festival.
Delphine and Nicole are sent to a private school in Viulle Saint-Laurent, most probably for the same reason that their immigrant parents wanted them to be next to other children with similar background. But the cruel reality is that otherness comes in all shapes and forms, and in the school-life, it unavoidably transforms into the universal type of classification: the cool and the uncool, the bully and the victim. In a time-frame of 12' the viewer can get a pretty good picture of how nasty such devisions can turn, and what kind of impact just one little incident can make on a person's life. We see Delphine evolving into a tough cookie (now played by Ambre Jabrane) many years later in another, public school, still with a spotted banana in her lunch box, fending quite successfully her feisty all-female enemies. This time her French is impecably québeqois and her attitude monumental. Her discrete shadow is here again – Nicole (Ambre Jabrane) attends the same school where she observes Delphine from a safe distance, always surrounded by classmates.
Robichaud is an experienced filmmaker with thirteen directorial credits, including eitght short-, two long feature films and the work on television series. In Delphine, she compresses a not easy to handle topic into a quite easy to follow story, albeit falling for some cliches like painting an overweight school bully Aminata (Aisha Tamisha Jolicoeur) in typical Hollywood "fattertainment" colours – as lascivious and lacking taste. You would also expect the tough girls to know how to fight, which they don't, and it's a little details like that that make you wish for more.
Country: Canada (Québec)
Language: French
Duration: 15'
Director: Chloé Robichaud & Nathalie Doummar
Script: Nathalie Doummar
Produced by: Gabrielle Tougas-Fréchette, Guillaume Vasseur
DoP : Ian Lagarde
Editor : Yvann Thibaudeau
Artistic Director: Valérie-Jeanne Mathieu
Costume Design: Cassandra Vallée
Sound Recorder: Stephen Roy
Sound Design: Sylvain Bellemare
Music: Simon Bertrand
Cast: Daria Oliel Sabbagh, Ines Feghouli, Ambre Jabrane, Wiam Mohktari