Review: Give Up the Ghost (2019), by Zain Duraie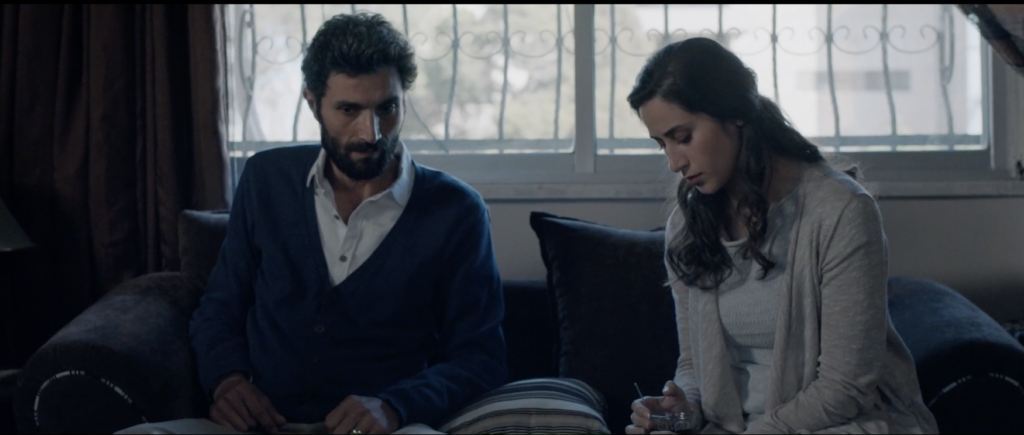 Procreating is all in some societies, and the man's ability to have children is a proof of his unshakeable masculinity. Even a bare possibility that a man might be sterile is practically absent from people's minds, and if such a thing occurs it is kept a secret to all costs.  This is the starting point of Zain Duraie's second short film Give up The Ghost which competed in the Orizzonti Shorts category at the Venice International Film Festival and was later on nominated for the Robert Bosch Film Prize 2019.
The film opens with a loud sound of a baby's heart pounding during an ultrasound check-up, and a distant cry of an infant, both deliberately misleading. This is most probably a dream, a secret wish of both main protagonists Ammar (Ziad Bakri) and Salam (Maria Zreik) who can't have children. The viewer won't know "whose mistake" that is (it is all about who's defect and who a "healthy" parental material) until halfway in the film, when Salam breaks the sad news to Ammar's family, being convinced she's to blame. The truth is a bit different, as we find out later on, but the cowardice doesn't disappoint. For, it is easier to sacrifice love and happiness at the altar of the intact masculinity than having the courage to face the reality.
Ammar's family is quick at taking steps towards their son's genetical multiplication, as they believe, and the second wife is found. This is a blow in Salam's face, and her decision to chose herself over anyone else is a stab in the conservative societal structures, more importantly into a belief that woman should silently accept her destiny. Duraie chooses pathos over misery in a quite linear narrative, based on few dialogues and strong visuals by Benoit Chamaillard who puts Salam in focus through the semi-profile close-ups that keep her emotional suit half-protected.
Give up The Ghost is a film significant by the message it conveys, its weak points regardless. Bakri can't keep Zreik's pace and the difference in their acting capabilities makes the narrative a dash less credible.  

This is the second short film by the Jordanian director Zain Duraie's, whose debut Horizon won the Best of Festival Award in Palm Springs in 2013.  
Country: Jordan/ Sweden
Language: Arabic
Duration: 14'
Written and directed by: Zain Duraie
Producer: Alaa Alasad
Director of Photography: Benoit Chamaillard
Creative Producers: Annmarie Jacir & Khalid Abu Sharif
Editor: Abdallah Sada
Sound Design/ Re-Recording Mixer: Israel Banuelos
Colourist: Mohammad Sami Nassar
Art Director: Khaleel Abu Haltam
Costume Designer: Farah Karouta
Makeup/ Hair: Sleiman Tadros
Sound Engineer: Nour Halawani